Accident and Emergency live
The NHS treats more than a million patients every 36 hours. The A&E at the Queen Elizabeth Hospital in Birmingham has seen a sharp increase in numbers and today ITV News examines what is happening in these units.
Two police community support officers are waiting to be seen in A&E.
Asking not to be identified, the male officer says he has brought his female colleague in as a precaution after an incident on duty.
The female officer was hit by a car whilst riding her bicycle and has a painful wrist.
Whilst the injury is not an emergency, they came to A&E rather than going to a GP with the aim of seeing a quick resolution.
"To be honest, I don't really like going to my GP very much," the female officer said.
"And I really think access to GPs needs to be improved," said her colleague.
Read more: Live stories from Queen Elizabeth Hospital A&E in Birmingham
Monday saw the A&E department at the Queen Elizabeth Hospital in Birmingham see more patients than ever before, and, with 325 people attending, today is on course to see even more admissions.
Today has seen the Accident and Emergency department receive:
5 of those were bringing in a trauma case.
Advertisement
Khaaldiah Hussain has come in to A&E after a trip to Specsavers. She has Lupus and was only discharged from hospital last week.
After a known blood clot got worse and started to put pressure on her optic nerve she began to lose her vision and had to stop driving.
The 46-year-old went to the opticians this morning and after her optician spoke to the eye clinic at the Queen Elizabeth she was advised to come in.
Khaaldiah told ITV News she would not have waited to see her GP and would have come straight in to A&E, even if that had not been the advice: "I want to get it sorted as soon as possible and didn't want to wait."
Clare Stajlla visited her GP yesterday. She is allergic to most antibiotics but is suffering from what is believed to be an infected mosquito bite after a trip to Croatia.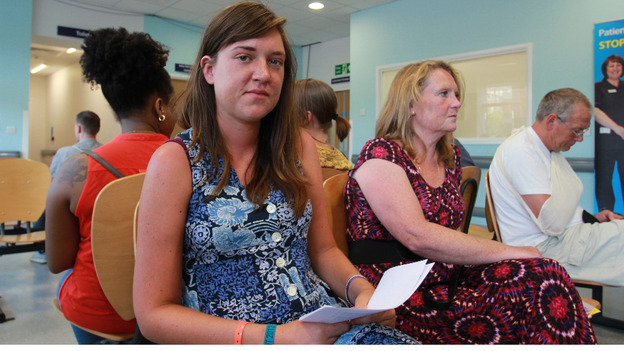 She said her first port of call would always be her GP but due to her allergies she was advised to go straight to hospital if the bite on her foot did not get any better.
After it got worse overnight her mother brought her to the Queen Elizabeth.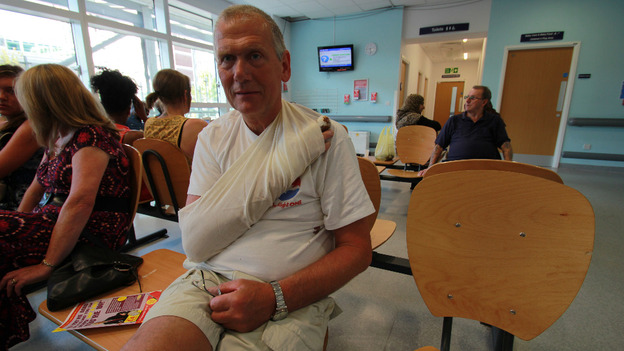 Builder Ernest Breeze managed to cut off the end of his finger with a circular saw.
He first went to nearby Heartlands Hospital just before 1.30pm today but, after the bleeding was stopped, was bandaged up and referred here to Queen Elizabeth Hospital where a hand specialist will likely fit a cap on to the end of his digit.
It means he has to go through the A&E waiting process twice in one afternoon.
"Next time, I'd come straight here," Ernest said.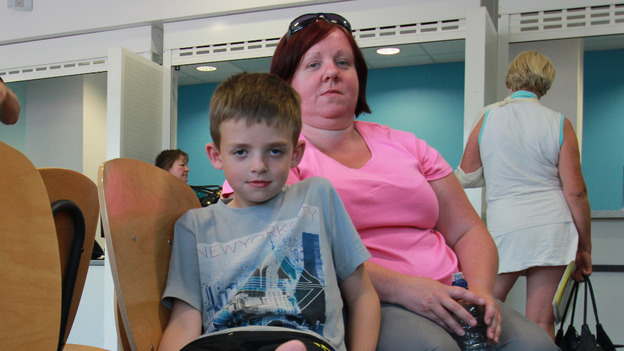 Nine-year-old Ryan and his mother Alison have just been discharged from A&E. His ankle suffered some soft tissue damage, but nothing was broken.
Alison said: "He's fine and I can't believe we're out so quickly - we definitely came at the right time."
Advertisement
An 87-year-old man has been brought in to the A&E by his granddaughter.
He came in last week because he wasn't feeling well and as his condition has not improved the family decided to bring him back today.
He was seen by a nurse at home and she also recommended he come in to hospital.
His granddaughter told ITV News they had not called called 111 or taken him to see his GP: "The nurse said bring him in so we just did that."
Ryan Hadley fell down in the playground and went over on his ankle. His mother, Alison, brought him in to the Queen Elizabeth A&E "because it was easier."
She told ITV News that she might have taken her son to their GP but felt that they were likely to be sent on to A&E in any case: "We might as well cut out the middleman and come straight in."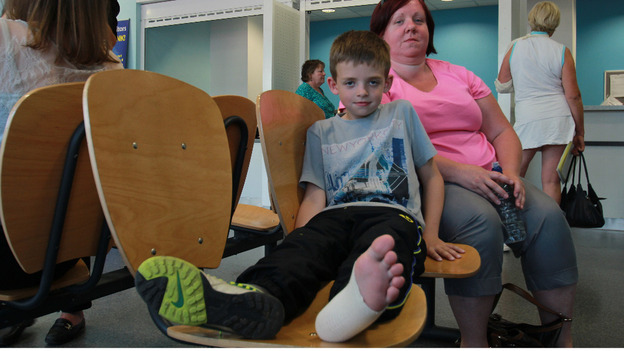 Mrs Hadley said that she decided not to take 9-year-old Ryan to the Birmingham Children's Hospital because they hoped the wait would be less here.
She said: "I went there with my other son recently and waited for three hours - we're not going through that again."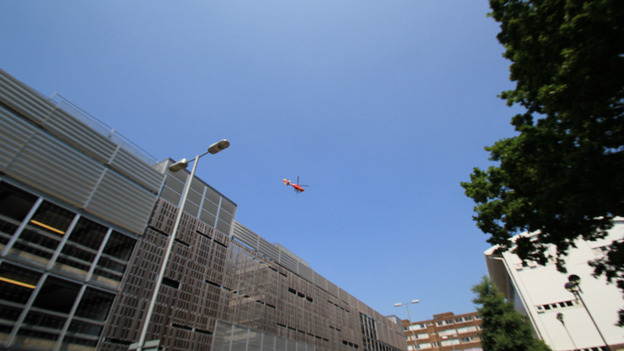 The West Midlands Air Ambulance has just arrived at the Queen Elizabeth Hospital with a major trauma case.
The department has received three major trauma alerts in the last seven minutes.
Liz Litheritard, who came to A&E around two hours ago with a tennis injury, has had 11 stitches in her elbow and is now queueing for a follow-up appointment before she can go home.
Load more updates
Back to top