Accident and Emergency live
The NHS treats more than a million patients every 36 hours. The A&E at the Queen Elizabeth Hospital in Birmingham has seen a sharp increase in numbers and today ITV News examines what is happening in these units.
An 82-year-old woman who asked to remain anonymous said she has come to A&E because she lost faith in her GP.
She initially went to a walk-in centre a month ago with an ankle complaint and was then referred to a GP.
After waiting to see her doctor, she was told to buy aqueous cream to treat the complaint.
Now she has come to A&E in the hope that she will be given treatment which makes her ankle better.
After queues formed at the A&E before and over the lunchtime, the waiting room in the minor injuries clinic is almost empty.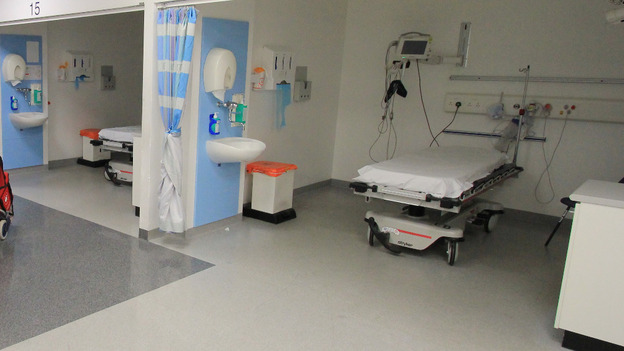 The numbers arriving at A&E flow throughout the day and the next peak is expected around the evening rush hour.
The staff would normally expect all the cubicles in the department to be full by now, but some remain open this afternoon.
There have been 17 further admissions from ambulances in the last four hours.
Read more: More than 30 ambulances in first 12 hours of Tuesday.
Advertisement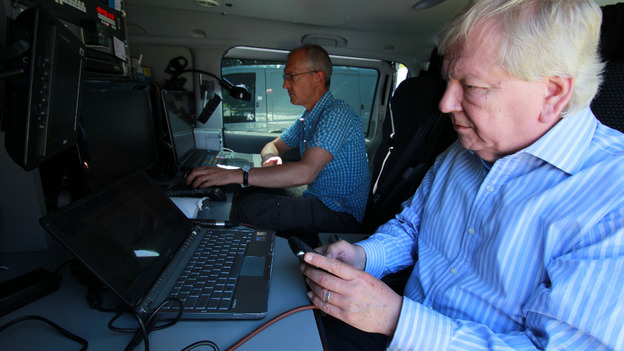 As we went on air at lunchtime the A&E here had already had over 100 patients and could well be on their way to beating yesterday's record of 325 patients in 24 hours.
I wonder how many came here because they couldn't get a GP's appointment?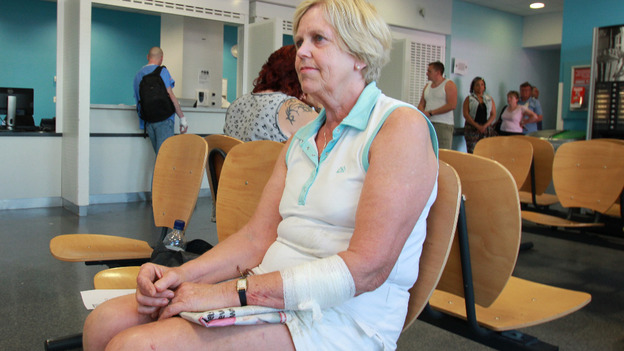 Liz Litheritard was getting ready for a game of tennis at a nearby club when she tripped and cut her arm.
She received immediate first aid from staff at the tennis club but was told she "had to go to A&E" and an ambulance was called.
She is now waiting to be seen in the minor injury waiting room.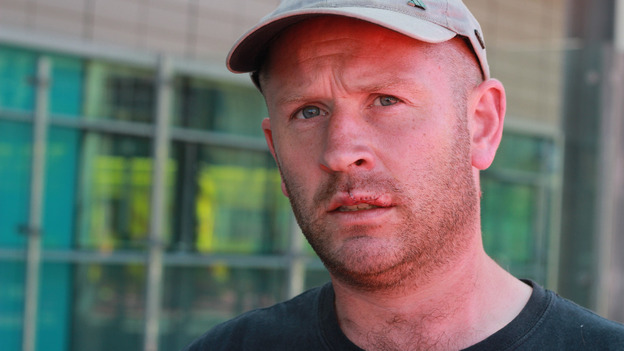 Scott Shaw has now left the hospital after having his lip stitched up.
He came in to the A&E this morning after a slip with a hedgecutter left him with a nasty gash.
"The worst part was the injections - they were very sharp," he said. "But after that I couldn't feel anything."
The only snag was a 30-minute wait at reception to be issued with a prescription.
Sheila Kate Long, who arrived at A&E around an hour ago, has been seen by the staff at Queen Elizabeth Hospital and left. She was suffering from a skin condition which left her in pain and without the full use of her right hand.
Sheila has been given a referral to a dermatologist as she had hoped - but has been told that it could still be anywhere from three to six weeks before she gets an appointment.
Advertisement
Sheila Kate Long came to A&E after more than six weeks of visiting her GP. She said she is desperate for a dermatology referral and for, "a doctor to listen to me."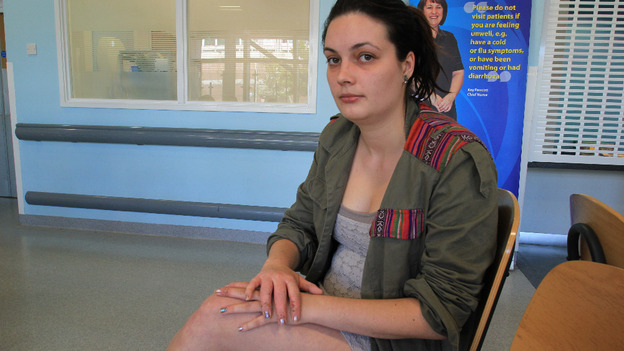 Sheila's right hand is swollen and painful and covered with scabs and she says she has spoken to her GP many times about getting treatment.
Her condition is so severe that she has trouble writing and there is evidence it may be spreading to her other hand.
Emily Cowley was brought in to the Queen Elizabeth Hospital in an ambulance earlier this morning.
Her foot was caught under a door as it opened and stripped the skin away.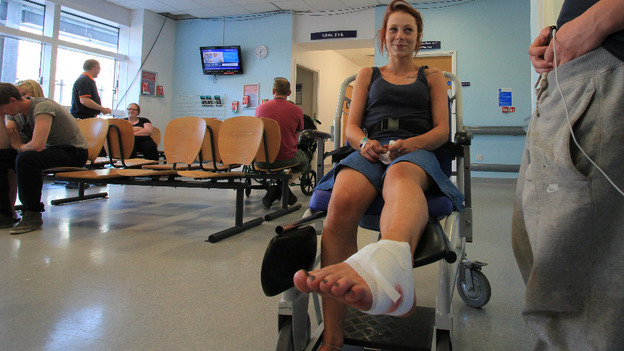 As a trauma case, she was seen quickly after arriving and her wound was cleaned and bandaged. She is now waiting to see a plastic surgeon in the minor injuries waiting room and is expecting to be admitted ahead of an operation.
Emily told ITV News: "They saw me quickly when I first came in and now I'm just waiting, I don't know how long for. I wish I could just go home."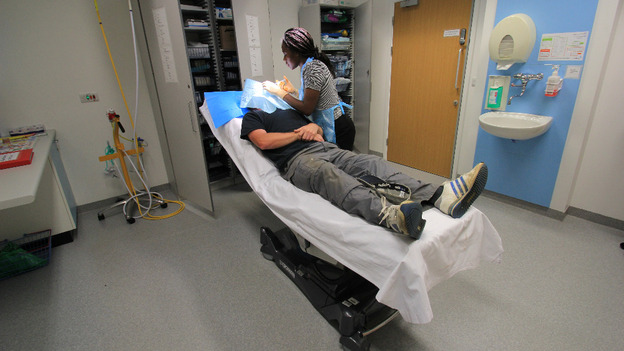 Scott Shaw, who has a gash in his lip from a hedgecutter accident, is now being treated by a doctor who specialises in plastic surgery.
He had a series of local anaesthetic injections around the wound before being stitched up.
Mrs Kelleher, 74, came in after an accident at home. It is the first time she has been to A&E for herself.
After she fell and hurt her foot she called her daughter brought her to the Queen Elizabeth Hospital.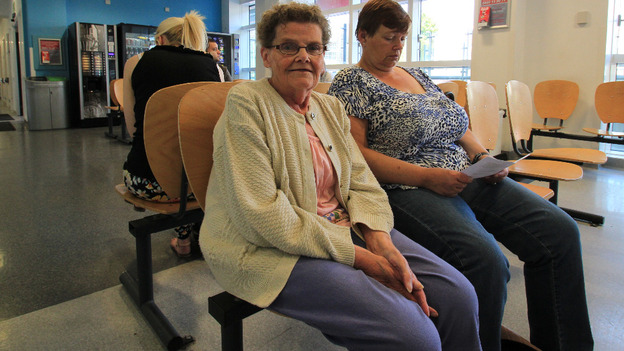 Mrs Kelleher and her daughter Elizabeth said they did not go to their GP because they thought they would only get referred and it was quicker to come straight here.
Mrs Kelleher added that she "wouldn't have thought to call 111."
Load more updates
Back to top