'Rigorous' curriculum unveiled
A "rigorous, engaging and tough" new national curriculum will be unveiled later today. The Prime Minister has described the changes as a "revolution in education", but school leaders are warning the speed of change could result in "chaos"
The new subject structure for primary and secondary schools in England is due to be introduced in September 2014.
There are major changes expected in history, technology and design, as well as maths and climate change will be taught in a more explicit way in Geography, according to reports.
History
Ministers want pupils to learn a complete chronological history of Britain.
Primary pupils are expected to only have to learn events up to 1066 after criticism.
Technology and Design (T&D)
Changes to the D&T syllabus follow claims it focused too much on "life skills" such as cookery and gardening instead of industry required subjects such as engineering.
Prime Minister David has hailed the new national curriculum, due to be unveiled later today as a "vital new chapter in British education" that will engage and inspire the next generation of British scientists and writers.
We are determined to give all children in this country the very best education for their future and for our country's future. New national curriculum is a vital part of that. The curriculum marks a new chapter in British education. From advanced fractions to computer coding to some of the greatest works of literature in the English language, this is a curriculum that is rigorous engaging and tough.
As a parent this is exactly the kind of thing I want my children to be learning and as Prime Minister I know this revolution in education is critical for British prosperity in the decades to come.

This is a curriculum to inspire a generation-and it will educate the great British engineers scientists writers and thinkers of the future.
Advertisement
School leaders are warning the government is not allowing schools enough time to enable them to implement the changes to the national curriculum unveiled by Michael Gove later today. Brian Lightman, general secretary of the Association of School and College Leaders said:
Our biggest concern is with the timeframe and the lack of resources to prepare for such a major change.

Pupils and teachers in 2014 are going to have to cope with new GCSEs, new A-levels, new vocational qualifications, new ways of tracking pupil progress once levels are abolished, on top of new curriculum content in all subjects. This is a massive change.
So that the reforms don't disadvantage pupils, we need the Government to publish a fully developed implementation plan of how it is going to support schools to achieve all of this in 12 months.

Our young people shouldn't be treated as guinea pigs in an educational laboratory.
The Education Secretary Michael Gove will unveil his new curriculum for 5-16-year-olds later today.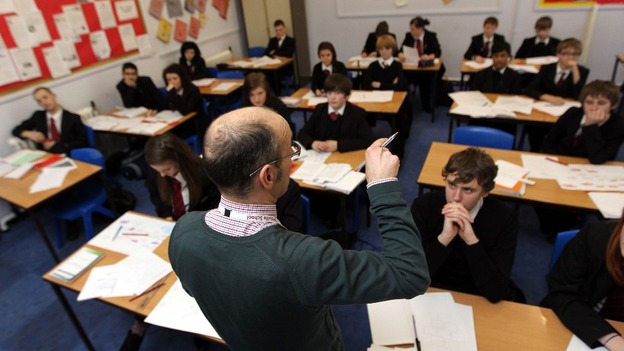 Prime Minister David Cameron has described the changes as a "revolution in education" and said the "rigorous, engaging and tough" new subject structure is critical to Britain's future economic success.
Load more updates
Back to top