'Track fault' in Paris crash
The train derailment that killed at least six people in central France on Friday may have been caused by a loose steel plate at a junction, French train operator SNCF said.
The train derailment that killed at least six people in central France may have been caused by a loose steel plate at a junction, French train operator SNCF said.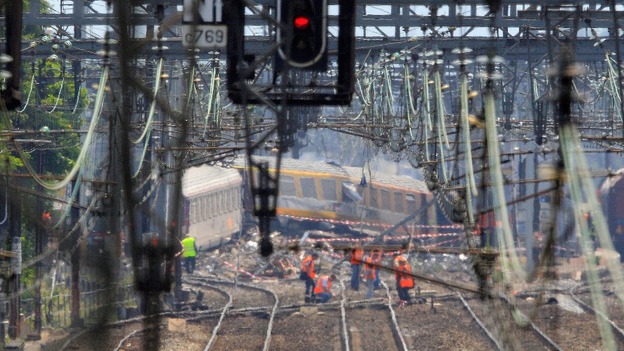 The steel plate, which should have remained bolted onto the track, moved to "the middle of the track junction", preventing the rolling stock from passing through, Pierre Izard of SNCF said today.
"The reasons why this fishplate dislocated itself is the very focus of the investigations," SNCF head Guillaume Pepy said.
The French train derailment that killed six people was likely to have been caused by a faulty switch part, the rail company told the AFP.
Advertisement
A human error did not cause a train to derail outside Paris that left six people dead, the French transport minister said.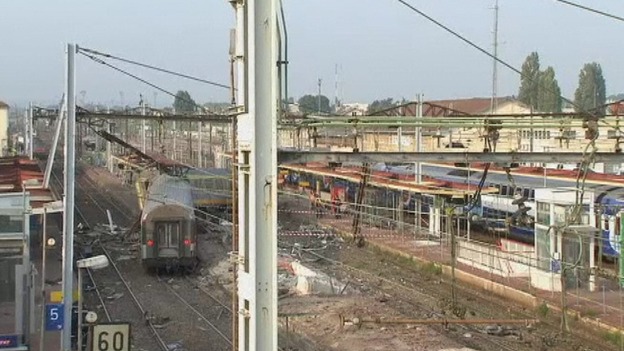 The train, which left the French capital on Friday night, jumped the track just a few miles into its journey as it traveled through a small town station.
Transport Minister Frederic Cuvillier said it was unclear what caused France's deadliest crash in years but he added that authorities were looking into a possible error in the switching system - which guides trains from one track to another.
Mr Cuvillier said 30 people were injured after the crash and that it was impossible to know whether anyone was still trapped in the carriage until it is lifted.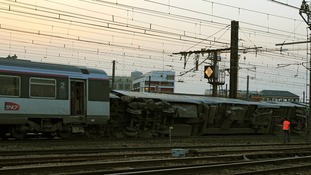 A train carrying hundreds of passengers has derailed and crashed into a station outside Paris, killing at least six people.
Read the full story
The passengers who were on the train have given very vivid and disturbing descriptions of the crash. They said they were going at a fair speed when they heard a strange noise.
One woman I spoke to, Anne-Marie - who was going on holiday, said the carriage started to sway from side to side and then toppled over.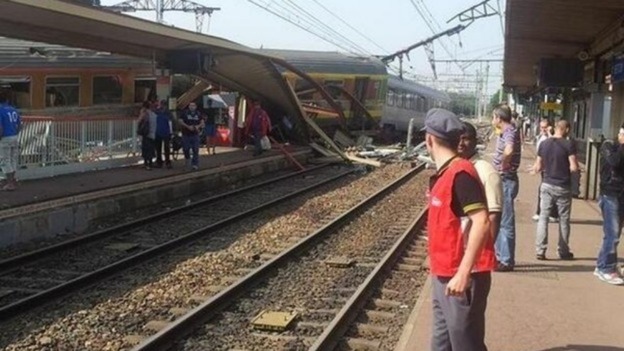 She managed to get herself out, but she saw others who had been extremely badly injured.
Another passenger, who was in the fifth carriage, said he heard the noise as he felt the train coming off the tracks. When he looked behind, there were no carriages left.
Foreign Secretary William Hague sent condolences after at least six people were reportedly killed in a train crash south of Paris:
I was shocked to hear about the serious train crash outside Paris. My thoughts are with the victims and their families. The British Embassy in Paris is in close touch with the French authorities and stands by to provide any assistance required.
– William Hague
Advertisement
France's interior ministry has said six people were killed in today's train derailment, as opposed to the seven deaths reported earlier, with a further nine gravely injured.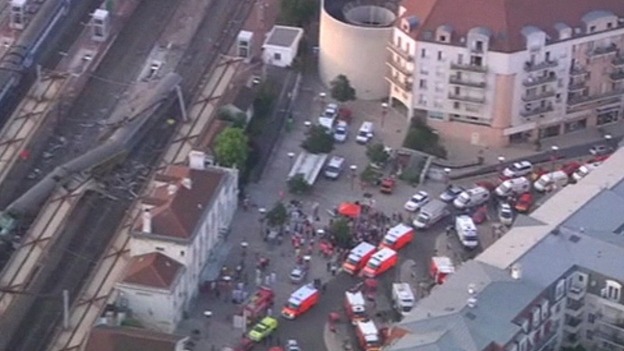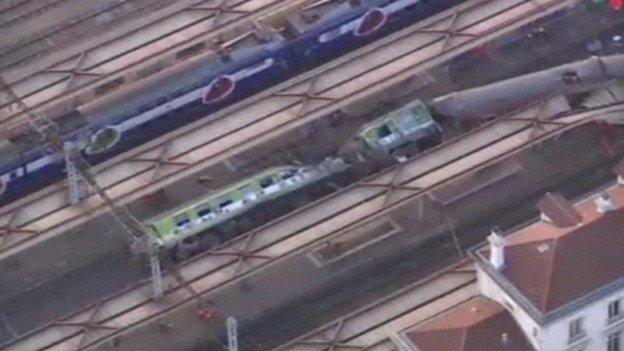 The spokesman at the British embassy in France has updated his earlier tweet over whether any UK nationals were caught up in the fatal train derailment:
.@itvnews we haven't been advised of any British casualties or contacted by any British national for the moment.
New footage has emerged showing emergency officials at the scene of the train crash in France:
The country's interior minister has said at least seven people are believed to have died. There are reports that 10 people are critically injured and 60 others seriously hurt.
Load more updates
Back to top