Hospitals face 'special measures'
Health Secretary Jeremy Hunt has said 11 of 14 hospitals probed in a report into high death rates will be placed under 'special measures' management.
A heart attack victim who woke up to discover a "Do Not Resuscitate" mistakenly attached to his hospital bed has spoken of the "diabolical" care he received. Speaking to ITV News he vowed he would never go back to the Pilgrim Hospital in Lincolnshire again.
The hospital said they would not comment on individual cases, but admitted there were "serious" problems, that they have vowed to tackle. Lewis Vaugh-Jones reports.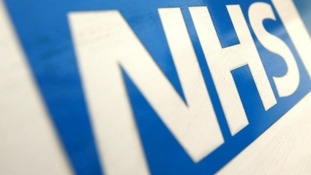 Eleven NHS hospital trusts in England are to be put under special measures for "fundamental breaches of care", the Government said today.
Read the full story
Advertisement
Claire Panniker, Chief Executive of Basildon and Thurrock NHS Trust, said the findings of today's Keogh report into failures will re-ignite concerns over previous failures at the hospital, and admitted it will take time to rebuild public confidence.
London
Lynn Harvey's husband Phil died in October 2010 following complications from a triple heart bypass operation in September 2009 at Basildon Hospital's cardio unit.
Mrs Harvey claims that her husband caught an infection in his leg following the operation, and has criticised the treatment he received as being blase and hampered by unneccessary delay.
Sir Bruce Keogh told ITV News that hospital chiefs who are "not perfectly suited" to their roles could be "replaced" as a result of a leadership assessment.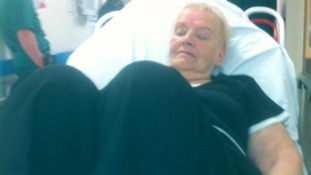 A woman has told ITV News her 76-year-old mother was left on a trolley in a corridor at the troubled Tameside Hospital last night.
Read the full story
Advertisement
Basildon and Thurrock University Hospital, one of the trusts heavily criticised in Sir Bruce Keogh's NHS review, said it "welcomes the findings" of the report.
In a statement, trust chief executive Clare Panniker said: "We take very seriously the areas identified as needing urgent and further action and are addressing them as a priority."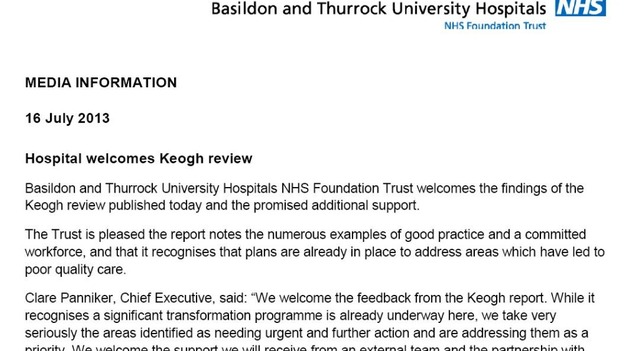 Trust chairman Ian Luder added: "We are absolutely committed to ensuring that we learn from the Keogh process, and to delivering long term solutions to issues and not short term quick fixes."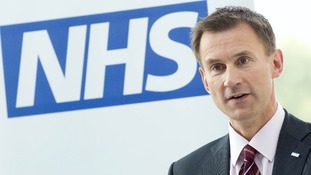 Jeremy Hunt revealed 11 hospital trusts investigated over high mortality rates will be put in special measures, but why?
Read the full story
The acting chief executive of Tameside General Hospital in Manchester, today labelled one of the worst trusts in the country, said her team would "learn lessons" from Sir Bruce Keogh's NHS review.
We've accepted recommendations of the Keogh review in full. There's no ifs and buts. These recommendations will be implemented. Please be assured of that. The new leadership team are committed and will learn lessons from the Keogh report.

We have to accept that there has been a problem. It saddens me as a clinician myself that you do see these reports, but I think we're ready now to move on to the next stage.
– Karen James
Read Sir Bruce Keogh's final report which outlines the findings and recommendations to improve care at 14 hospital trusts investigated for high death rates.
It found none of them was providing "consistently high quality care to patients" and 11 are to be put under "special measures".
Read: The 'special measures' 11 hospital trusts will be under
Load more updates
Back to top