Israel approves 1000 new settlements
The Israeli Government has approved up to 1000 new settlements three days before peace talks with the Palestinians resume in Jerusalem.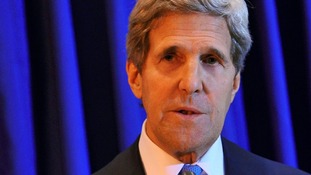 For the first time in three years, both sides have agreed to sit down to discuss resuming peace negotiations, John Kerry said.
Read the full story
The prospect of a long-term peace agreement between Israel and Palestine inched closer tonight, as the US Secretary of State John Kerry announced that both sides have agreed to establish a basis for direct negotiations.
Kerry announced that he expected to be joined by Israeli and Palestinian officials in Washington for the initial talks, in a matter of weeks.
Read: Israel and Palestinians lay foundations for peace talks
Advertisement
Direct negotiations broke down in late 2010 over Israel's settlements in the occupied West Bank and East Jerusalem
After flying back from the Jordanian capital of Amman today John Kerry declined to give details of the deal to resume talks
He said he expected Israeli and Palestinian envoys to join him in Washington soon and another announcement could follow
After more than three years of stalemate, Israel and Palestinians have agreed to sit down to discuss resuming peace talks, US Secretary of State John Kerry said.
Speaking in Jordan he said the agreement was still being formalised, but that there were plans to meet next week for initial talks.
We have reached an agreement that establishes a basis for resuming direct final status negotiations between the Palestinians and the Israelis. The agreement is still in the process of being formalized.
Load more updates
Back to top