Web porn block plans criticised
The Prime Minister's plans for family-friendly filters that block pornography for all new internet customers unless they opt out have been questioned by campaigners and some victims' relatives.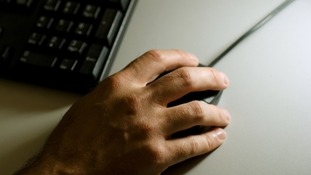 Every household in the UK is to have pornography blocked automatically unless they choose otherwise, under plans announced today.
Read the full story
The head of the Child Exploitation & Online Protection Centre has backed David Cameron's drive for computers to carry an automatic block to stop internet searches for pornography.
What I think he is trying to do - and I support this - is cut off the easy supply of the indecent imagery of children at the point of first customer contact.

That won't stamp it out entirely but anything we can to do to make it more difficult will deter people from becoming offenders and also deter people from following on from that kind of offending into other kinds of harmful offending against children.
– Ceop ceo Peter Davies, speaking on BBC Radio 4's The World At One

But Padraig Reidy, of the Index on Censorship, said the family-friendly filters will be too restrictive.
If we have, as the Prime Minister is suggesting, an opt-out filter we have a kind of default censorship in place.

Families should be able to choose if they want to opt in to censorship. If a filter is set up as a default then it can really restrict what people can see legitimately.

Sites about sexual health, about sexuality and so on, will get caught up in the same filters as pornography. It will really restrict people's experience on the web, including children's.
– Padraig Reidy, speaking on BBC Radio 4's World At One
Advertisement
David Cameron said he has told Google: You can map the world from space so do more to stop people searching for child abuse images.
If not, the Prime Minister said, the Government will legislate.
Prime Minister David Cameron has praised the families of Tia Sharp and April Jones for being at the head of the campaign to make changes about internet porn access.
Tia Sharp's grandmother, though, says the crackdown won't work
Child protection expert Mark Williams-Thomas has told Daybreak the Prime Minister is "confused" in attempting to link internet searches with how paedophiles access and share child abuse online.
David Cameron has told BBC Radio 4's Woman's Hour the Government is in a "row" with internet companies over a "blacklist of horrific terms" that paedophiles supposedly use to search for child abuse online.
Advertisement
Tia Sharp's grandmother has told Daybreak the Government's push for a crackdown on internet searches will not help stop child abuse.
Christine Bicknell was speaking after the Prime Minister met members of the Sharp family to discuss measures to block illegal content.
Ms Bicknell told the programme seeing images of child abuse online "fed" a habit in paedophiles but was not the cause of them acting out abuse.
She also said was "totally unaware" that her former partner Stuart Hazell, Tia's killer, was accessing depraved images on the internet.
An important part of the debate on the Government's initiative on pornography filters should be whether they actually work. Here are five problems:
Determined paedophiles seeking images will simply use the opt out button.
Experts stress that paedophiles seeking images more often use "peer to peer" image sharing. In the past ITV News has investigated disturbing material being passed on social networks.
Even the best filters do not stop all suspect material. Recent research suggested that even the very best will fail to detect about 10%.
Filters designed to stop pornography usually stop other content too, leading to households routinely switching them off.
The biggest internet experts in your home are probably your children - and ways to get around filters are already common knowledge in the playground.
David Cameron is set to announce a host of new measures to curtail abuse and unsuitable material on the internet.
The measures include:
Possessing online pornography depicting rape will be illegal in England and Wales (it is already illegal in Scotland)
Search engines are to be given until October to introduce further measures to block illegal content and block key words
The Child Exploitation and Online Protection Centre (Ceop) will be given enhanced powers to examine file-sharing networks
A secure database of banned child porn images gathered by police across the country will be compiled to trace illegal content and those viewing it
'Family-friendly filters' will be automatically selected for all new internet customers, they will have to request for them to be turmed off
Existing users will be contacted by their internet providers and to decide whether to activate the filters
The Prime Minister will acknowledge the issue of extreme and child pornography is "hard for our society to confront" and "difficult for politicians to talk about" in a speech later today.
I want to talk about the internet. The impact it is having on the innocence of our children. How online pornography is corroding childhood. And how, in the darkest corners of the internet, there are things going on that are a direct danger to our children, and that must be stamped out.

"I'm not making this speech because I want to moralise or scaremonger, but because I feel profoundly as a politician, and as a father, that the time for action has come. This is, quite simply, about how we protect our children and their innocence.
I want Britain to be the best place to raise a family. A place where your children are safe. Where there's a sense of right and wrong and boundaries between them. Where children are allowed to be children. All the actions we're taking come back to that.
– David Cameron
Load more updates
Back to top