Stuart Hall's sentence doubled
Appeal judges have ruled that the 15-month jail sentence given to former BBC presenter Stuart Hall for indecent assault was "unduly lenient" and doubled to 30 months. He admitted 14 counts relating to girls aged between nine and 17.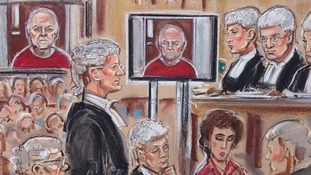 Veteran broadcaster Stuart Hall was ordered to serve double his jail sentence for sex offences against children.
Read the full story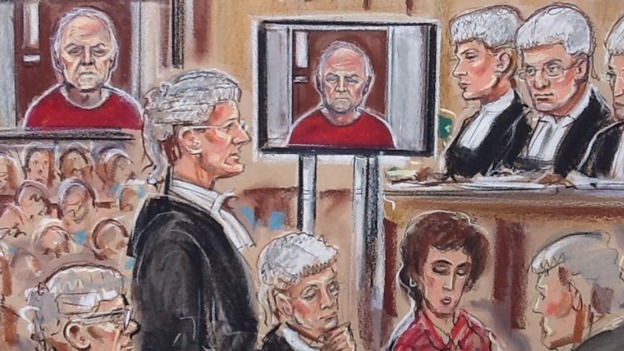 Stuart Hall watched via video link from Preston prison as Lord Chief Justice Lord Judge announced that a term of 15 months imposed last month was "inadequate".
Advertisement
A victim of Stuart Hall has welcomed the news his sentence is to increase from 15 to 30 months, adding she believes all of his victims will be relieved by the Court of Appeal ruling:
Today, the Court of Appeal ruled the 15-month sentence handed to Stuart Hall was "unduly lenient" and directed that his sentence be doubled. Before Hall admitted to 14 counts of historical sexual abuse, he branded the claims "vicious and callous":
Labour has said it "welcomes" the decision by the Court of Appeal judges to double ex-BBC presenter Stuart Hall's sentence for indecently assaulting girls as young as nine:
We called for this review because the courts must take a consistently tough approach to sentencing child abusers.

It is very important for victims to know they will be taken seriously and that it is worth while coming forward because we need them to help ensure that these abusive manipulative men are brought to justice and are given the punishment they deserve.
– Shadow Attorney-General Emily Thornberry
BBC Home Affairs Correspondent Danny Shaw said Stuart Hall would serve half his 30-month sentence.
Stuart #Hall will serve half his 30-month sentence. He'll be out in Sept 2014.
Advertisement
The case was referred to the court by Attorney General Dominic Grieve, who argued that Stuart Hall's sentence was "unduly lenient" as it failed to adequately reflect the gravity of his offending and the "public concern" about such crimes.
After the announcement, Mr Grieve said:
I asked the court to consider the multiple offending by Stuart Hall over a prolonged period of time which involved numerous victims.

I also asked that the court take into account the breaches of trust in this case - Hall carried out some of these offences in places where the victims were entitled to feel safe, he used his celebrity status to invite them to attend the BBC, and he also displayed an element of planning and premeditation.
I am pleased that the court found that 15 months was unduly lenient and have today increased that sentence to 30 months and I hope that this case has highlighted the fact that historical sexual offences are always taken very seriously and show that the law still applies, whoever the offender may be.
Lord Chief Justice Lord Judge, Lady Justice Rafferty and Mrs Justice Macur, sitting in London, ruled that the original 15 months was "inadequate" and should be upped to 30 months.
The sentence of former broadcaster Stuart Hall has been doubled to 30 months after judges sitting at the Court of Appeal ruled his previous sentence for historical sexual abuse was "unduly lenient".
The Court of Appeal has ruled the sentence handed to former BBC broadcaster Stuart Hall was "unduly lenient".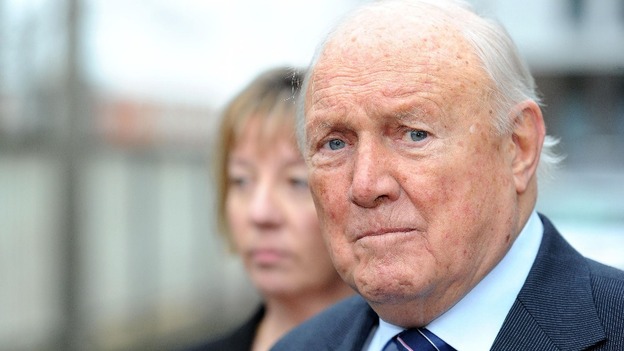 Earlier this year the former It's A Knockout host admitted 14 offences committed against girls aged between nine and 17 from 1967 to 1987. He was sentenced to 15 months in prison.
The Attorney General's office received a total of 150 complaints the sentence was "unduly lenient," prompting a review.
Load more updates
Back to top