First test tube burger unveiled
The world's first test-tube burger, made from lab-grown meat, has been cooked and eaten in London. The 5oz (142g) patty, which cost £250,000 to produce, was dished up by its creator before an invited audience.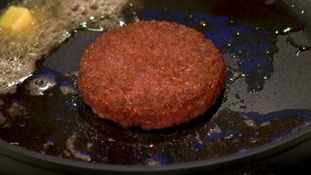 A laboratory-grown beefburger, created from the stem cells of a slaughtered cow, has been cooked and eaten in London today.
Read the full story
Google co-founder Sergey Brin is one of the patrons behind the research into lab-produced meat, the Guardian reports.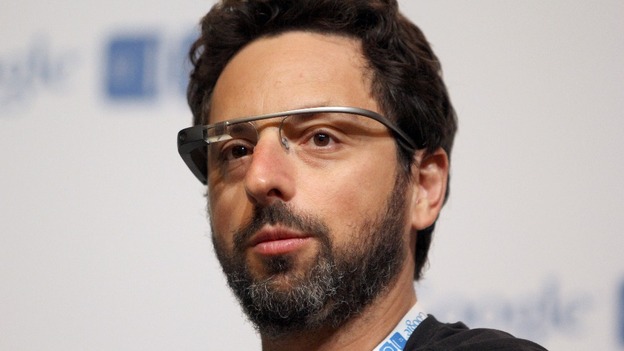 The billionaire entrepreneur was featured in a promotional video for the event at which the first lab-produced beef burger was unveiled, although he was not described as a benefactor.
In the video, he says: "I like to look at technology opportunities where the technology seems like it's on the cusp of viability".
He also says he supports the research for animal welfare reasons: "When you see how these cows are treated, it's certainly something I'm not comfortable with."
Advertisement
The first two people to taste a burger made with lab-produced meat have delivered their verdicts.
Nutritional scientist Hanni Rutzler said the burger tasted "close to meat" but that it was "not that juicy". Food writer Josh Schonwald agreed that the "texture has a feel like meat," but added that it was strange to eat a burger without ketchup.
The world's first burger made with beef produced in a lab has been unveiled in London and is currently being cooked for a panel of tasters.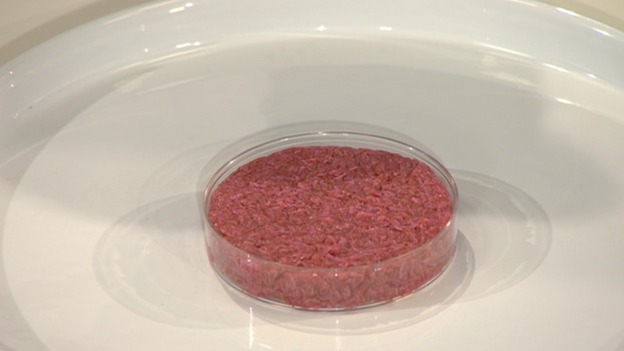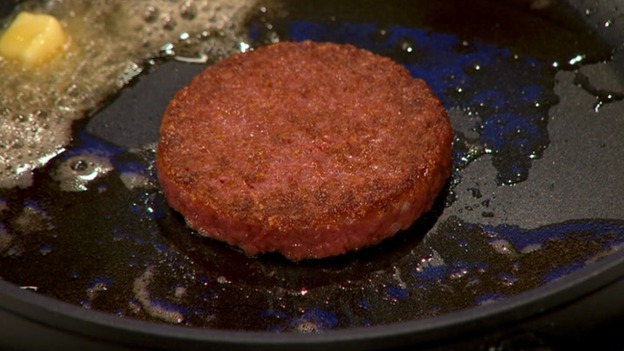 The National Farmers' Union has said that it believes that ordinary farmed beef is sustainable - something that some scientists disagree with.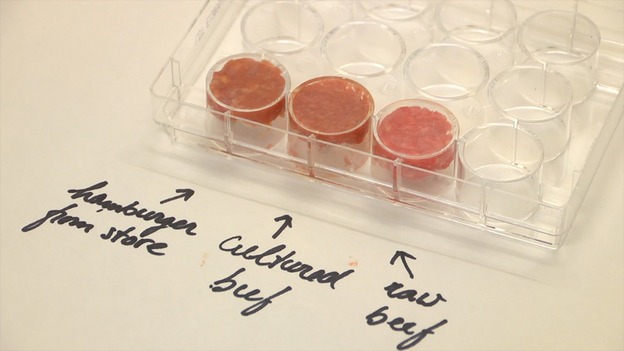 A spokesperson added: "Beef farmers are proud of their farming which delivers great tasting, sustainable food for British consumers while also offering significant benefits for the environment, landscape and the rural economy."
Vegetarians have had a mixed response to the idea that meat could one day be grown in a lab, with most saying they still would not eat the products.
A poll on the website of the Vegetarian Society found that some 80 percent of respondents would not eat lab meat products. Here are some comments from the group's Facebook page:
If this lab grown meat has never had a consciousness and self-awareness of its being, I see no cruelty in then eating it. So yes, I would. Doesn't mean I would regularly go and buy it though.
There's just something a bit "Frankenstein" about it.
If no animals are dying for my own personal gain, I don't have a problem. That said, I dont think I could eat it because I havent eaten meat in so long
Advertisement
The Vegetarian Society has said it is "officially interested" in the possibility of lab-produced meat, but that it does not yet know enough about the process to welcome or condemn it.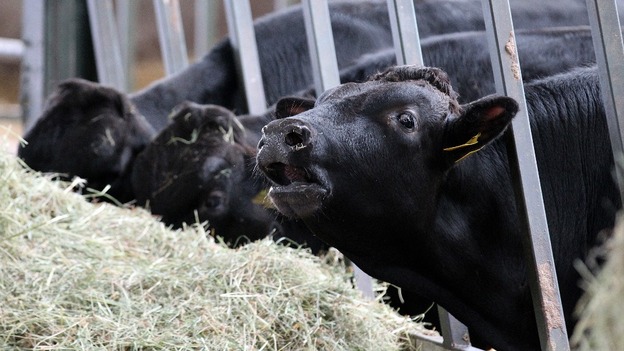 Spokeswoman Liz O'neill did not rule out the possibility that in vitro meat could one day be sold under the Vegetarian Society seal.
She acknowledged the researchers' claim that cows are not harmed when stem cells are harvested, but said it remains unclear whether any other animal products are used in the process.
"We pleased to see people actually recognising ... that the amount of meat people eat is unsustainable ... [but] we would suggest a different path," she added.
The animal welfare campaign group People for the Ethical Treatment of Animals (PETA) welcomes today's unveiling of the first lab-grown burger:
In vitro technology will spell the end of lorries full of cows and chickens, abattoirs and factory farming. It will reduce carbon emissions, conserve water and make the food supply safer ...

But lab-grown meat will provide people who were addicted from childhood to the saturated fat in flesh with the "methadone" for their habit.
– spokesperson, PETA
The scientist who has developed the 'in vitro' burger that is to be unveiled today says the research is vital to meet future demand for meat and resources:
Later today we are going to present the world's first hamburger made in a lab from cells. We are doing that because livestock production is not good for the environment, it is not going to meet demand for the world and it is not good for animals.
– Professor Mark Post, Maastricht University
The world's first burger made from lab-produced beef will be cooked and eaten in London today. Here is a brief explanation of how 'in vitro' meat is produced:
Muscle stem cells are extracted from a cow
The stem cells go through processes to help them multiply and develop into muscle cells
They are then trained to 'bulk up' by being placed between two 'anchor points' and placed under tension while being supplied with nutrients
After they have coalesced into strands of muscle - about a centimetre long and a few milimetres thick - they are collected and frozen. They can then be defrosted and formed into patties.
To give the meat the right taste and appearance, it is coloured red and flavours are added
Load more updates
Back to top