BoE makes interest rates pledge
Interest rates will remain at their historic low of 0.5% until unemployment falls below 7%, subject to inflation remaining under control, Bank of England Governor Mark Carney has said.
The new Governor of the Bank of England Mark Carney has promised to hold down interest rates for a "considerable amount of time" in a bid to "secure the recovery".
Rates will stay at 0.5% - for borrowers and savers alike - until at least 750,000 jobs are created.
However, the Governor did admit that high inflation could push rates up sooner.
ITV News Economics Editor Richard Edgar reports:
Read: Bank of England Governor unveils interest rates pledge
The new Bank of England Governor Mark Carney told ITV News that the guidance on interest rates provides "greater certainty, not perfect certainty, but something measurable (unemployment figures)".
Watch the full interview here:
Read: Bank of England Governor unveils interest rates pledge
Advertisement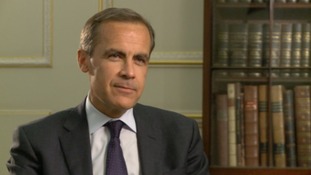 The Bank of England Governor Mark Carney said he will not consider changing interest rates until unemployment reaches 7%.
Read the full story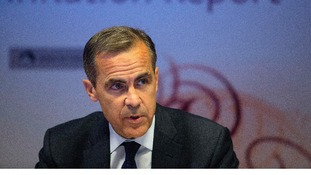 The Governor's interest rates pledge favours spenders not savers, as figures for ITV News show.
Read the full story
The key measure will be whether Mark Carney manages to secure this recovery that is beginning to take hold.
Today's main announcement that interest rates will stay low until unemployment falls to 7% - that is quite bold, it is very clear, it is easily understood.
I think it might be undermined by the 'knockout' clauses that were also announced. They allow the Bank to change it's mind but they are quite complicated - to do with inflation, inflation expectations, financial stability.
They are very important get out clauses but I think they might undermine the policy's effectiveness.
The challenge for the Bank will be to make sure borrowers are sure that they are not going to get stung by higher rates until mid to late 2016, that's their best guess at the moment.
The Chancellor welcomed the decision to hold interest rates at 0.5% until unemployment falls below 7% subject to inflation remaining under control.
Advertisement
The TUC has long campaigned for the Bank to take account of unemployment when setting economic policy.

Today's announcement shows that the Bank understands a real recovery is something that benefits ordinary people, and not just an upward blip in economists' outlooks.

The new Governor's outlook also provides a much needed dose of realism after yesterday's 'Boom Britain' headlines. The Chancellor should heed his warning that the UK is still on course for the slowest recovery in output since records began.
– TUC General Secretary Frances O'Grady
In a letter to the governor of the Bank of England, the Chancellor wrote:
Given the exceptional economic challenges continuing to face the UK economy, I agree with you that forward guidance can play a useful role in enhancing the effectiveness of monetary policy and thereby supporting the recovery.
It would take about 750,000 new jobs to be created for unemployment to fall to 7% in three years' time.
The governor of the Bank of England set out how forward guidance could "help to secure the recovery that is now in train" in a letter to the Chancellor.
First, it provides greater clarity regarding the Monetary Policy Committee's (MPC) view of the appropriate trade-off between the horizon over which inflation is returned to target and the speed with which growth and employment recover.

Second, it reduces uncertainty about the future path of monetary policy, in particular helping to avoid the risk that market interest rates rise prematurely as the recovery gains traction.

Third, it gives monetary policy greater scope to explore the potential sustainable level of employment and output without putting price and financial stability at risk.
Load more updates
Back to top