Labour in foreign staff row
Labour's immigration spokesman has modified planned criticism of Tesco and Next over claims they preferred eastern European workers after a preview of his speech drew a furious response from the firms. Tesco said it "absolutely refutes" the claim.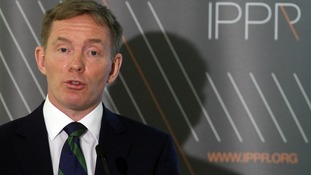 Labour's immigration spokesman had to amend planned criticism of Tesco and Next over claims they preferred eastern European workers.
Read the full story
Tesco has released its recruitment policy for its new Essex distribution centre after relocating it from Harlow to Dagenham.
The supermarket chain reacted after reports that the shadow immigration minister Chris Bryant had planned to claim it employed foreign workers because they were cheaper than local ones.
His modified speech, delivered this morning, had removed the claim.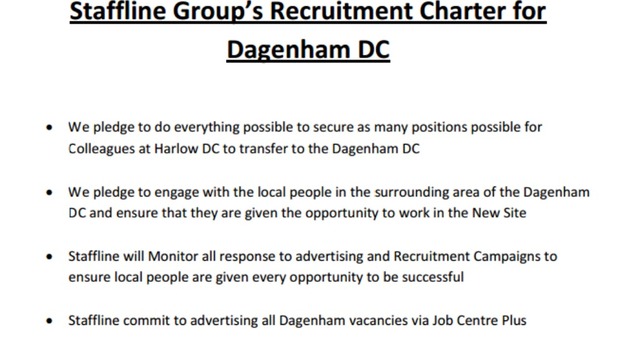 The charter promises to "do everything possible to secure as many positions possible for Colleagues at Harlow DC [distribution centre] to transfer to the Dagenham DC" and to "engage with the local people."
You can see the full charter here.
Advertisement
In a blog, Tesco has said it "absolutely refutes" accusations that they hired foreign workers to save money on pay, saying:
We absolutely refute any suggestion that we moved colleagues from Harlow to Dagenham to give them a "pay cut" and reduce the wage bill.

The Dagenham site is a multi-million pound development – it doesn't make sense to invest that sum of money in order to reduce a wage bill.
It is also not true that "a large proportion" of the workers in Dagenham are non-British.

Whether employed directly by Tesco or through an agency, they are overwhelmingly from the local area.

But the most serious accusation is that we have employed foreign workers in Dagenham on cheaper wages over British workers.

This is simply untrue.
– Tesco statement
Responding to criticism from Labour's Chris Bryant, Immigration Minister Mark Harper defended the government's immigration minister said the government's "tough reforms" are having an impact "in all the right places."
Our tough reforms are having an impact in all the right places. We have tightened the routes where abuse was rife and overall numbers are down as a result - net migration is at its lowest level for a decade.

And we are building an immigration system that works in the national interest and is supporting growth. Latest Labour market statistics show that there has been a rise in numbers in employment, which has benefitted British citizens first, but we are still attracting skilled migrants to come to the UK where they are needed by British businesses.
Read: Labour says government immigration policy adds up to "cheap and nasty gimmicks"
Labour's immigration minister Chris Bryant toned down his speech on the impact of foreign labour on the UK labour market, omitting some of the extracts reportedly leaked to the Sunday Telegraph.
Read: Labour to target Tesco over immigration claims
Mr Bryant dropped key passages from the speech, and made it clear that he did not label either of the companies "unscrupulous"
He did however criticise Next for using a recruitment agency that has an entirely Polish website, and he said both companies need to look at why they take on significant numbers of workers from overseas. Libby Weiner reports.
Tesco have welcomed Chris Bryant's praise during his speech on immigration and the labour market, and stressed the "vast majority" of the people they recruited for their Dagenham store are British and live locally.
We're pleased that Mr Bryant has recognised that Tesco is a good employer and an important source of jobs in Britain.

We worked incredibly hard to recruit people from the local area in Dagenham and as a result of that work, the vast majority are British and live locally.

We have one of the best pay and benefits packages in the industry, and we pay the same rate whether our colleagues are British or from the EU.
Watch: Labour's Chris Bryant says local workers 'priced out' of market
Advertisement
Labour MP Chris Bryant denied he was ever going to label Next and Tesco as "unscrupulous" employers, but said he had serious concerns of how the labour market was working. Speaking to ITV News he said:
Employers feel the need, including Tesco and Next, to take on significant numbers of workers from overseas. I think the way the labour market works in Britain effectively prices local workers out of the market and leads to exploitation of foreign workers."
Delivering his speech to the IPPR centre-left think-tank in London, Mr Bryant said unscrupulous employers were taking advantage of EU working rules to recruit foreign workers and pay them less than minimum wage:
Unscrupulous employers should not be allowed to recruit workers in large numbers in low-wage countries in the EU, bring them to the UK, charge the costs of their travel and their sub-standard accommodation against their wages and still not even meet the national minimum wage.

That is unfair. It exploits migrant workers and it makes it impossible for settled workers with mortgages and a family to support at British prices to compete.
Labour's shadow immigration minister said it was important to ask questions about the impact of foreign workers on the UK labour market, and address the concerns of UK residents and citizens.
He said there were questions of fairness to be asked about the hiring practises of British firms that specifically target foreign workers, and singled out Next and their association with an agency that targets Polish staff though its Polish language (only) website.
Chris Bryant MP said having a good standard of English should be a pre-requisite for studying or living in the UK, and that local authorities should spend money on teaching English rather than translating documents.
I heartily agree that a good standard of English should be a pre-requisite for studying or living here. Of course that is not always easy - look at how poorly English living overseas integrate there - but we can and should expect migrants here to learn English, which is why it would make more sense for local authorities to spend money on English courses, teaching English, rather than translation services.
Load more updates
Back to top