Peru drug suspects face 18 years
Peruvian prosecutors have warned that a British and an Irish woman charged with trying to smuggle cocaine worth £1.5 million out of the country could face up to 18 years in jail if they are convicted.
Melissa Reid and Michaela McCollum have been taken to a taken to a detention centre in the Peruvian capital of Lima.
The pair arrived from court to a media scrum and were followed by Melissa's father William in another car. It is unclear whether they have been formally charged.
The two women being held in Peru on accusations of drug smuggling were caught in a media scrum as they left the public prosecutor's office in Lima.
Advertisement
A childhood friend of Melissa Reid received a frantic message from her before being arrest in Per, the Daily Mirror reports.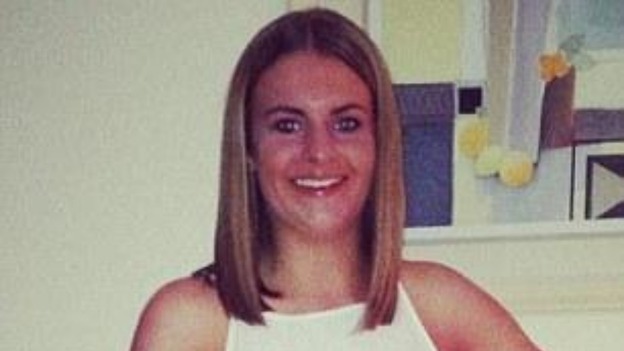 Melissa's friend Rebecca Hughes says she received a Facebook message from Melissa a few days after she disappeared from the flat they shared in Ibiza saying: "I can't back out now, they will kill me."
Miss Hughes tried to persuade Melissa to go to the police, but she refused as it would endanger her life, according to her friend.
The lawyer for drug trafficking suspect Michaela McCollum said both of the women being held for drug offences knew "as soon as they arrived at the airport" at Lima that the police knew they were carrying something in their cases.
Speaking ahead of their court appearance Peter Madden said the women think they may have been a decoy for a larger shipment of drugs.
"When they arrived at the airport, they have told the police this, they knew that the police knew what was going on. So they were immediately arrested."
CCTV footage purporting to show Michaela McCollum, the 20-year-old Irish woman appearing in court on drug smuggling charges in Peru along with British woman Melissa Reid, walking down a street of Lima's capital Peru.
The video, recorded on August 5, shows a young women with long dark hair walking back from a pizza parlour carrying a large bag, before heading towards a hotel.
The two women are reported to have arrived in court. It is unclear whether they will be charged with attempting to smuggle 12 kilos of cocaine out of the country.
Melissa Reid and Michaela McCollum Connolly have made their way from the headquarters of the anti-drug unit of the National Police of Peru in Lima to court after being arrested for allegedly attempting to smuggle 12 kilos of cocaine out of the country.
The two women have spent the past two weeks in police custody.
Advertisement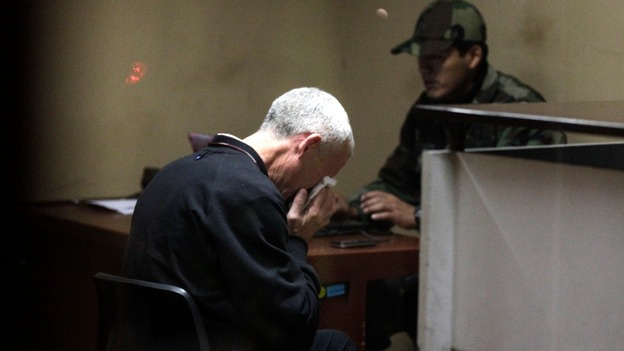 William Reid, the father of the British woman being held for allegedly attempting to smuggle 12 kilos of cocaine out of Peru, has visited his daughter in a police station in Lima.
The 53-year-old was seen having the bags and items he had brought for his 20-year-old daughter checked by police.
Read: Peru suspect's father says beach photos part of a 'set up'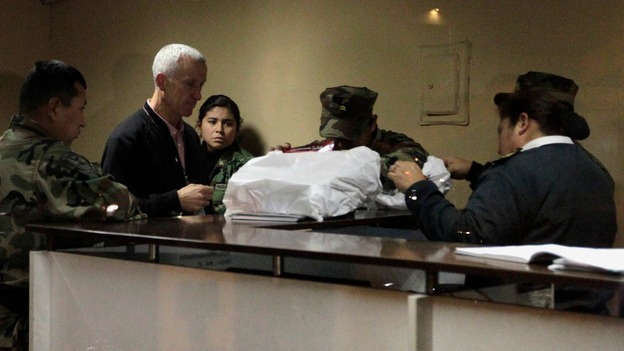 Ms Reid was arrested with Irish woman Michaella McCollum Connolly over a week ago. Both say they were threatened by gangsters into carrying the parcels.
Simon Burke spent two years in a Peruvian jail, maintaining his innocence over claims of drug smuggling.
Mr Burke told ITV News that it took him almost three years to "prove his innocence" and that it did not surprise him that the women may face the same prospect.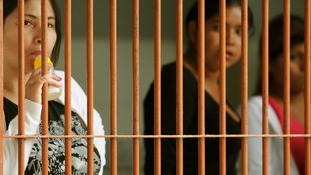 Two women accused of smuggling 12kg of cocaine into Peru could face up to three years in custody and a maximum of 25 years in prison.
Read the full story
Two British drug trafficking suspects face "at least one to three years" in custody in Peru awaiting trial and up to 25 years in jail if they are convicted, a Latin American legal expert has told ITV News.
Stefano Lucatello said Michaela McCollum Connolly and Melissa Reid have "no chance" of being released on bail and that the UK Government will not intervene in the case.
Load more updates
Back to top