Number of A and A* grades fall
The proportion of A-levels awarded top grades has fallen for the second year amid a rise in students taking science and maths, official figures show.
A teaching leader said he was "worried" about the huge variance in subjects chosen by girls and boys in their A-levels.
Brian Lightman, general secretary of the Association of School and College Leaders, said teachers should challenge stereotypical views:
We need, as teachers, to try and raise awareness of these stereotypical views that occur.

But it's a societal thing as well; in wider society we need to try and break those stereotypical models. We need to show role models of people who are doing different things.
– Brian Lightman
The latest A-level results showed there were huge gender differences in pupils' choices in subject, with officials saying the gap has "extenuated" this year.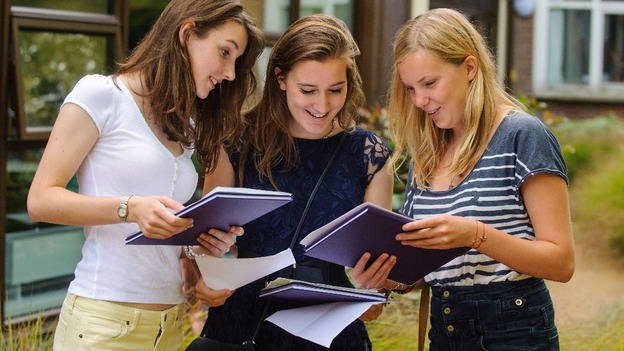 For instance, girls accounted for more than seven in 10 entries for English exams, while four in every five physics exam entries were for boys.
Advertisement
The proportion of A-levels awarded at least an A grade has fallen for the second year in a row, official figures showed today.
In total, 26.3 percent of entries scored an A or A* this year, down from 26.6 percent in 2012 - a drop of 0.3 percent. It is believed to be the second biggest fall in the history of A-levels.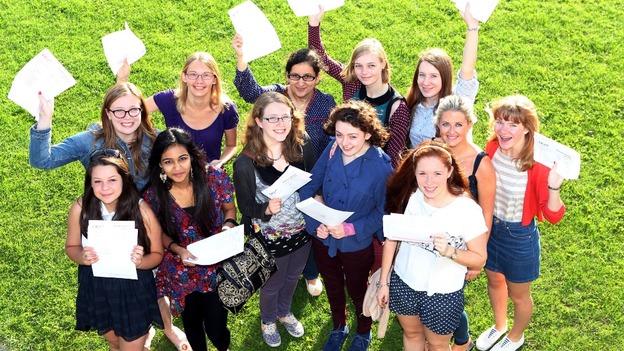 The A*-A pass rate fell for the first time in more than 20 years last year.
The latest drop comes amid rising numbers of teenagers taking A-levels in science and maths.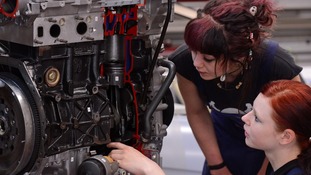 Whether you are considering looking for a job, apprenticeship, course or a gap year, there is a website to help you.
Read the full story
Figures show that around 345,300 student applicants have been accepted to their first choice of university.
A further 98,740 applicants are awaiting results or decisions, while 145,730 are eligible for clearing - the process that matches students without places to courses with vacancies.
Ucas chief executive Mary Curnock Cook said:
The gateway to higher education swings open for many people today based on these results - congratulations to all of them.

Demand for higher education has recovered after a dip last year and universities are keen to accept qualified applicants.

For some, that means going through clearing where there are plenty of high quality vacancies. The Ucas website has all the information you need.
– Mary Curnock Cook

Students waiting to learn about university places can check whether they have been accepted by logging on to the Track service on the Ucas website.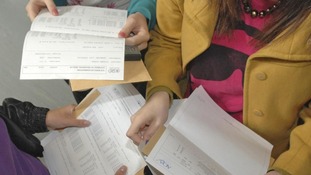 Thousands of students who do not get the results they hoped for still get places at university through clearing. Here's how it works.
Read the full story
Advertisement
West Country (W)
Got my A Level results!! Now officially have an A* in photography, A in Spanish and A in maths :) so happy!!!!
Plymouth's Olympic diver Tom Daley is celebrating top A level results today, two months after leaving Plymouth College.
A record number of students have already been accepted on university courses with 385,910 securing a place, up nine per cent on this time last year, Ucas figures showed today.
Reforms to the A level and GCSE system will not devalue a degree, the University minister has told Daybreak.
David Willetts congratulated A level students on their hard work and dubbed University "a worthwhile experience" despite a dwindling job market and mountains of debt graduates can get into.
He also let slip his A level grades - two As, one B and a C.
The Government needs to "give more thought" to the students who did not get A-levels or equivalent qualifications, a leading teaching union has said:
We hope students get the grades they need tomorrow to enable them to go to university, get a training place or find a good job.

But we fear for those who don't, because their prospects don't look rosy at a time when nearly a million 16 to 24-year-olds are out of work.

All young people need the chance to show what they've learnt, whether they want to go to university or not, but these new exam proposals won't let them do that.
– Nansi Ellis, head of education policy at the Association of Teachers and Lecturers (ATL)
Load more updates
Back to top