Miranda's detention reviewed
The independent reviewer of anti-terror laws has told the Home Secretary he is reviewing the detention of David Miranda for nine hours at Heathrow . The Met police has launched a criminal inquiry after seizing data his electronic devices
A petition launched by Four Lions actor Adeel Akhtar calling for the Government to look urgently at terrorism laws used to detain David Miranda has been backed by more than 38,000 names less than 24 hours after it was started.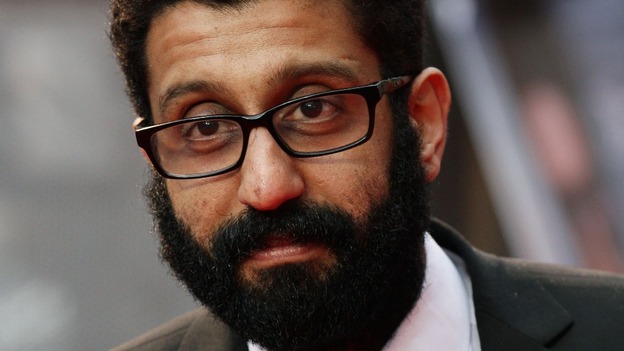 Akhtar, who was held under similar laws in New York in 2002, posted the petition yesterday on the campaigning site Change.org.
He wrote: "Schedule 7 has a become a blunt legal instrument that the UK government can use to intimidate people who it doesn't agree with."
David Miranda's solicitors have written to the Home Secretary and Metropolitan Police commissioner warning them not to inspect files confiscated by police at Heathrow.
Law firm Bindmans LLP said they have sought assurances that "there will be no inspection, copying, disclosure, transfer, distribution or interference, in any way, with our client's data pending determination of our client's claim."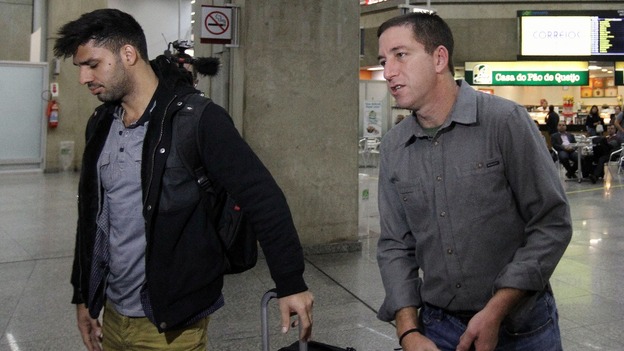 Miranda was detained at Heathrow Airport under Schedule 7 of the Terrorism Act 2000 on Sunday as he changed planes on a journey from Berlin to his home in Brazil.
Advertisement
The Guardian newspaper has criticised Schedule 7 of the Terrorism Act, which police used to detain David Miranda at Heathrow airport for nine hours.
Schedule 7 applies only at airports, ports and border areas, allowing officers to stop, search, question and detain individuals
Guardian editor Alan Rusbridger called it "a vacuum" with no checks and balances
Detainees must provide "any information in his possession the examining officer requests"
Police can hold individuals for up to nine hours
The Home Office says more than 97 per cent of examinations last less than an hour
Police say property not returned straight away can be kept for up to seven days, or longer if it is required "for use as part of a criminal investigation"
The Home Office states Schedule 7 should be used solely for the purpose of ascertaining if a person is involved in "acts of terrorism"
David Anderson, the government's independent reviewer of terrorism legislation, has called its use to detain Miranda "unusual".
David Miranda's solicitors have said they are challenging the "legality of the action" to detain him under Schedule 7.
A Downing Street source said David Cameron was "kept abreast of the operation " to detain David Miranda, but denied any political involvement in the decision, adding: "The Government does not direct police investigations."
David Miranda is taking a civil action against the Government and wants files confiscated by police at Heathrow airport to be returned, the editor of the Guardian newspaper has said.
Alan Rusbridger told BBC News it was "suspicious" that Miranda was held at Heathrow:
It's not a very good way to treat people who are engaged in journalism.

(Miranda) wants that material back and he doesn't want it copied.

If the British state want that material they will have to do it through a more satisfactory procedure than this bizarre bit of the Terrorism Act.
– Alan Rusbridger
Guardian journalist Lisa O'Carroll said lawyers for David Claim his detention at Heathrow was "unlawful" and that he will demand the return of his seized laptop.
Lawyers for David Miranda written to Theresa May and the Met warning they will take legal action re his "unlawful" detention. Story soon ..
Lawyers for Miranda have asked for return of laptop etc and not to copy or disclose data they may have inspected to any third party
Advertisement
Liberal Democrat home affairs spokesman Julian Huppert has said David Miranda's detention was "not acceptable" and "a clear abuse of terrorism powers":
We have already ensured that there is legislation before Parliament to tighten up the powers under which David Miranda was held. We now need to see whether this goes far enough to correct the legislation and improve our freedoms.
– Julian Huppert
The Guardian is supporting legal action taken by David Miranda against the Home Office after he was detained for nine hours at Heathrow Airport, the newspaper's editor has told the BBC.
Guardian is taking legal action against Home Office over detention of David Miranda & confiscation of his laptop & phone
Alan Rusbridger tells @dannyshawbbc there will be a legal challenge to use of S7 of terror act in Miranda detention
To clarify: David Miranda is taking legal action against Home Office. Guardian "supportive" but not leading on it.
The Home Office has defended the decision to detain David Miranda under terrorism laws, saying the Government and police "have a duty to protect the public and our national security".
Scotland Yard has defended the use of the Terrorism Act to detain Mr Miranda as he changed planes on a journey from Berlin to his home in Brazil as "legally and procedurally sound".
And the Home Office appeared to back the decision as a spokesman said:
The Government and the police have a duty to protect the public and our national security.

If the police believe that an individual is in possession of highly sensitive stolen information that would help terrorism, then they should act and the law provides them with a framework to do that.

Those who oppose this sort of action need to think about what they are condoning.

This is an ongoing police inquiry so we will not comment on the specifics.
– Home Office
Police and Criminal Justice Minister Damian Green avoided addressing questions from ITV News about whether the detention of David Miranda at Heathrow airport was "politically" motivated.
Despite being repeatedly asked about potential "political involvement", the Minister only responded that protecting the public from terrorism was "extremely important" and the matter would be addressed by terror law reviewer David Anderson.
Load more updates
Back to top