'Neurotoxic' attack in Syria
Medecins Sans Frontieres says doctors have treated about 3,600 patients in Syria with 'neurotoxic symptoms' and that 355 of them died. It suggests there are strong indications that chemical weapons have been used.
Defence Secretary Philip Hammond has said that anyone found to be responsible for an alleged chemical attack in Damascus "should be in doubt that they will be held to account".
He said Britain is pushing with the "utmost urgency" for UN inspectors to be given access to the sites to make an "objective assessment".
Sweden's foreign minister Carl Bildt has said he believes Syrian forces are to blame for the alleged chemical attack, based on the evidence he has seen.
Writing in Swedish on his official blog, Mr Bildt said:
I have a hard time coming to any conclusion other than that a deadly chemical substance has been used in the attack carried out by the regime's forces between Tuesday and Wednesday on this opposition-controlled area.
– carl bildt, swedish foreign minister

He also said that if such an attack was confirmed by UN inspectors, he believes it would force Russia to reconsider its position and perhaps result in stronger action by the UN Security Council.
Advertisement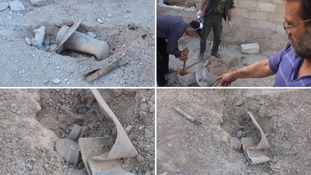 These are the images of the remains of rockets which, according to the men stood by them, delivered poisonous gas to a suburb of Damascus.
Read the full story
US President Barack Obama has described allegations of a chemical attack in Syria as a "big event of grave concern" and said that it would be "very troublesome" if they were verified.
He told CNN's 'New Day' programme that he does no expect the Syrian regime of President Bashar al-Assad to cooperate, based on previous experience.
Asked about the so-called "red line" that he previously said a chemical attack would represent, he admitted he still had to look at the latest event in detail.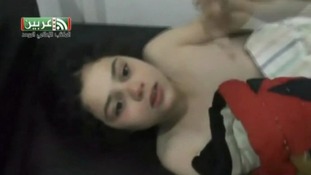 Hundreds of images purporting to show the aftermath of a fatal chemical attack in Damascus are horrific, and they demand an explanation.
Read the full story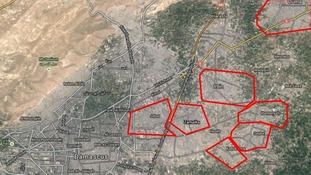 Most of the allegations of chemical attacks relate to a cluster of rebel-held suburbs east of Damascus, and to key military installations.
Read the full story
Advertisement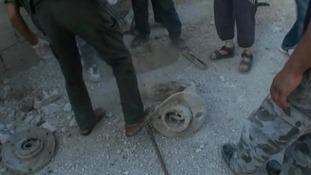 ITV News has obtained pictures of the aftermath of the "chemical attack." A warning that they show bodies of dead adults and children.
Read the full story
With UN weapons inspectors still refused access into Syria by the Assad regime, it is not yet clear what actually caused so many deaths in Damascus.
Read: UN official goes to Syria to negotiate chemical inquiry
Most experts say it looks like some kind of chemical attack took place, but there is disagreement whether a nerve agent like Sarin is to blame.
The chemical evidence will remain for only another 12 to 24 hours, which means time to establish the facts of what happened is running out, as Paul Davies reports.
Warning: This report contains graphic images
The US State Department said that at this time "we are unable to conclusively determine chemical weapons use" in Syria following reports of an attack.
Spokesperson Psaki: We have been unable to conclusively determine chemical weapons use, are working urgently to gather information. #Syria
State Department spokeswoman Jen Psaki said that if the reports of an attack were true, "It would be an outrageous and flagrant escalation" of the use of chemical weapons by Bashar al-Assad's government.
Damascus is the "chemical weapons capital of Syria" and contains a "network of jealously protected weapons facilities," according to research by Channel 4 News.
Based on thousands of videos and social media updates, Channel 4 also reports that rebel groups have accused the government of 30 separate chemical attacks. The government has reportedly made only one such accusation.
Load more updates
Back to top