Syrian snipers shoot at convoy
The United Nations chemical weapons team in Damascus have been shot at by Syrian snipers, a UN spokesperson said. The experts have reportedly returned to their hotel after inspecting the site of an alleged 'gas attack'.
UN Secretary General Ban Ki-Moon has said he is confident that weapons inspectors can get evidence about an alleged chemical attack in Damascus despite the passage of time, a spokesman said.
UN Secretary General Ban Ki-Moon said he has received an update from the official leading a team of inspectors looking into allegations of a chemical attack in Damascus.
He said they had visited two hospitals where they interviewed witnesses, survivors and doctors, as well as collecting some samples.
Advertisement
UN Secretary General Ban Ki-Moon has said that the UN will "register a strong complaint" after members of a weapons inspection team came under sniper fire in the Syrian capital Damascus. A statement said:
I have instructed [Under-Secretary-General for Disarmament] Angela Kane to register a strong complaint to the Syrian Government and authorities of opposition forces so that this will never happen and the safety and security of the investigation teams will be secured from tomorrow.
– un secretary general ban ki-moon
A Syrian opposition figures has told Reuters that peace talks with President Bashar al-Assad's regime are off the table for now following allegations of a gas attack in Damascus.
A convoy of cars carrying UN inspectors returned to the hotel where they are staying Damascus a short time ago.
None stopped to give any comment about what they found on a fact-finding mission to the site of an alleged chemical attack in the east of the city.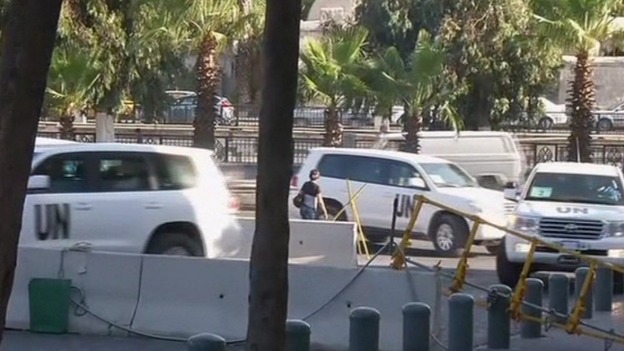 Four mortar shells hit the historic Old City of Syria's capital Damascus today, wounding several people and damaging an Armenian church, state news channel El Ikhbariya reported.
Damascus's Old City, a world heritage site, has escaped the worst of the fighting, but has been damaged by a number of clashes and stray shells.
Read: At least two bombs hit Damascus near UN experts' hotel
Advertisement
UN inspectors have returned to their Damascus hotel after visiting the site of an alleged poison gas strike, Reuters have reported citing witnesses.
The six-car convoy went to the Damascus suburb of Mouadamiya where the inspectors visited wounded people and took samples.
UN weapons teams are inside Eastern Ghouta on the outskirts of Damascus, meeting local people and gathering evidence of a possible chemical weapons attack.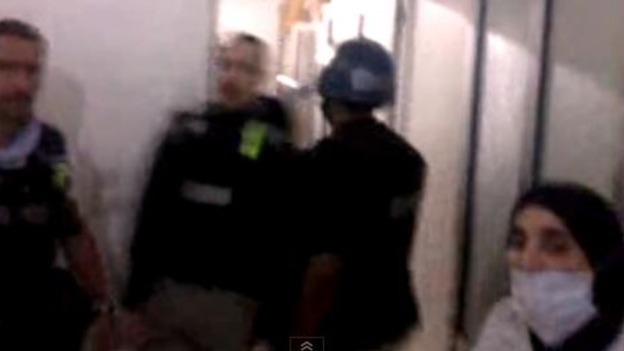 Pictures of the what appears to be the inspection are being streamed live on the internet by a filmmaker called Moahmaih Alsham.
You can watch clips from the visit, as it happens here.
The United Nations chemical weapons inspectors are meeting with the wounded from the alleged 'gas attack' in Damascus and are taking samples, a doctor in the area told Reuters.
I am with the team now, we are in the Rawda Mosque and they are meeting with the wounded. Our medics and the inspectors are talking to the patients and taking samples from the victims now.
– Abu Karam
UN chemical weapons inspectors have entered a Damascus suburb that was allegedly one of the sites where a 'gas attack' took place, activists told Reuters.
Load more updates
Back to top