UK to ask UN to back Syria action
The UK is to put a draft resolution to the UN Security Council later "authorising necessary measures to protect civilians" in Syria, David Cameron said. But an ITV News poll appears to show the public is evenly divided on taking military intervention
The former security minister Admiral Lord West has said he is "pleased" David Cameron is taking the issue of Syria to the UN Security Council.
The former head of the Navy said: "In terms of legality I think action would be legal, for a coalition of the willing.
"But how much better to get the UN Security Council. You'd have many more nations then involved with it (so) you could pull in all sorts of other ways to achieve things."
He added: "We need to be very clear on what is our game plan... What at the end is going to make our nation and the globe more secure and ideally help the Syrian people."
Responding to the Prime Minister's announcement of a draft resolution to the UN on Syria, a senior Labour source has said:
This is one necessary step. Ed Miliband made clear to David Cameron last night the importance of evidence from weapons inspectors and the consideration of any action by the UN Security Council. We will continue to scrutinise any proposed action to ensure there is a proper legal base.
Diane Abbott: Misguided Syria intervention 'has no end game'
Advertisement
Prime Minister David Cameron has announced the UK will present a drafted Syria resolution, condemning the Assad regime for a chemical attack and authorising "necessary measures" to protect civilians", to the UN Security Council later today in New York.
1/3 We've always said we want the UN Security Council to live up to its responsibilities on Syria. Today they have an opportunity to do that
2/2 Britain has drafted a resolution condemning the chemical weapons attack by Assad & authorising necessary measures to protect civilians.
3/3 The resolution will be put forward at a meeting of the five permanent members of the Security Council later today in New York.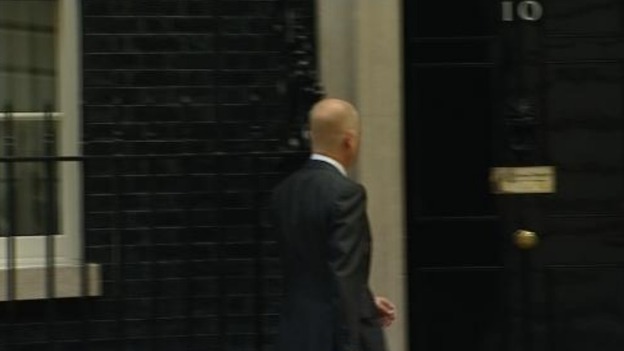 The Foreign Secretary William Hague has arrived at Number 10 Downing Street ahead of today's National Security meeting, which will be chaired by David Cameron.
More: Majority of Britons urge PM not to 'go it alone' on Syria
The British public does not want to see the UK acting unilaterally on Syria, with more than half (55%) saying Britain should not "go it alone", according to an ITV News poll.
That compared to only 15% who say Britain should "go it alone" if it is proved Assad regime's used chemical weapons.
The majority of people said they do not know if the overthrow of Syrian leader Bashar Assad and replacement with a rebel government would be a good thing for either Syrian (62%) or British interests (67%).
The ITV News Index was carried out by ComRes.
Watch: French socialist says 'it's either too late or too early to intervene'
Opposition to British military involvement is far higher among older people than in younger generations, according to the ITV News Index, carried out by ComRes.
More than three in five (62%) people over the age of 65 disagree with the use of British ground troops in the event that the Syrian government used chemical weapons on its own people.
That compares to only 18% of 18-24 year olds and 25% of 25-34 year olds.
Advertisement
The British public is evenly divided on whether to take military intervention in Syria, according to an ITV News poll carried out by ComRes.
The poll found 35% agree and 35% disagree that foreign governments should not intervene in the country in the wake of the claimed chemical attacks by the Assad regime.
Nearly half of Britons (45%) agree that world leaders must help Syrian civilians under attack.
But two fifths (40%) do not want to see British ground troops in Syria if the gas attack is proven to have been the work of the Assad regime, compared to 30% who would support the use of troops.
General: UK risks 'shooting first and asking questions later'
David Cameron set out the military options against Syria being considered by the UK in a telephone call to US President Barack Obama last night, Downing Street has said.
"Both leaders agreed that all the information available confirmed a chemical weapons attack had taken place, noting that even the Iranian president and Syrian regime had conceded this," a spokesman said, adding:
And they both agreed they were in no doubt that the Assad regime was responsible. Regime forces were carrying out a military operation to regain that area from the opposition at the time, and there is no evidence that the opposition has the capability to deliver such a chemical weapons attack.

The PM confirmed that the Government had not yet taken a decision on the specific nature of our response, but that it would be legal and specific to the chemical weapons attack.
– Number 10 spokesman
Former Number 10 Director of Communications Alastair Campbell told ITV's Daybreak it would be "hugely irresponsible and incredibly dangerous" if the world does not act on the Syria conflict.
When pressed whether that meant action in Syria, Mr Campbell said he thought it would be "very, very hard for the world to stand aside giving what we know has happened even before the use of chemical weapons".
Mr Campbell, who was Tony Blair's spin doctor between 1997 and 2003, said both the former Prime Minister's article in The Times (£) and David Cameron's statement on Syria were "measured".
Mr Campbell, who was Number 10's Director of Communications when the Iraq war started in 2003, added that the United Nations "isn't a judgement body, it's a political body".
Read: Leaders agree Syria chemical weapons use cannot be ignored
Labour MP Diane Abbott has told Daybreak pursuit of military action against the Assad regime "runs the risk of dragging" Britain into a civil war in Syria "with no end game".
Discussing her opposition to intervention with Matt Barbet, she said: "The British public have seen this movie and they know how it ends".
The shadow health minister, though, refused to confirm reports she could resign her post if Labour leader Ed Miliband supports intervention.
Ms Abbott had earlier told the Guardian the use of military action "would put me in a very difficult position."
Load more updates
Back to top