Syria ready for US 'aggression'
President Bashar al-Assad has said Syria is capable of confronting any "external aggression", Reuters reports, citing state television. The United States are seeking approval from Congress to take military action.
The state owned bakeries in Damascus are doing a roaring trade as people stock up on bread. Many are carrying out deep piles of bread.
International Editor Bill Neely in Damascus says the Syrian capital is "relatively calm" but people are worried and take no comfort from President Obama's reassurance that any military strikes will be "limited and narrow".
He explains the Syrian army's campaign against rebels is also continuing with regular shelling:
Advertisement
People took to the streets of Zamalka in Syria today to show their support for US military action. Demonstrators said they wanted the US to "remove Bashar al-Assad for good".
There have been two loud explosions in Damascus but it's the usual shelling from army positions into rebel held areas, not the expected American barrage.
There is a plume of black smoke from a Damascus suburb, the call to prayer from the muezzin is sounding and traffic is flowing no less than usual. A capital awaits.
Not only did the UN inspectors leave a day early - their chief two days early - they left before dawn on Saturday. A hasty exit. Echoes of Iraq.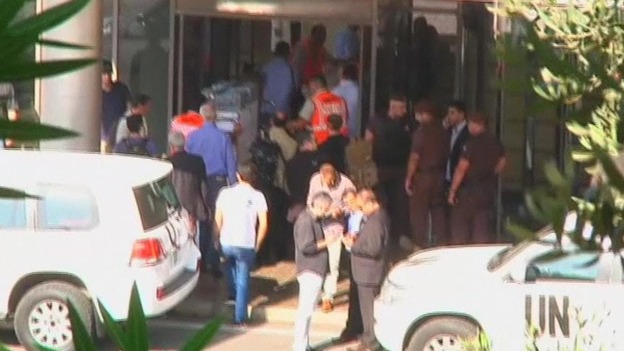 The United Nations chemical weapons team has arrives in Lebanon after completing investigations in Syria, Reuters reports.
The team had crossed the land border from Syria into Lebanon earlier in the day after completing its four-day investigation.
The United Nations team tasked with investigating alleged chemical weapons strikes in Syria arrived in Lebanon on Saturday, a witness told Reuters.
The team crossed the land border into neighbouring Lebanon after leaving their Damascus hotel earlier in the morning.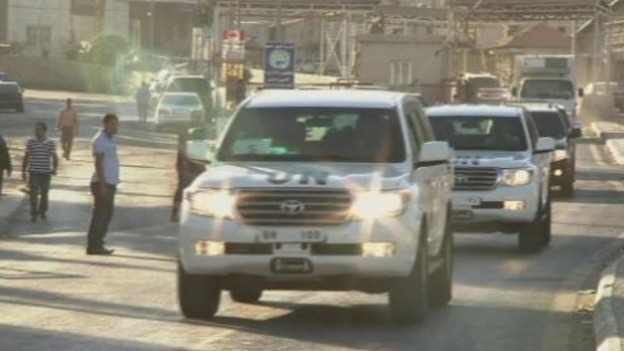 Advertisement
The team of UN chemical weapons inspectors left their Damascus hotel early this morning, a witness told Reuters, and appeared to be leaving the country.
The witness saw the team's convoy of vehicles head onto a highway that leads to neighbouring Lebanon.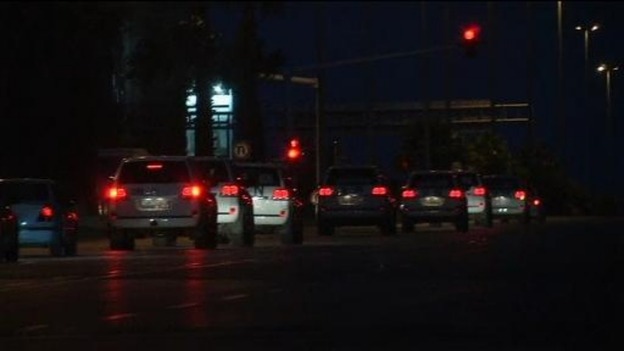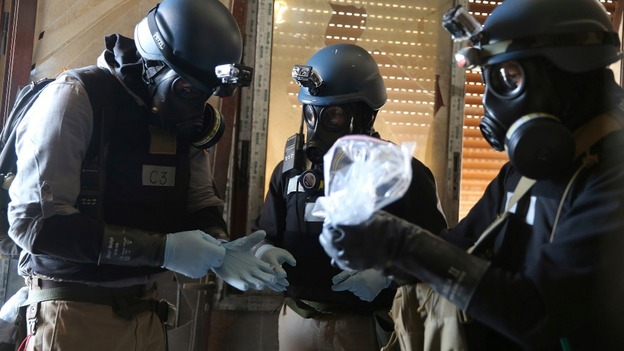 UN Secretary General Ban Ki-moon told permanent members of the Security Council that analysis of samples taken by inspectors in Syria could take two weeks, a diplomat said.
UN inspectors have finished examining sites in Syria where chemical weapons attacks are believed to have been carried out.
International Editor Bill Neely reports from Damascus that they could deliver their findings as early as tomorrow but they will not conclude who carried out the attacks.
Syrian refugees who fled their homes in Damascus shortly before the chemical weapons attack told ITV News that the world must act now to prevent further atrocities.
Sapha, who is just one of 140,000 Syrian refugees at the Zaatari camp in Jordan, was forced to flee the war-torn country without three of her children.
She told our Correspondent Martin Geissler: "It's awful. My body is here but my heart is at home. I don't know where my children are. I don't know what's happened to them. It's tearing out my heart."
Load more updates
Back to top