PM Syria vote 'regret'
David Cameron has said he regretted the division caused by the Commons vote on potential military action in Syria. Number 10 previously stated that it has "absolutely no plans" to go back to Parliament on the issue.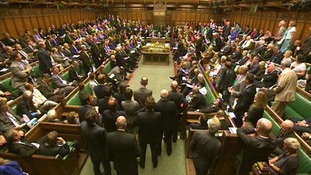 Cameron and Miliband avoided any real debate on Syria today in Parliament, as they are both in odd and difficult positions.
Read the full story
The Foreign Secretary William Hague has reportedly told a meeting of Conservative MPs that "lessons will be learned" from how the Government handled the vote on possible military action on Syria:
Hague has just told the '22 that 'lessons will be learned' from the Syria vote, nearest snr govt figure has come to saying it was mishandled
Advertisement
David Cameron has insisted that changing the UK approach to Iran would not provide a "magical key" to solving the Syrian conflict.
The Prime Minister was urged by Labour MPs, including former home secretary Jack Straw, to look carefully at improving relations with Iran following the recent election of Hassan Rouhani as president.
Mr Cameron said talks with Iran had to be approached "very, very cautiously" given its actions in the recent past.
The Prime Minister said to Mr Corbyn:
If you are trying to build a relationship with someone it depends on the actions they take.

Given that the Iranian government was complicit in the complete smashing of our embassy and residence in Tehran, we will want to see some actions so we can build that sort of relationship.
I have reached out by writing to president Rouhani congratulating him on his accession to power and wanting to discuss these issues.

But I said, if we believe there's just some magical key to the Syrian conflict by suddenly adopting a totally different posture towards Iran, I don't think we will be making a very good decision.
Last week's vote was not about Britain shirking its global responsibilities, but about preventing a rush to war.
Of course, we all want these peace talks to take place, we want Geneva II to happen. But we can't want it more than the participants involved in Syria's bloody conflict.
We have to make sure it's in their interests that these talks go ahead. That's why, yes, diplomacy is important but the work we do with the Syrian opposition that supports democracy, that supports a free, fair and pluralistic society - that is important.

They are standing up for millions of Syrians who have been bombed and blasted out of their houses. Those are the people you need to talk to in the refugee camps in Jordan and elsewhere - to see how they feel about how badly the rest of the world is currently letting them down.
– Prime minister David Cameron
The Prime Minister said he regretted last week's vote on military action in Syria, which the Government lost.
David Cameron said: "My only regret of last week is I don't think it was necessary to divide the House on a vote that could have led to a vote but he took the decision that it was."
Advertisement
The world is letting the people of Syria down, David Cameron said during Prime Minister's Questions as he again ruled out Britain taking part in any military action.
He said the Government would continue to exercise its "diplomatic muscle" to press for a peaceful resolution to the conflict but warned that Syrian president Bashar Assad needed to be put under real pressure from the international community.
Jesse Norman, one of the MPs who rebelled over Syria, has been removed from his role on the Number 10 policy board as a result of the vote.
The political fallout from last week's Syria vote has continued with a Cabinet minister saying the results would be a matter for Ed Miliband's conscience and the shadow foreign secretary admitting he was not comfortable with the position Labour now finds itself in.
ITV News Political Editor Tom Bradby reports:
Michael Gove lambasted Labour saying that the party would have to live with the consequences.
Shadow foreign secretary Douglas Alexander told ITV News that he was not "comfortable with the situation" in Syria as the UK looks unlikely to intervene.
Read more: Tom Bradby - What the Syria vote means for the UK and our priorities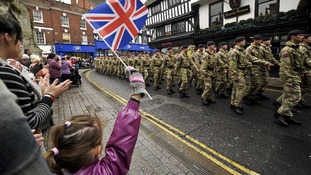 For the time being it seems likely we are going to sit this one out and I think you can expect the debate on what that means to run and run.
Read the full story
Load more updates
Back to top