G20: 'UN paralysed over Syria'
World leaders have failed to reach agreement on the Syria crisis despite days of talks at the G20 summit in Russia. In a joint statement, 11 country's leaders - but not Vladimir Putin - admitted the UN Security Council "remains paralysed over Syria."
US President Barack Obama said he is "not itching for military action" in Syria but added he cannot see many alternatives.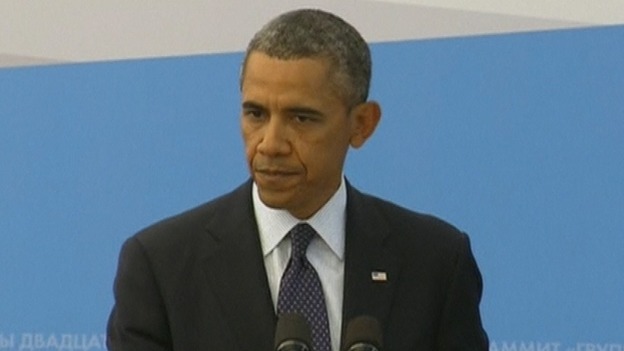 He added that he has a "well-deserved reputation of taking seriously the idea of military action."
The G20 summit ends worse than expected - in acrimony, mud slinging, division and name calling over Syria. No progress at all. World failure again.
The best than can be said about the G20 summit is that at least they talked about Syria but they agreed absolutely nothing of any use.
It is clear from the G20 that governments representing most of the world's population do not want military action in Syria.
Advertisement
As David Cameron spoke at the G20 on Syria mortars resounded across Damascus.
And as President Obama begins to speak, another huge artillery blast.
Barack Obama said "he was elected to end wars not start them" but added that failing to respond to the chemical weapon attack in Syria would send out the wrong message.
The US President said he would "greatly prefer to work through the United Nations to get this done."
US President Barack Obama said a "majority" of world leaders believe that Bashar-al Assad's regime used chemical weapons.
He added that it was "unanimous" among the leaders that chemical weapons were used in the country.
US President Barack Obama said the alleged use of chemical weapons by Bashar al-Assad's regime is "not just a Syrian tragedy, it's a threat to global peace and security."
Advertisement
If the West waits for a UN resolution until intervening in Syria, Britain would be "contracting out our foreign policy, our morality, to the potential of a Russian veto," David Cameron said in response to a question from ITV News deputy political editor Chris Ship.
"I think that is a very misguided approach," he said, describing last night's debate as "frustrating."
David Cameron said because there was never going to be an agreement on military action at the G20 summit, Britain decided to focus its effort on securing more humanitarian aid for the crisis in Syria.
He said the the case made by those countries who believed there was a need to make a stand was "extremely powerful."
He reiterated that Britain will not be part of any military action.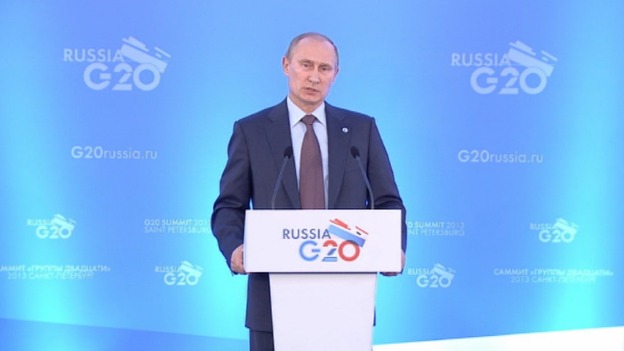 Russian president Vladimir Putin has said he is concerned about the effect of the Syrian conflict on the world economy.
He said video evidence of alleged chemical attacks in Syria was "provocation by the militants who expect to get help [from the West]."
He added that surveys had shown that people in the US and other Western countries were against military intervention in Syria.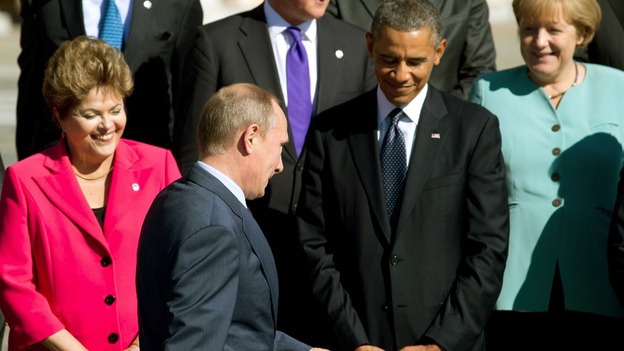 US president Barack Obama and Russian president Vladimir Putin met for 20 minutes on the sidelines of a G20 summit today but remained at odds over the conflict in Syria, Putin's senior foreign policy adviser said.
"They sat down before today's working session, in armchairs, and had a 20-minute chat, one on one," the adviser, Yuri Ushakov, told Reuters.
He said Syria was the main topic and said: "No, their (positions) have not come closer."
Load more updates
Back to top