Kent pile-up crossing reopens
Police have re-opened the A249 in Kent after about 130 vehicles were involved in a pile-up in misty conditions on the New Sheppey Crossing bridge - the largest ever fog-related crash in Britain. Eight people were seriously injured.
A hospital has cancelled all routine planned surgery for the day after more than 30 people were injured in a massive pile-up on the Sheppey crossing in Kent.
A spokeswoman for the Medway Maritime Hospital said it has treated five people for serious injuries.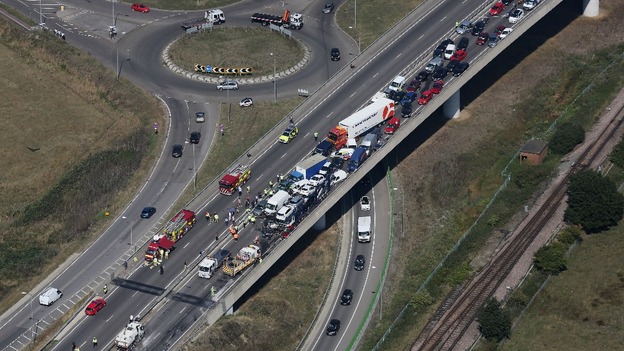 She added: "At 9.45am the trust received the first casualty from the accident who is now being treated for multiple serious injuries.
"A further 13 casualties have since arrived at the hospital, four being treated for serious injuries and nine for minor injuries.
"The trust continues to be on stand-by to receive further casualties if necessary."
The Salvation Army sent an emergency response unit to support those affected by a massive pile-up on the Sheppey crossing in Kent, a spokeswoman said today. It added that it had been working in collaboration with St John Ambulance service.
Our team arrived at the scene at 10am to offer pastoral care and refreshments to emergency services and victims following the crash which happened at around 7am on Thursday.

Due to the soaring temperatures, a shelter has been erected and cold beverages are being served by the Salvation Army at the scene to help victims and rescuers.
Advertisement
Meridian
One of our viewers took this footage, seconds after the pile-up on the new bridge that links the Isle of Sheppey with the mainland. Credit: AZN.
Kent Police has issued a number for anyone concerned about relatives, after 130 vehicles were involved in a massive pile-up on the A249 Sheppey crossing in Kent.
KFRS is scaling down at #Sheppey collision, anyone concerned about relatives involved should call Kent Police on 01622 653 580
It was "truly miraculous" that no one was killed in 130-car pile-up on a bridge in heavy fog, police said today.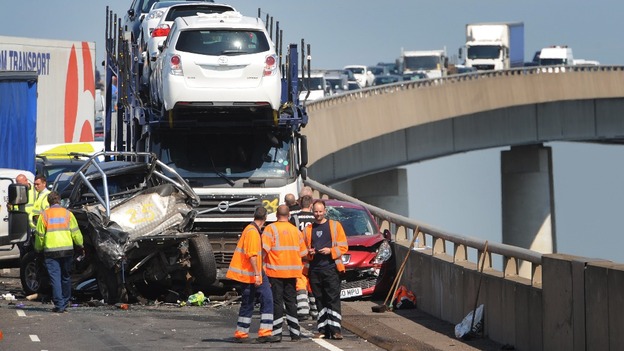 Eight people were seriously injured and 33 are in hospital following the crash on the new Sheppey crossing bridge in Kent, which started around 7.15am and continued for 10 minutes as cars and lorries crashed into each other in visibility that was down to 25 yards.
Chief Inspector Andy Reeves from Kent Police said he had never seen such a crash in 20 years. "From my perspective, it's truly miraculous. It's very fortunate there were no fatalities."
Matthew Kendall, Chief Inspector of Kent Police has told ITV News that there approximately 130 vehicles involved in a pile-up on the Sheppey crossing in Kent.
Mr Kendall added that foggy conditions may have been a contributing factor to the accident.
Advertisement
Meridian
Commuters involved in the Sheppey Bridge crash have blamed the fog and lack of lights on the bridge.
Martin Adams of the Kent Fire and Rescue Service has told ITV News that a pile-up on the A249 Sheppey crossing was one of the most "serious" accidents he had attended in his career.
Mr Adams added that the service could only manage the accident by "breaking it down into smaller parts".
South East Coast Ambulance service has said that 200 people are still currently on a bridge where a massive pile-up left eight people seriously injured at the Sheppey crossing, Kent.
Lots of people unable to leave bridge at present due to wrecked vehicles etc. & its very hot! @secamb PPs helping to look after vulnerable
Meridian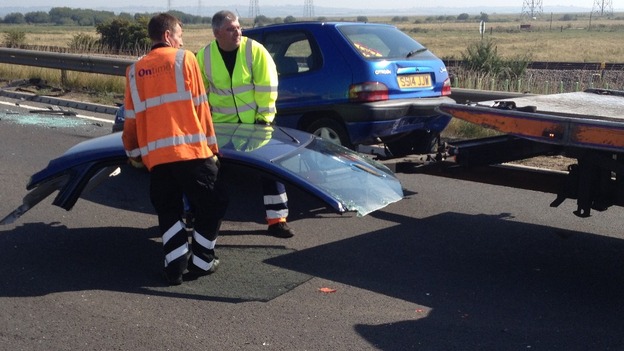 Load more updates
Back to top