French draft UN Syria resolution
An initial French draft UN Security Council resolution on Syria would demand a complete declaration of all chemical weapons within 15 days.
Even if Russia's proposal of locking down Syria's chemical weapons receives international assent, experts believe it could still take years to realise.
Destroying chemical weapons is a hugely hazardous task that cannot be rushed, and according to US intelligence there are some 1,000 tonnes worth across some 41 sites in Syria.
ITV News' Diplomatic Correspondent John Ray reports on the challenges involved:
The Russian plan gained traction for a while, primarily because it did offer President Barack Obama an escape route from imminent humiliation here on Capitol Hill.
The key point is that no US official really believes that Syria is about to give up its entire stockpile of chemical weapons.
Weapons that are its military crown jewels and the nation's ultimate insurance policy.
It leaves America in a very vulnerable diplomatic position. The Senate was going to vote tomorrow and now it is not. The UN Security Council was going to meet today, and now it is not.
And the president in just a few hours is due to advocate before the American people missile strikes that he himself is no longer quite advocating.
He will say tonight that the threat of military action has opened up this diplomatic window, but his critics are going to be much, much harsher.
Advertisement
Another day of intense diplomacy has left the US claiming it has no option but to press on with gaining authorisation for possible military strikes in Syria.
A Russian proposal that would see Syria hand its chemical weapons over to international control still lacks detail and will not come before before the UN Security Council tonight.
Meanwhile, Russia appears decidedly on the centre stage of this crisis.
ITV News' Europe Editor James Mates reports from Moscow:
President Vladimir Putin's diplomacy has been much admired here in Moscow, and elsewhere as well.
He faced an apparently reluctant American president, and has given him a way out with his offer yesterday - an offer which the Americans appear to have accepted with both hands.
Then suddenly today, came the conditions: That the US must renounce the use of force.
In other words, don't go to the UN and try to get a Security Council resolution that says that force can be used if the Syrian's don't hand over their chemical weapons.
What Putin has done is to get a president who was beating the drum for war on the basis that there was no alternative, to accept now that there is an alternative.
But can President Obama now go back and pick up the rhythm of those war drums again?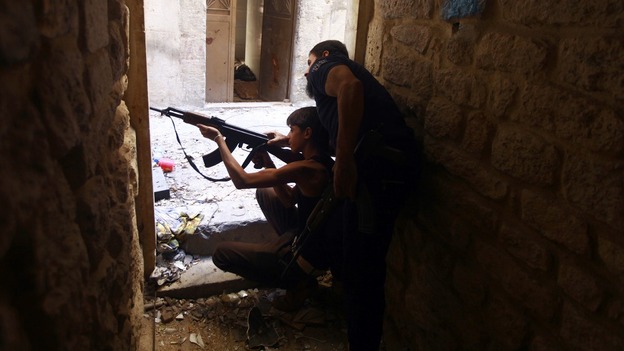 Another eight countries have signed on to a joint statement calling for a strong international response on Syria, the White House says.
Georgia, Guatemala, Kuwait, Malta, Montenegro, Panama, Poland and Portugal have today signed on to the statement which condemns in the strongest terms the Assad regime's use of chemical weapons on August 21 in the suburbs of Damascus.
They join 33 countries, including the US, France, UK, Germany and Japan, who now formally support the statement.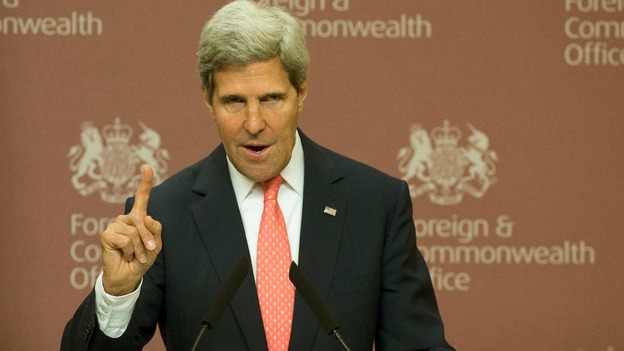 US Secretary of State John Kerry will meet the Russian foreign minister in Geneva on Thursday to discuss the ongoing situation in Syria, a source has told the Associated Press.
Advertisement
An Emergency UN Security Council meeting to discuss the ongoing crisis in Syria has been cancelled after Russia reportedly withdrew its request for the session.
Australian ambassador, Gary Quinlan, announced the news on his Twitter account, saying: "Following withdrawal of the request for consultations, Security Council meeting scheduled for 4 p.m. (2000 GMT) will not proceed."
The meeting was expected to focus on a Russian plan to place Syrian chemical weapons under international control.
Syria will declare its chemical weapons arsenal and sign a chemical weapons convention, according to the Syrian foreign minister.
US Secretary of State John Kerry is currently participating in a Google+ Hangout to discuss the American response to the crisis in Syria.
The discussion will focus on President Obama's decision to seek congressional approval for a military strike to deter Syria's use of chemical weapons.
Mr Kerry will have an opportunity to answer questions submitted by online viewers.
You can watch the discussion on the video above or on the US Department of State website.
Despite the attempts at international diplomacy, the daily toil of violence and suffering continued in Syria today.
More bullets and blood fell on the streets of Damascus and beyond as ITV News' International Editor Bill Neely reports:
Load more updates
Back to top