French draft UN Syria resolution
An initial French draft UN Security Council resolution on Syria would demand a complete declaration of all chemical weapons within 15 days.
A Russian proposal for Syria to place its stock of chemical weapons under international control will not succeed unless the United States and its allies reject the use of force against Damascus, President Vladimir Putin said on Tuesday.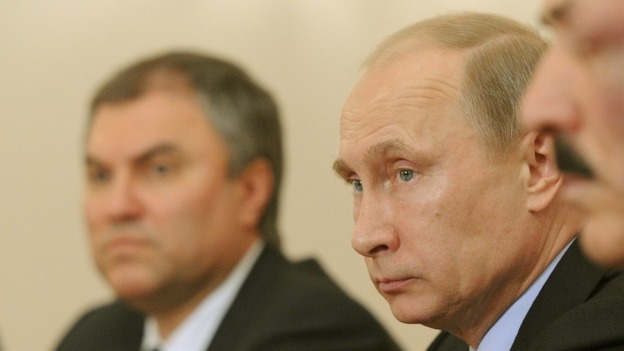 The Russian President said the proposal "can work only if we hear that the American side and all those who support the United States in this sense reject the use of force," in televised remarks.
He said he hoped the plan "will be a good step toward a peaceful resolution of the crisis".
The UN Security Council is to hold an emergency closed-door session on Syria at 4pm local time (9pm UK time) tonight.
The meeting is expected to focus on a Russian plan to place Syrian chemical weapons under international control, diplomats said on condition of anonymity.
Advertisement
Russia has called for emergency consultations on Syria in the UN Security Council, Russian news agency RIA reports citing a diplomatic source.
Russia's Foreign Minister Sergei Lavrov has reportedly told his French counterpart that any proposal for a UN resolution holding Syria responsible for a chemical weapons attack would be "unacceptable".
Separately, Russia's foreign ministry said it will propose a UN draft declaration supporting an initiative to bring Syria's chemical weapons stockpile under international control.
France's Foreign Minister Laurent Fabius has said that Russia is not keen on a binding resolution on Syria in the UN Security Council.
His comments came after he spoke to his Russian counterpart Sergei Lavrov.
The Prime Minister has said that a UN resolution laying out a timetable for the destruction of Syria's chemical weapons stockpile would "test" Russia's resolve to follow through.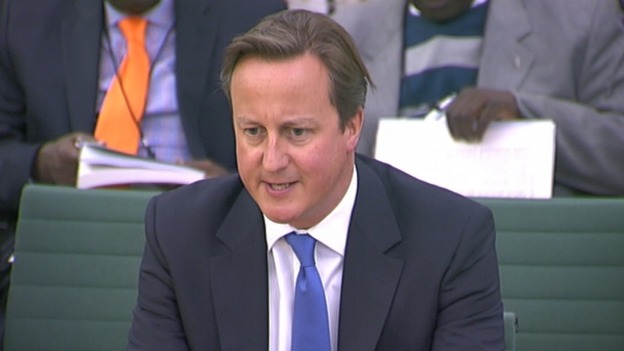 Mr Cameron told a panel of senior MPs at the House of Commons Liaison Committee: "If we can achieve the removal and the destruction of the biggest chemical weapons arsenal in the world, that would be a significant step forward".
But he voiced his earlier concerns that the proposal could be a "delaying tactic" and that any plan for disarmament must include a timetable and "consequences" if this was not kept to.
Advertisement
An official at the White House has told NBC News that talks over Russia's proposal to lock down Syria's chemical weapons are due to begin at the United Nations later today:
This morning, the President spoke separately with President Hollande and Prime Minister Cameron.

They agreed to work closely together, and in consultation with Russia and China, to explore seriously the viability of the Russian proposal to put all Syrian chemical weapons and related materials fully under international control in order to ensure their verifiable and enforceable destruction.

These efforts will begin today at the United Nations, and will include a discussion on elements of a potential UN Security Council Resolution.
– white house statement
Britain, France and the US are to table a resolution in the UN Security Council regarding Syria's chemical weapons later today, the Prime Minister has said.
The announcement follows talks between the leaders of the three countries today.
Mr Cameron added that Russia's proposal for Syria to hand over its chemical weapons needed to be tested, as well as being subject to a deadline.
US President Barack Obama is still seeking approval from Congress for a possible military strike in Syria despite the possibility of reaching a diplomatic deal, according to State Secretary John Kerry.
US Defence Secretary Chuck Hagel has said that for a diplomatic solution in Syria to have any chance of succeeding, there is still a need for a "real threat" of US military action.
All of us are hopeful that this option might be a real solution to this crisis. Yet, we must be very clear-eyed and ensure that it's not a stalling tactic.

For this diplomatic option to have a chance of succeeding, the threat of a US

military action - the credible, real threat of US military action - must continue.
– chuck hagel, us defence secretary
Load more updates
Back to top