Teens held over GTA stabbing
Three males, aged 15, 16 and 18 have been arrested after a man was stabbed and robbed of a copy of Grand Theft Auto V less than two hours after buying the game, Scotland Yard said.
Three males, aged 15, 16 and 18 have been arrested after a man was stabbed and robbed of a copy of Grand Theft Auto V less than two hours after buying the game, Scotland Yard said.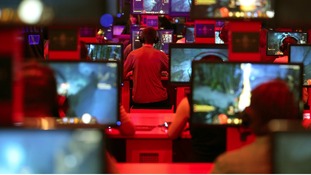 The days of glitzy games launches, like that of Grand Theft Auto V today, could be numbered in the UK as EU controls put the brakes on.
Read the full story
Advertisement
A man has been hit with a brick, stabbed and robbed in north London just moments after leaving a supermarket with a copy of Grand Theft Auto V.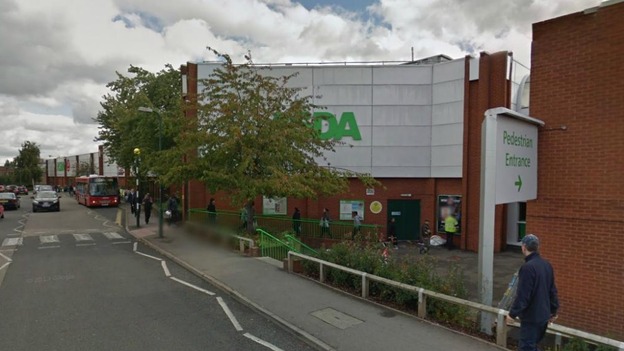 The 23-year-old had been shopping at the Asda store in Colindale where he bought the newly-launched game soon after if went on sale at midnight. The attack was reported to police at around 1:20am this morning.
A spokesman for the Metropolitan Police said the video game was stolen along with a watch and mobile phone, but that it is not clear whether this was the motive for the attack.
The victim is in a stable condition in hospital and a robbery investigation is under way.
The developer behind Grand Theft Auto V has released two apps to accompany the game.
The first, called 'Grand Theft Auto V: The Manual', is self-explanatory and features a digital version of the game map.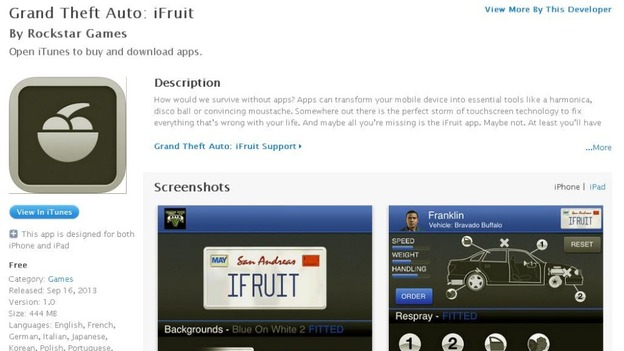 The second allows users to customise their virtual cars and to train a digital Rottweiler who helps or hinders one the characters in the game depending on the user's level of activity in the app.
The description of 'iFruit' appears to poke fun at Apple and the app phenomenon: "Apps can transform your mobile device into essential tools like a harmonica, disco ball or convincing moustache".
Reviews of Grand Theft Auto V have, almost without exception, rated it very highly. The rare criticism has mostly focused on the apparent misogyny of the game:
GTA V is an imperfect yet astounding game that has great characters and an innovative and exciting narrative structure, even if the story it uses that structure to tell is hobbled at times by inconsistent character behaviour, muddled political messages and rampant misogyny.
– Carolyn Petit, gamespot
Women are, once again, relegated to supporting roles as unfaithful wives, hookers and weirdos ... It's fine to parody the idiotic misogyny of violent men, but how about doing it by providing their opposite?
– keith stuart, grand theft auto
The developer's progress makes the aspects of the game left in cultural stasis - the poorly drawn women, the empty cynicism, the unnecessarily excessive cruelty - especially agitating.
– Chris plante, Polygon
A poll by the gaming website IGN.com found that almost half of readers (46 percent) found that almost half of readers planned to take a day off work in order to buy and play Grand Theft Auto V.
5,059 readers (46%) planned to book day off as holiday
2,012 (19%) said they would phone in claiming to be ill
3,884 (35%) said they would wait to get their hands on the game
Advertisement
Gamers formed a long queue outside the flagship GAME store at Westfield Stratford shopping centre in London in the early hours of this morning.
Zohair Ali punched the air with delight as he became the first person to buy a copy of Grand Theft Auto V from the east London store.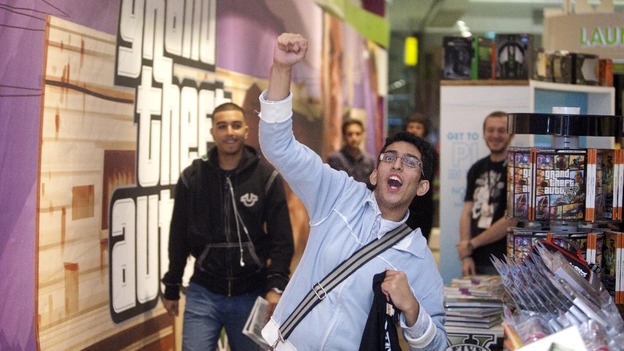 "I'm really excited now that I've got it in my hands," one fan said.
"Being one of the biggest games of the year, it's going to be one of them I'm on for a long time."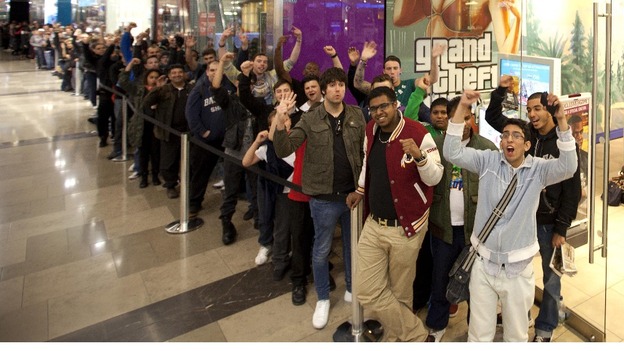 Keza MacDonald, games editor at IGN.com, described GTA V as a "masterpiece" and "one of the very best video games ever made".
Grand Theft Auto V is not only a preposterously enjoyable video game, but also an intelligent and sharp-tongued satire of contemporary America.

It represents a refinement of everything that GTA IV brought to the table five years ago.

It's technically more accomplished in every conceivable way, but it's also tremendously ambitious in its own right.
No other world in video games comes close to this in size or scope, and there is sharp intelligence behind its sense of humour and gift for mayhem.

It tells a compelling, unpredictable, and provocative story without ever letting it get in the way of your own self-directed adventures through San Andreas.

It is one of the very best video games ever made.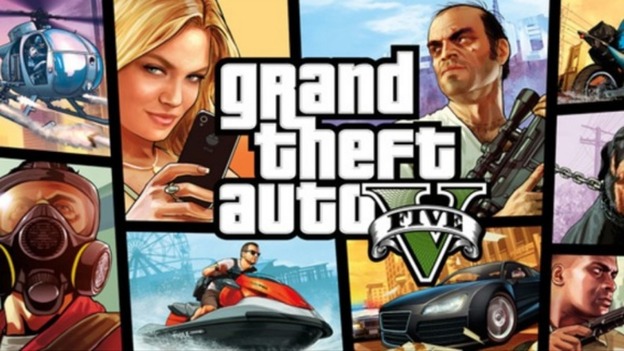 Experts are tipping Grand Theft Auto V to smash sales records and estimates suggest it could generate £1 billion during its first year on sale when gamers are predicted to snap up some 25 million copies.
In a message on its website, Amazon warned any orders placed after September 13th may not arrive until after tomorrow's release date because of high demand.
The Grand Theft Auto (GTA) series has accumulated sales of 135 million copies since its 1997 debut. GTA IV has reportedly sold more than 25 million copies since its 2008 release.
Tom Butler, social media editor of gaming site IGN.com, said GTA V's release would be the biggest entertainment release of the year.
Grand Theft Auto V will be the biggest entertainment launch of the year and possibly all-time with levels of consumer anticipation outstripping Harry Potter and Twilight.

With gamers queuing at midnight to be among the first to play and the developer boasting thousands of hours of game play, there's no surprise that we're likely to see an outbreak of GTA flu this September.
The gaming site polled 10,995 readers to ask whether they would take time off work on Tuesday when the GTA V goes on sale.
According to its findings, 5,059 readers (46%) said they booked the day off as holiday.
Load more updates
Back to top