Call for cap on house price rise
The Bank of England should impose a five per cent cap on annual house price growth to prevent a house price "bubble", the Royal Institution of Chartered Surveyors has suggested.
Chartered surveyors have called for a cap on house price rises to, as they put it, "take the froth out" of the housing boom.
They want the Bank of England to use its powers to limit the amount people can borrow relative to their income.
ITV News Economics Editor Richard Edgar looks at whether such a scheme could work.
A new warning has been issued saying that house prices are growing so fast in some areas, it could lead to a property bubble. The Royal Institution of Chartered Surveyors wants the Bank of England to cap house price rises at five per cent year.
It says the current rate nationally far exceeds that.
ITV News Consumer Editor Chris Choi reports:
Advertisement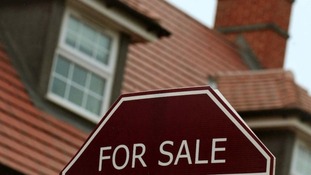 Should we put the brakes on house prices? Property surveyors fear increased rises could tempt buyers into a dangerous build up of debt.
Read the full story
Our current housing market is not fit for purpose and schemes such as Help to Buy (taxpayer underwritten mortgages) only serve to make things worse by pumping more money into a constrained market.

Rics are right to call on the Government to get a grip on runaway house prices. With every rise in house prices, even more young people and families find themselves priced out of a home of their own, and trapped in an unstable private rented property.
– Campbell Robb, of housing charity Shelter
According to the Office of National Statistics, in the year to June 2013, house prices increased across the UK as follows:
Nationally, the increase across the country was 3.1%
Prices in London increased faster than the UK average at 8.1%
Prices were up 3.1% in the West Midlands
In Wales, prices were up 4.3%
The South East saw increases of 2.9%
There were falls of 0.9% in Scotland and 0.4% in Northern Ireland
Capping house prices to prevent a further bubble from overheating the economy would be "very difficult to monitor and implement", a property expert told Daybreak.
Louisa Fletcher said she could not imagine "all the chartered surveyors in the country" working out the value of each property in the country and if it was valued correctly.
Advertisement
The Royal Institution of Chartered Surveyors (Rics) is calling for the Bank of England to step in to prevent a possible housing bubble. Rics senior economist Joshua Miller, who compiled the research in the report out today said:
This cap would send a clear and simple statement to the public and the banking sector, managing expectations as to how much future house prices are going to rise.

We believe firmly anchored house price expectations would limit excessive risk taking and, as a result, limit an unsustainable rise in debt.
Financial expert Ros Altman said stricter mortgage lending and more incentives for house-building to increase the supply of homes would help reduce the upward pressure on house prices.
Currently, there is a resurgence of 95% loan-to-value mortgages, which are exposing borrowers to significant risks when the housing bubble bursts.

Stricter criteria for responsible lending would help to curb some of the excess.

Having just endured such a major crisis that resulted from over-exuberant lending and borrowing and rising property prices, we must not make the same mistakes again.
Asking prices in London are up by 10% year-on-year, according to property search website Rightmove.
The Royal Institution of Chartered Surveyors (Rics) has called for the Bank of England to step in to "take the froth" from another housing boom. Rics has suggested a number of ways the Bank could slow the recent house price growth:
Imposing a ceiling on the amount of money banks are allowed to lend
Capping the term of a mortgage
Capping the amount people can borrow in relation to their deposit
Capping the sum people can borrow in relation to their income
Read: Call for a cap on house price growth amid 'bubble' fears
Load more updates
Back to top