Cable: Coalition break 'possible'
Business Secretary Vince Cable has raised the prospect of the Coalition government breaking up before the election, during a fringe event at the Lib Dem conference. Earlier he attacked the Conservatives as "a nasty party which has reverted to type"
Lib Dem leader Nick Clegg and business secretary Vince Cable are so close you could not put "a cigarette paper" between them, the deputy chief whip.
Shetland and Orkney MP Alistair Carmichael laughed off accusations of an attempted leadership grab by Cable as "complete conjecture".
Nick Clegg told Daybreak that rumours of a split between the Liberal Democrat leader and the Business Secretary are, "a bit of a storm in a teacup."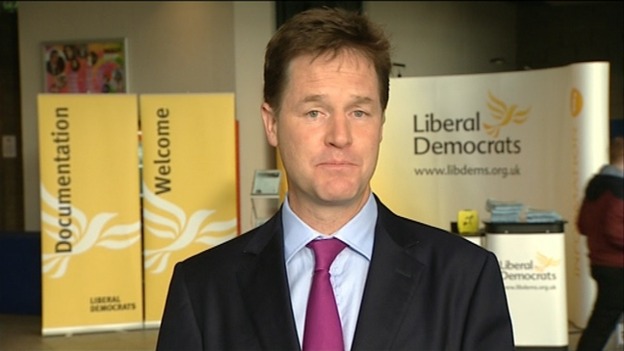 Me Clegg said: "Vince and I have been working hand in glove for the last three years pursuing the policy that we're pursuing in Government to deal with the huge black hole in our public finances. "
Advertisement
Tensions between the Liberal Democrat leader and the Business Secretary have been exposed as Nick Clegg is set to appeal for activists' backing on a key economic issue without Vince Cable.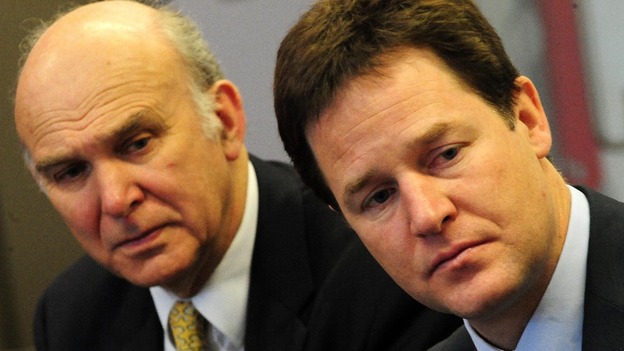 Mr Clegg will take the unusual step of speaking in favour of a party conference motion that endorses the coalition's strategy and fiscal mandate.
But his Mr Cable will not take part in the debate in Glasgow - despite earlier suggestions that he would.
Business Secretary Vince Cable will say in his speech in Glasgow today:
It is clear that there are abuses in the system, especially around the issue of exclusivity which some employers are demanding from workers on these contracts.

I am determined to make sure people are paid and treated fairly, while helping to keep people employed in these delicate economic times.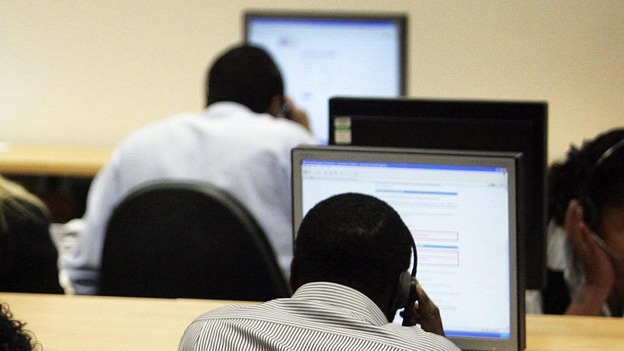 In a keynote speech to the Liberal Democrat conference in Glasgow today, Vince Cable will announce a consultation to explore how to tackle abuses - particularly relating to the issue of "exclusivity", where employers do not offer guaranteed hours but insist that workers do not work for anyone else.
There will be no promise to ban zero hours contracts or exclusivity agreements, as Mr Cable believes that they are suited to some occupations.
But he is likely to press ahead with plans to create a legal definition of a zero hours contract; limit exclusivity clauses; ensure bosses make clear how much a worker can expect to earn each month.
He also aims to end the "climate of fear" under which some workers dare not turn down shifts out of anxiety that they will be frozen out from future employment.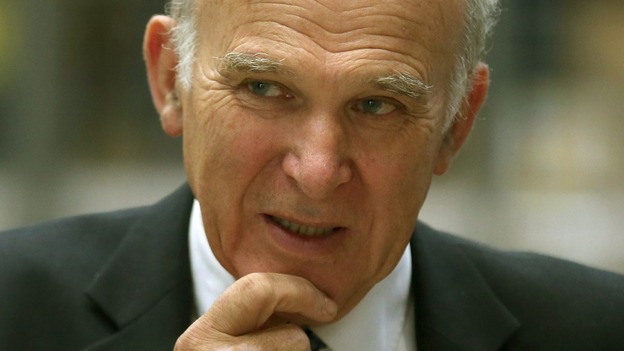 Legislation could be introduced before the end of this Parliament to tackle the exploitation of workers on zero hours contracts, Business Secretary Vince Cable announced today.
Mr Cable will float proposals for new protections as part of a package of measures designed to make the workplace and wages "fairer for everyone", which also feature moves to deal with rogue company directors and new research on the possibility of more generous increases in the minimum wage.
Aides said that the moves - which have approval across the coalition Government - were a mark of the extent to which Liberal Democrats have shifted the agenda on employment rights since Conservatives failed to push through the recommendations of the Beecroft Report to let bosses "fire at will".
Advertisement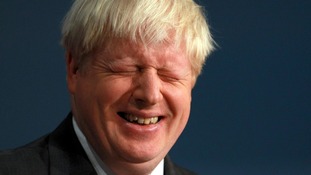 Party conferences are upon us, but do you know which beach Neil Kinnock slipped-up on or why David Miliband held that banana? Find out here.
Read the full story
Load more updates
Back to top