UN: Sarin used in Syria attack
The United Nations Secretary General has said there is "overwhelming and indisputable" evidence that chemical weapons, including sarin, were used in an attack on a rebel-held district in the capital Damascus.
Briefing the Security Council, UN Secretary General Ban Ki-Moon said 85 per cent of blood samples taken by UN inspectors from the Syria attack site tested positive for sarin.
The UN Secretary General Ban Ki-Moon has confirmed chemical weapons were used on a large scale in Syria.
Advertisement
A photo of a page of the United Nations chemical investigators Syria report shows confirmation that sarin was used in the August 21 attack, Reuters reports.
United Nations inspectors said there is "convincing evidence" chemical weapons were used in Syria, the Associated Press reports.
Foreign Secretary William Hague highlighted the importance of avoiding "evasions" from President Bashar al-Assad's regime on the chemical weapons handover.
He said: "It is important that there are no evasions, no cat and mouse game going on, on these weapons."
"We now have to have a resolution which crystalises a binding commitment and which makes sure this is dealt with credibly, reliably and promptly," he added.
US Secretary of State John Kerry said "anything less than full compliance from the Assad regime" on the chemical weapons handover would not be tolerated.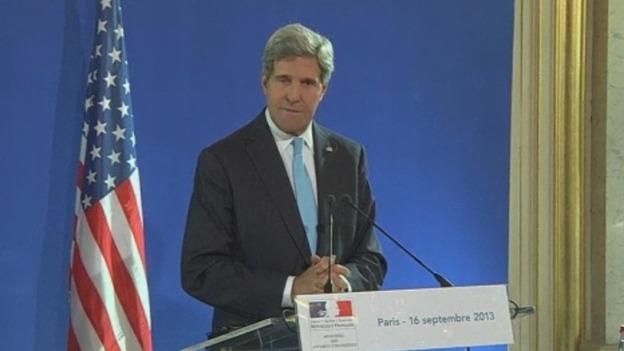 He added: "If Assad fails to comply with the terms of this framework, make no mistake, we are all agreed, and that includes Russia, that there will be consequences."
Kerry later added that Assad's government had "lost all legitimacy."
Advertisement
Foreign Secretary William Hague has called on the Syrian regime to hand over its chemical weapons within a "specific time frame" and said the "world must hold them to account" if they fail to do so.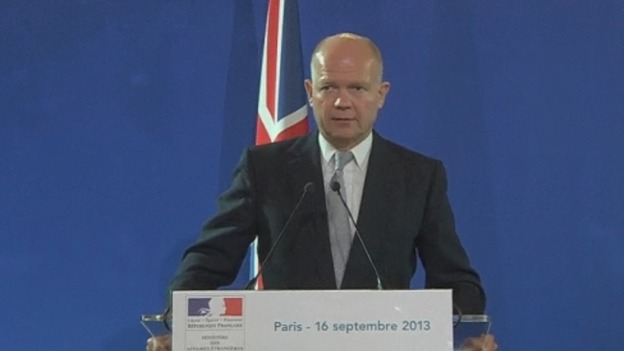 At a joint press conference with US Secretary of State John Kerry and French Foreign Minister Laurent Fabius, Hague said: "(The regime needs to) give up its chemical weapons in a specific time frame and to credibly, reliably and promptly place them under international control for destruction.
"It is the Assad regime that has stockpiled these weapons and used them repeatedly against the Syrian people, so the pressure is on them to comply with this agreement in full.
"The world must be prepared to hold them to account if they don't."
Britain, France and the United States have agreed to press for a strong United Nations resolution on Syria with detailed and binding dates, Reuters reports citing the French President's office.
Foreign Secretary William Hague has tweeted that he is in the French capital for talks with President Francois Hollande, the country's foreign minister Laurent Fabius and US Secretary of State John Kerry over Syria.
In Paris for talks with President Hollande, Secretary Kerry and FM Fabius on US-Russia agreement and ensuring Syrian compliance
Nearly half of the 100,000 fighters battling President Bashar al-Assad's forces in Syria are aligned to hardline Islamist or jihadist groups, some linked to al-Qaeda, according to new analysis of the country's conflict.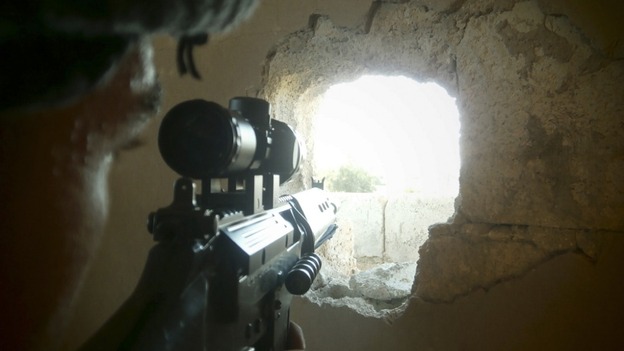 Around 10,000 jihadists, who would include foreign fighters, and another 30,000 to 35,000 hardline Islamists are battling the Syrian government, a study from defence consultancy IHS Jane's reported in The Daily Telegraph claims.
After more than two years of fighting in the country, the 100,000 rebels have supposedly been fragmented into as many as 1,000 bands.
The study suggests a further 30,000 fighters belong to Islamic character groups meaning only a small minority are linked to secular or nationalist factions.
Western diplomats have claimed that less than one third of the rebels are "palatable" to Britain, while the Americans say the number is even lower.
Read: Syria breaks silence on Russia-US chemical weapons deal
Load more updates
Back to top