Clegg's permanent coalition call
Lib Dem leader Nick Clegg has told his party's conference that he believes coalitions should be a permanent feature of British politics. But 67% of voters appear to prefer single-party government, according to the ITV News Index.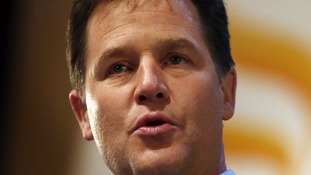 Nick Clegg believes that his party's place is in government and coalitions should be a permanent fixture in British politics.
Read the full story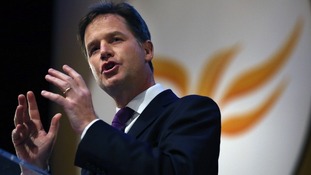 Nick Clegg is a good speaker - possibly the best of the current crop - but I am not sure his conference address was his finest hour.
Read the full story
Advertisement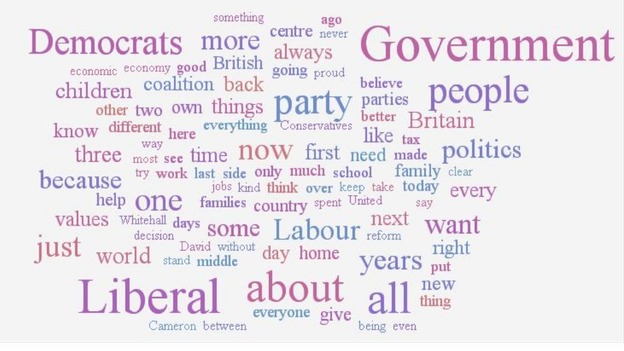 A word cloud of Nick Clegg's speech at the Lib Dem conference shows the themes of "government" and "Liberal Democrat" were most prominent.
It also appears Mr Clegg spoke more about Labour then the Conservatives.
The headline message from Nick Clegg to his party delegates in Glasgow was that the Liberal Democrats are "no one's little brother in government".
The Deputy Prime Minister's address started with nice colour about how he arrived in Whitehall back in 2010 and he went onto say that those who predicted the Coalition would be chaotic and collapse were wrong, which was a fair point.
The Liberal Democrat leader's aides said this speech was one of his most personal yet. Every politician now gives us tonnes of "who I am" material, but I'm not sure if it works.
Leaders' speeches generally suffer from the politician feeling they have to cover all of the ground in less than a hour.
Nick Clegg finishes his remarks at the Liberal Democrat party conference in Glasgow by stating that the party's "place is in government again".
He maintained his party are repairing the economy fairly, and he argues, the Conservatives are not doing this.
The Deputy Prime Minister's speech lasted 52 minutes.
Nick Clegg reiterates his free schools meal announcement from yesterday but adds that he wants to extend the £600 million government scheme to primary school pupils, not just those aged four to seven.
Read: Critics attack free meals as 'bad use of public money'
Advertisement
Nick Clegg believes that the coalition government is here to stay and he wants the Liberal Democrats to be the deciding factor in the next government.
We're not trying to get back into Government to fold into one of the other parties – we want to be there to anchor them to the liberal centre ground, right in the centre, bang in the middle.

We're not here to prop up the two party system: we're here to bring it down.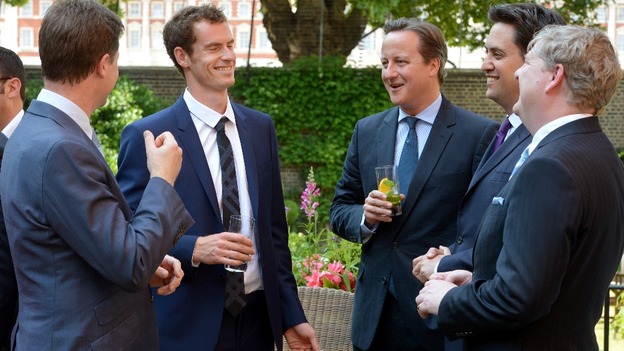 Recalling his meeting with Britain's Andy Murray after the tennis player's Wimbledon victory in July, Nick Clegg says that the Grand Slam champion jokingly asked him, Prime Minister David Cameron and Labour leader Ed Miliband why the three leaders "can't always get along".
This will be Nick Clegg's longest speech yet. I think we are about half way through.
I am told it will be around 50 minutes long - 10 minutes longer than last year.
Some of you will like that. But not all.
Nick Clegg's aides claim that this is the Liberal Democrat's leader's most personal speech yet, as he has mentioned his family, children and background.
The Deputy Prime Minister told the party conference that he and his wife, Miriam, teach their children "rights and values".
We teach them – just as my parents taught me – that rights and values should never be taken for granted, and if you believe in them, you should stand up for them.

And that is the United Kingdom that I want my children – all children – to grow up in: a United Kingdom that defends and promotes its values – our liberal values – at home and abroad.
Load more updates
Back to top