Miliband: 'Britain can do better'
Ed Miliband repeatedly returned to the theme of Britain being able to 'do better' during his Labour Party conference speech in Brighton.
Ed Miliband is continuing to do well with his no-notes speech apart from some awkward pantomine moments.
The "race to the top" under Labour versus the "race to the bottom" under the Conservatives has been a common theme.
He has also pledged to reverse the planned rise in business rates for small firms, but it would be paid for by reversing the planned cut in corporation tax.
He giveth with one hand etc ...
He also got a free hit courtesy of those disastrous comments from Tory peer Lord Howell that companies should frack in the north-east, where he said it was "desolate and uninhabited".
And we have had come bizarre commitments: namely a pledge not to take off his shirt on holiday. It's a pledge I am sure most people in the country would rally behind.
Ed Miliband is moving on to the much-publicised pledge of guaranteeing childcare before and after school hours.
"We won't win the race to the top when millions of parents are stressed out at work, and family life is under constant strain." @ed_miliband
Ed: We will legislate for schools to be open from 8am - 6pm providing the care that parents need.
Advertisement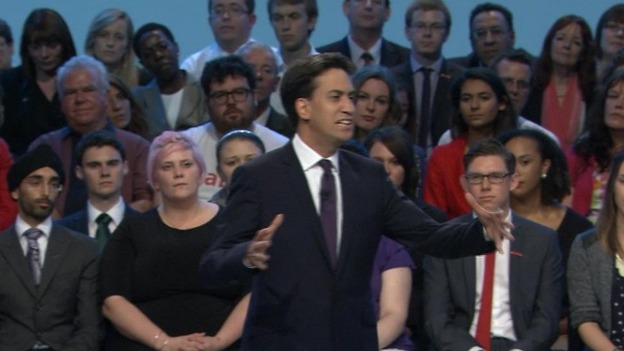 Ed Miliband has said that Labour would cut tax rates for 1.5 million small businesses.
The Coalition has "shortchanged small business," he says.
Labour claims this policy will save each business at least £450.
Ed Miliband is recalling the comments made by Lord Howell about fracking in parts of the North East, which he reportedly described as "desolate and uninhabited areas".
"One casual aside dismissing one whole region of the country," Miliband says.
He says he prefers to call people living in the North East: "Friends, neighbours, heroes of our country".
Ed Miliband got a big laugh for this comment, implying that the Coalition only helps the rich:
Ed Miliband has used the slogan "Britain can do better than this" several times so far.
"I want to start today with the simplest of thoughts…six simple words that say this: Britain can do better than this." - Ed #BetterBritain
Advertisement
Ed Miliband is telling a series of anecdotes about people he has met around the country.
He is recalling the concerns of two market traders, an ambulance driver, a man who cares for his disabled wife and a scaffolder.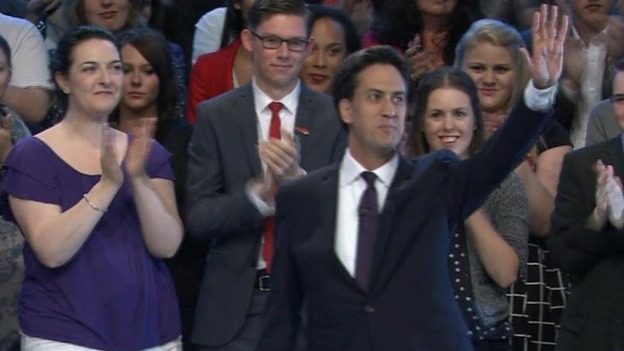 So no notes. And an hour long. That in itself is an impressive act by Ed Miliband.
As far as the content is concerned, look out for an announcement on energy prices, and on immigration.
There is a personal section too about how hard leadership is - and how hard it was for his family when he stood for the leadership (no kidding).
He is also talking about how he stood up to Rupert Murdoch over phone hacking. That remains one of the most recognised achievements of his time in charge.
Similarly, he is capitalising on his opposition to military strikes in Syria - another reflection of the findings of our ComRes poll.
I also spot a theme in the first part of this speech. His new soundbite: "We're Britain. We're Better Than This."
Ed Miliband gets a big round of applause speaking about his decision to stand up to Rupert Murdoch in the wake of the phone hacking scandal.
It was followed by another for his stand regarding military action in Syria.
Ed Miliband has opened his speech at the Labour conference with an anecdote about helping a girl who had fallen off her bike.
She reportedly said afterwards that Miliband was like an "action hero who mysterious appeared out of nowhere".
"Ella was concussed," he added as the punchline.
Load more updates
Back to top