Osborne's budget surplus pledge
The Chancellor has raised the possibility of tax cuts by vowing to keep cutting public spending to create a budget surplus in the next parliament. He also announced the long-term unemployed face earning their benefits through unpaid community work.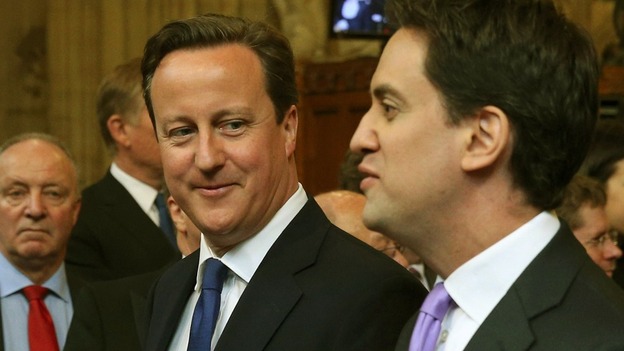 People believe their families would be better off under Labour but back the Conservatives to keep the economy growing, a new poll suggests.
Ed Miliband spoke last week of his plans to reduce the cost of living, including proposals for a Labour government to freeze gas and electricity prices for homes and businesses for 20 months after the 2015 general election.
The ComRes survey for the Independent found people believe the cost of living is likely to be lower under Labour than the Tories; 41% think their family will be better off under Mr Miliband's party compared to 31% who back the Conservatives.
But it also showed Labour has dropped from six points to four despite the Opposition revealing manifesto pledges at its party conference in Brighton.
Business Editor Laura Kuenssberg on the two big obstacles for Miliband's energy price promise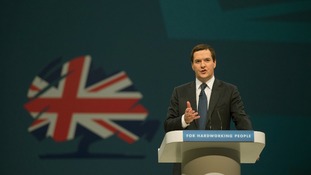 The Chancellor set out a tough new policy which will require future Tory governments to run an absolute surplus during periods of growth.
Read the full story
Advertisement
One of George Osborne's main conference pledges was a plan to make sure the long-term unemployed work for their benefits.
Claimants will lose their money if they do not join work placements, enrol in training courses or make daily visits to a job centre.
ITV News Deputy Political Editor Chris Ship reports from the Manchester suburb of Wythenshaw:
George Osborne today admitted that recovery is not yet a done deal, but insisted his way would balance the books and leave Britain in surplus after the next election.
Help for "hard-working families" who drive and pay taxes as well as a tough regime for those on benefits were at the heart of the Chancellor's message.
ITV News Political Editor Tom Bradby reports from the Conservative Party conference in Manchester: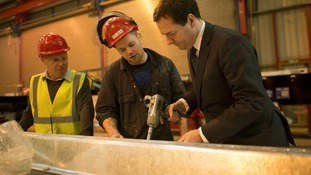 The costs will determine just how enthusiastic lenders are about jumping into the government's new scheme.
Read the full story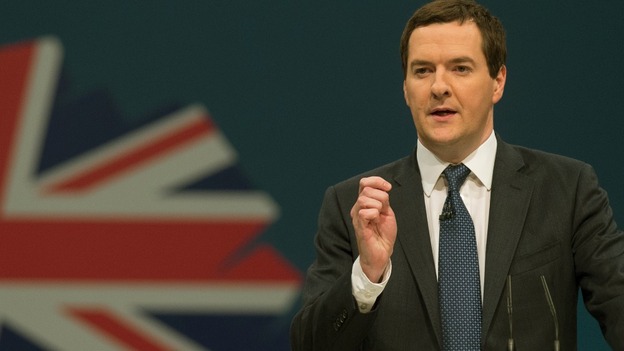 Chancellor George Osborne's clear message today is revolutionary: a surplus in good times as an insurance against bad times.
In 25 years of covering politics, I have never heard a senior politician make an out-and-out commitment to running budget surpluses.
He is intending to fight the next election squarely on the public finances.
Advertisement
Shadow chief secretary to the Treasury Rachel Reeves said the Conservatives "have shown once again that they only ever stand up for a privileged few not for hard working families" following George Osborne's conference speech.
Ms Reeves continued: "The few things he has said are already unravelling. His panicky announcement on fuel duty turns out to be just an aspiration if he can find savings elsewhere.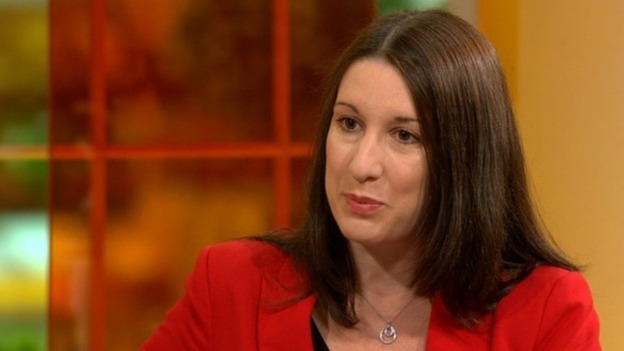 "The IFS [Institute for Fiscal Studies] has said the marriage tax break will help just 28 per cent of married couples and only 15 per cent of families with children.
"And his work scheme turns out to be less ambitious than Labour's compulsory jobs guarantee."
The Labour Party has said Britain "can do better" following Chancellor George Osborne's speech to the Tory conference.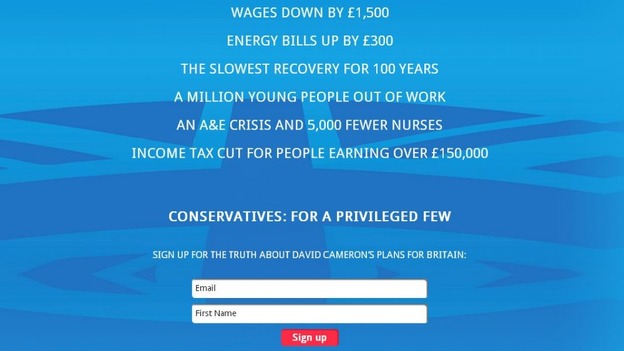 Labour highlighted what it calls "the real cost of Cameron," adding, "Conservatives: for a privileged few".
Chancellor George Osborne said he was setting out "a serious plan for a grown up country" during his conference speech.
Mr Osborne said his plan includes:
Sound public finances, with a new aim to achieve an absolute surplus in the next Parliament, provided the recovery is sustained, and grow capital spending at least in line with GDP
Backing aspiration, with Help to Buy, support for small businesses and low taxes, including an ambition to freeze fuel duty for the rest of the Parliament
Leaving nobody behind, with Help to Work and an end to the something for nothing culture in our welfare system
Investing in the future, with support for infrastructure like HS2, science and new energy sources such as shale gas
Prime Minister David Cameron said George Osborne's address to the Conservative Party conference was "a great speech":
A great speech by @george_osborne - we're on the right track & we'll fix the roof when the sun is shining.
Load more updates
Back to top