Grangemouth: Unite rep resigns
Stevie Deans, the Unite union official at the centre of the Grangemouth dispute, has resigned from his job at the plant, its owner Ineos has confirmed.
Steven Deans believed he was being treated as the "enemy within" after 25 years of working at the plant, according to Unite.
Mr Deans accused the company of leaking emails to the media to "smear his reputation", in his resignation latter to Ineos.
He told the Unite meeting: "The hurt to my family is unforgivable and I will not allow management to take away my dignity and self-respect any further."
The union said it is considering "what steps can be taken on Mr Deans' behalf" without diminishing its commitment to the survival plan workers signed with Ineos last week.
Steven Deans, the Unite union's representative at the Grangemouth refinery in Scotland, was at the centre of a dispute which led to the refinery's bosses threatening to shut down the whole site.
He has now resigned a day before he was due to meet his employer, Ineos.
Mr Deans was also chairman of the Labour party in nearby Falkirk, and was accused of trying to install Unite's choice as Labour candidate for MP. ITV News Deputy Political Editor Chris Ship reports:
Advertisement
Ed Miliband has been urged to consider reopening Labour's inquiry into allegations of candidate-selection fixing in the Falkirk constituency.
Commenting on today's resignation of Grangemouth union official Stevie Deans, Conservative Party chairman Grant Shapps said:
Stevie Deans' resignation is yet another reason why Ed Miliband must finally act. He must publish the internal Labour inquiry into Falkirk.

Ed Miliband should also open a new inquiry: to investigate properly the initial allegations of selection rigging, and Unite's attempt to subvert the internal inquiry.
– Grant Shapps, Conservative Party Chairman
Grangemouth union official Stevie Deans resigned after learning the findings of a disciplinary case against him, said refinery operator Ineos.
Mr Stephen Deans has today resigned from the company with immediate effect.

The company has conducted a thorough investigation into Mr Deans' activities over the last eighteen months and made Mr Deans aware of these findings last week.

Mr Deans requested an additional five days prior to the final disciplinary hearing to allow him time to provide any further relevant information.

The company was due to meet with Mr Deans again tomorrow but has now received his resignation.
– Ineos statement

Deans was investigated by the company following his involvement in the row over the selection of a Labour candidate in the Falkirk constituency.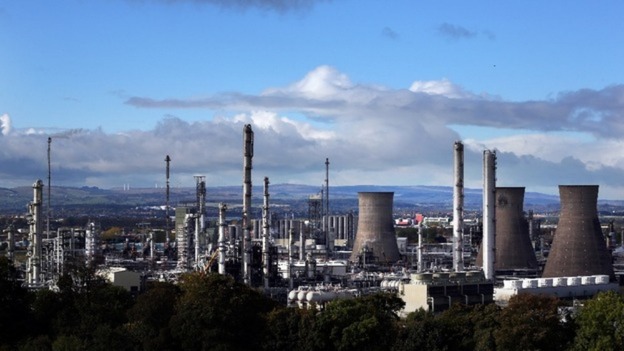 Stevie Deans, the Unite union official at the centre of the Grangemouth dispute, has resigned from his job at the plant, owner Ineos has confirmed.
Prime Minister David Cameron welcomed the deal to keep Grangemouth open, during a press conference in Brussels.
On a day when the economy is picking up it's excellent news that a really important petrochemical plant will stay open, saving thousands of jobs not just at that plant but in the supply chain, and also seeing the refinery reopen, it's good news.

I think sense has been seen which is that, when you have challenges and costs, you need reform that goes with the investment and it seems to me in Grangemouth that's what we are going to have - the reform and investment coming together.
– Prime Minister David Cameron
Advertisement
Jim Ratcliffe, chairman and chief executive of Ineos Group, described today's news as "a victory for common sense".
"Grangemouth is the powerhouse of the Scottish economy," he said. "It now has a fighting chance of upholding this crucial role into the future.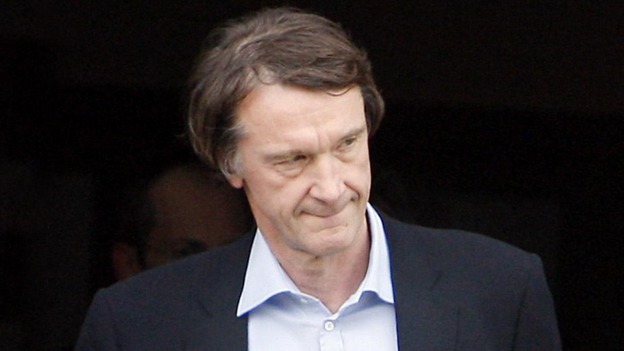 "Obviously today's news is tinged with sadness," he continued. "Decent men and women are being asked to make sacrifices to hold on to their jobs but the clear wish of our members is that we work with the company to implement its proposals."
Scotland's First Minister Alex Salmond has commended workers at the Grangemouth refinery for making a "substantial sacrifice" in order to keep the plant open.
He said the agreement was a "great achievement" by a range of different parties with an interest on the plant's future.
David Cameron said he would "congratulate everybody involved" in keeping the Grangemouth petrochemical plant open.
John Convery, a manager at Grangemouth, described the last few days as "hellish"
"Myself and my colleagues, and all of our families, have been staring into the abyss," he said.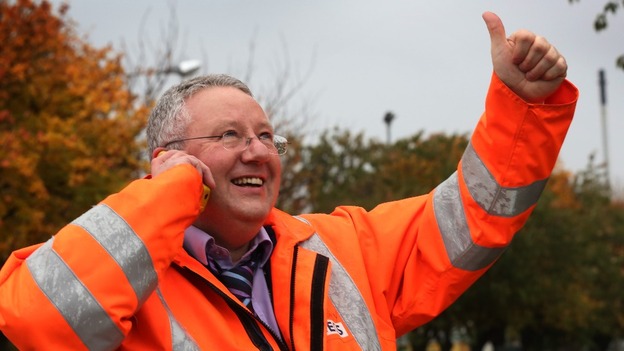 He added: "We'd just been paid but we didn't know if we were going to get another pay cheque again. We were told that the company we work for was going into liquidation and we didn't know if we were going to get any redundancy or what was going to happen to our pension ...
"There was a lot of relief and a lot of emotion in there, we're relieved that we've still got a job."
Load more updates
Back to top