RBS avoids 'bad bank' split
Royal Bank of Scotland today reported a sharp fall in operating profits to £438 million for the third quarter, from £909 million a year earlier. The bank is also to create an internal 'bad bank' with £38bn of problem assets, avoiding a full split.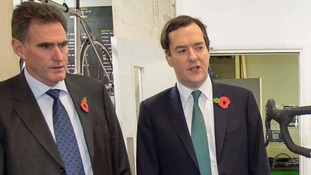 George Osborne has been talking today as if RBS is at the start of a significant transformation, but not much appears to have changed.
Read the full story
In an interview with ITV News, the RBS boss Ross McEwan has admitted that five years ago the bank was too focused on 'getting things out of the door'.
Mr McEwan said: "Take the bank back five years ago, when we lent loans that we can now struggle to recover.
"The pendulum swung so far out to the side of getting things out of the door without the controls. The bank got tightened up because we were in such strife."
Read: RBS avoids 'bad bank' split
Advertisement
City traders are understood to have been suspended at Royal Bank of Scotland and Barclays in connection with the possible fixing of currency markets, and uncovered as part of a global investigation.
Reports suggest RBS yesterday put two of its traders on suspension while Barclays has suspended as many as six foreign exchange traders as part of the investigation involving regulators in the UK and worldwide.
The RBS boss Ross McEwan has told ITV News that the bank has "established very good relationship with government". But he refused to deny that a 'good/bad' bank split was always a bargaining chip used by government to get RBS to do what it wanted.
In an interview to be broadcast on ITV News later, when Mr McEwan was asked about his relationship with Chancellor George Osborne, he said: "He and I seem to be getting on fine."
Labour's Shadow Chancellor Ed Balls has said that the test for changes at RBS centres on whether the 'taxpayer ultimately get its money back'.
After the firesales of Royal Mail and Northern Rock, we will scrutinise George Osborne's plans for the future of RBS very carefully. As we argued when, earlier this year, the Chancellor flirted with the idea of a quick sale of RBS to a political timetable, the taxpayer interest must come first.

The tests for these changes at RBS are whether they see the taxpayer ultimately get its money back and whether they actually boost business lending and radically transform this bank to put an end to business as usual.
– Labour's Shadow Chancellor Ed Balls
Royal Bank of Scotland shares have slumped by three per cent after it warned plans for an internal 'bad bank' with £38 billion of toxic loans will result in a substantial loss this year.
The bank had been threatened with a carve-up and nationalisation of its problem loans in a Treasury review, but will instead run down the assets at a faster rate..
The move means up to £4.5 billion to be written off in its balance sheet in the current financial year, causing shares to fall 12.9p to 354.7p.
Advertisement
Chancellor George Osborne said he thought it was "unlikely" that RBS could be sold off and returned to the private sector before the 2015 general election.
I think, sadly, it is still some way off.

I think, quite frankly, it is unlikely before the general election.

If there was a transformation in RBS and all these problems that it has to confront were dealt with much more quickly, maybe we would reconsider.

But I say 'unlikely' in the real sense of the word, which is I don't think it's very likely.
– George Osborne speaking to Radio 4's Today programme.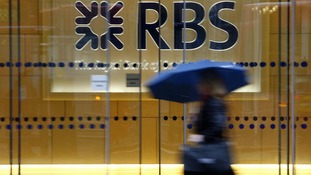 There will be no 'bad bank' - Mervyn King's demand to split and sell the bank we own has hit the buffers, once and for all is the idea.
Read the full story
RBS is a 'very messy update with lots of moving parts' one analyst told me, but a partial split is not as bad as it might have been.
RBS chief executive Ross McEwan has said that the bank has a 'special responsibility to the UK economy' because it was bailed out in 2008.
He said: "We have a special responsibility to the UK economy and the people of the UK; given in 2008 we were bailed out. The UK people put their hands in their pockets through the taxpayer and actually saved this organisation.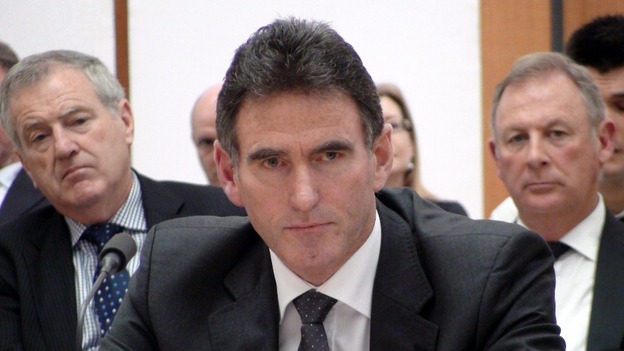 He added: "So our accountability needs to be one to get the money back but to do a much better job in this economy, getting it going on behalf of those taxpayers.
"We are the largest lender in the SME marketplace. We don't need just to be the largest; we also need to be the best and today we're a little bit short of that. "
Load more updates
Back to top