Protests over shipbuilding cuts
Around 200 demonstrators have held a rally over BAE Systems' decision to cut 940 jobs at its Portsmouth site, ending centuries of shipbuilding in the city.
Shadow Defence Secretary Vernon Coaker told ITV News the loss of 1,775 jobs in the shipbuilding industry "raises a number of questions" about the UK's capability of building warships.
Read: BAE hit by 'significant' reduction in workload
He said: "You have to maintain the skills and capability of a yard to build warships, you can't turn this off and on like a tap."
Mr Coaker also added that BAE Systems' job losses raised "a number of questions about what it means for the capacity of our country to build the warships it needs, and those are some of the questions that need to be answered."
The axing of 1,775 jobs across naval ships businesses in Portsmouth, Glasgow, Rosyth and Filton has been described as a "devastating day" by GMB union leader David Hulse.
David Hulse, GMB national officer and chair of the Confederation of Shipbuilding, said:
Following today's announcement from BAE Systems, we are able to confirm that no shipyard will be closing even though there are substantial job losses in the pipeline.

There is no doubt that this is a devastating day for the UK shipbuilding industry and the company will have justify to us the job losses planned.
Hugh Scullion, general secretary of the CSEU, said getting an agreement which for voluntary redundancies would be a key objective for the planned talks between union and company bosses next Monday.
Getting an agreement which avoids the need for compulsory redundancies will be central to our discussions with the company.

The CSEU will also make it a priority to protect the future of the UK shipbuilding industry by securing investment to ensure the industry doesn't just survive but prospers in the future.
Advertisement
BAE Systems said it was being hit by a "significant" reduction in workload following a peak of activity on the current aircraft carrier programme.
Read: BAE Systems confirms it will cut 1,775 jobs
The company said shipbuilding operations will end in Portsmouth in the second half of next year, but an engineering team will be retained to support the new Type 26 warships, which will be built in Glasgow.
BAE Systems has agreed with the UK Ministry of Defence that Glasgow would be the most effective location for the manufacture of the future Type 26 ships.
Consequently, and subject to consultation with trade union representatives, the company proposes to consolidate its shipbuilding operations in Glasgow with investments in facilities to create a world-class capability, positioning it to deliver an affordable Type 26 programme for the Royal Navy.

The cost of the restructuring will be borne by the Ministry of Defence. The implementation of these restructuring activities will sustain BAE Systems' capability to deliver complex warships for the Royal Navy and secure the employment of thousands of highly skilled employees across the UK.
BAE Systems is to cut 1,775 jobs, including 940 in Portsmouth, where shipbuilding will end next year, the company announced today.
BAE Systems is to consult on 1,775 potential job losses, including 940 in Portsmouth and more than 800 in Scotland, sources told the Press Association.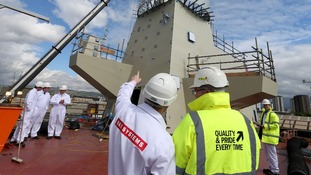 1800 jobs will be cut in shipyards operated by BAE Systems across England and Wales, bringing shipbuilding in Portsmouth to an end.
Read the full story
Advertisement
On last night's News of Ten we said up to 1700 job losses in shipbuilding.
I have been told that the announcement, due at 11am, will be slightly higher than this figure.
ITV News understands that BAE Systems will stop building ships at Portsmouth shipyard - the only jobs left will be in ship maintenance.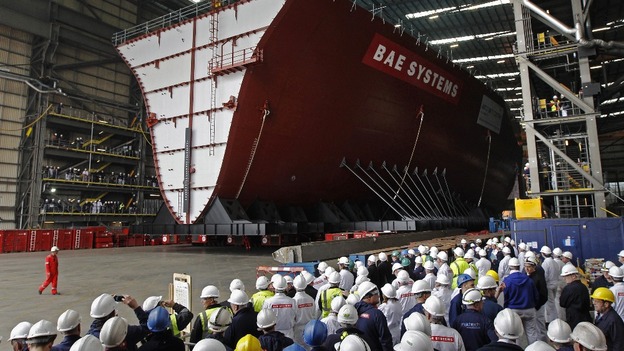 An announcement from BAE is expected at 11am this morning.
BAE Systems staff working at three shipyards - Govan and Scotstoun in Scotland and Portsmouth - will hear whether they still have a job at 11am this morning, before being sent home to digest the news, Unite the union told ITV News.
Defence Secretary Philip Hammond will make a statement to MPs in the House of Commons at 12.30pm on shipbuilding and aircraft carriers.
Load more updates
Back to top