Twitter shares soar on debut
Shares in Twitter have soared on their New York Stock Exchange debut, closing at nearly $45.
Twitter shares fell 4.6% on the day after going on sale for the first time. The stocks traded at 70% above their IPO price, avoiding the flop experienced by its social media rival Facebook last May.
Read: Mixed fortunes for previous big-ticket tech flotations
Facebook shares slumped dramatically in the first few weeks after their stock exchange debut.
Shares in Twitter went on sale Thursday and almost doubled in value from its opening price offer of $26 (£16.26).
Many tweeters have noticed that their posts are helping the social networking site increase in value, so TIME magazine has created a calculator that works out how much Twitter 'owes' you.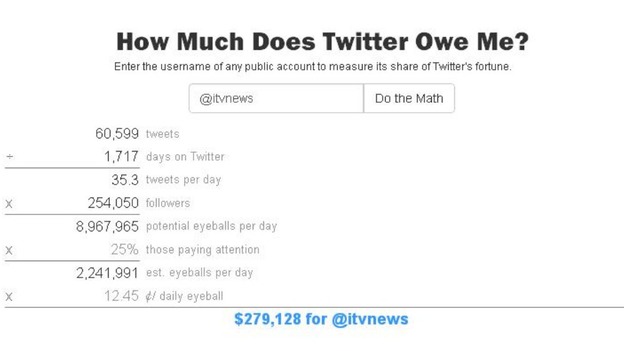 Share prices in the company have rocketed above the $50 mark meaning Twitter's value is over $24 billion (nearly £15bn).
ITV News has tweeted 60,599 times which, according to the calculator, means $279,128 (£173,651) is 'owed' to us.
However, popstar Justin Bieber - who was recently overtaken by Katy Perry in Twitter followers - is 'owed' a staggering $20,923,841 (over £13m) by the company.
Advertisement
Shares in Twitter went on sale today and almost doubled in value from its opening price offer of $26. The social networking site has never turned a profit, despite being worth $19 billion tonight.
Trading on the New York Stock Exchange under the symbol "TWTR", shares opened at $45.10 (£28.11), 73% above their IPO.
ITV News' Business Editor Laura Kuenssberg reports on Twitter's initial success:
Read: What's a tweet worth? Guessing game over Twitter's share price
So is Twitter really worth 19 billion pounds? Shares closed at nearly 45 dollars
Twitter Inc has closed at $44.90 per share on the first day of trading on the New York stock market, showing an increase of 73% on the day, but below the opening price of $45.10.
Twitter can help generate an additional £16.06 ($25.62) per tweet in revenue for businesses, according to online marketing data company SumAll, as the social media site made its successful debut on the New York stock market today.
Here are some key figures from the analysis:
A single business tweet on average generates an additional £16.06 ($25.62) in revenue, compared to not tweeting at all
Overall, successfully integrating Twitter into digital marketing efforts increases total revenue by 1-2%
Comparatively, however, it found that Instagram followers are worth 10 times more than on Twitter
Advertisement
Consolidated volume on Twitter shares have hit five million after only 30 minutes of trading, according to Reuters, as the social media company launched on the New York stock market.
Shares for the popular micro-blogging site soared as much as 92% but have stabilised around the $45 mark.
Twitter has made a "stunning" debut on the New York Stock Exchange, said a ETX Capital market strategist, as shares opened at $45.10. It meant that just seven years after starting up, the micro-blogging site was worth $31 billion. Ishaq Siddiqi added:
Although we have seen a staggering entry by Twitter today, unless management can continue to reassure the market that this company's growth profile looks as phenomenal as they claim, we could see the stock drift lower.

It's all about turning those Tweets into dollars now.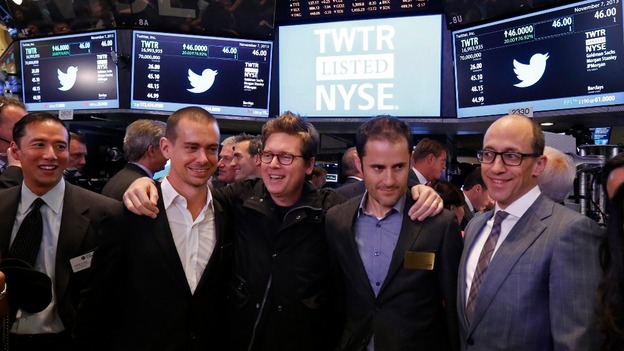 Twitter's major investors are not selling IPOs, but the stakes they are holding on to are for some worth more than $2 billion.
Here are Twitter's biggest investors:
Evan Williams: Twitter co-founder and director. CEO until 2010 - $2.6 billion
Peter Fenton: Board member - $1.5 billion
Jack Dorsey: Co-founder and chairman - $1.08 billion
Richard Costolo: Twitter's current CEO - $349 million
Blimey twitter nearly hit 50 dollars a share in first bit of trading #twitteripo
Twitter at 49 bucks puts value of company at 31 billion dollars - can that value really last?! #twitteripo
Load more updates
Back to top