Philippines appeal reaches £39m
The Philippines typhoon appeal has reaches £39 million, the Disasters Emergency Committee has announced. British warship HMS Daring has arrived in the country as part of the UK's emergency response to Typhoon Haiyan.
Money has been pouring into the joint appeal by British charities for the victims of the Philippines typhoon but those affected are still having to take shelter wherever they can.
Nine families are now living with the dead after they found sanctuary in a cemetery with children lying on tombs.
Click here to make a donation to the DEC appeal
ITV News Correspondent Angus Walker reports from Tacloban:
Ten days on from the typhoon and you get the sense that we have reached some sort of turning point.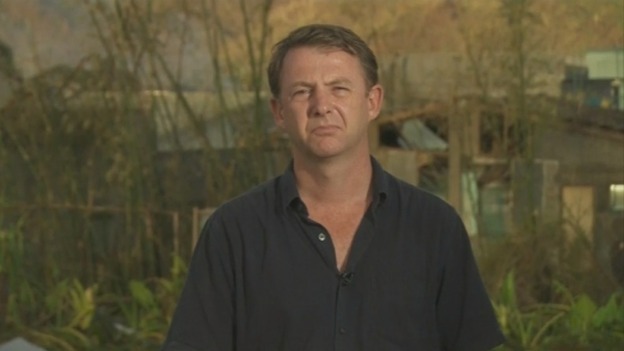 Click here to make a donation to the DEC appeal
There is certainly more aid getting through, I was down in the city centre watching as families were given two kilos of rice and a large bottle of water each and that is certainly better than the situation just a few days ago.
However, there is still no power in Tacloban, still no running water in people's homes and there are still people living in absolutely dreadful conditions.
The latest UN figures suggest there are 350,000 people in evacuation centres and four million people scattered across this entire region.
They need a lot of help, roads need to be cleared but you get the sense that things are starting to get better.
Read: The Philippine 'ghost town' that the aid planes forgot
Advertisement
PM: Britain at forefront of #Haiyan relief effort. British public have shown incredible generosity donating £35m. Gov contributed over £50m.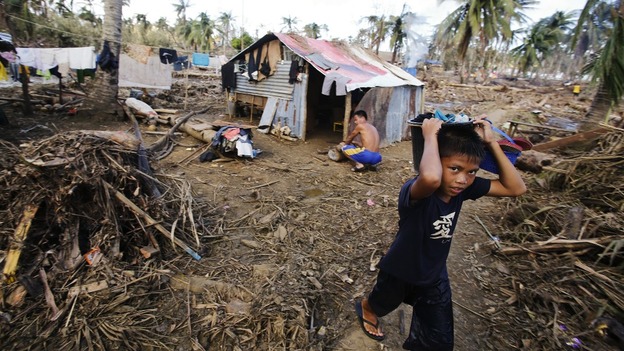 Donations to help the survivors of the Super Typhoon Haiyan has reached £39 million.
Over 11 million people have been affected by the disaster, with around four million people displaced from their homes.
DEC Chief Executive Saleh Saeed said the organisation had been left "completely overwhelmed" by the compassion of the British public.
A plane loaded with more than 95 tonnes of aid has left the UK as part of Britain's response to Typhoon Haiyan.
The aircraft left East Midlands Airport for the Philippines late yesterday evening, International Development Secretary Justine Greening wrote on Twitter.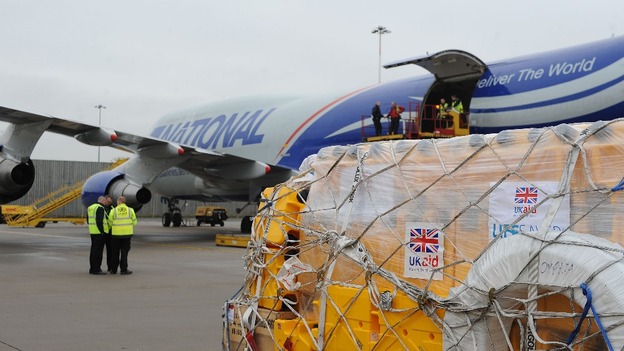 A British Airways jet is also expected to leave the UK this morning after offering aid agencies including Oxfam, Save the Children and Unicef the aircraft to fly emergency supplies to the disaster zone.
The latest aid delivery comes after HMS Daring arrived in the Philippines yesterday as it gets ready to provide humanitarian assistance to the worst-hit areas.
Read: The Philippine 'ghost town' that the aid planes forgot
The Philippines is facing up to the task of rebuilding after Typhoon Haiyan - which killed close to 4,000 people.
Many isolated communities are yet to receive significant aid, despite a huge international relief effort and there are fears disease could take a hold on those trying to survive.
ITV News Correspondent Angus Walker reports:
Watch: New video shows power of typhoon as it struck Philippines
Advertisement
The power of Typhoon Haiyan as it ripped through the Philippines last week was captured on film by an aid worker in Eastern Samar.
Read: TV and pop stars join celebrity Philippines appeal
Plan Philippines Community Development worker Nickson Gensis was near badly-affected Tacloban when the storm approached last Friday and he and five others took refuge in the top floor of a boarding house.
His footage shows the storm completely wash away a house as winds of up to 170 mph battered the country.
While much of the boarding house he was in was flooded and destroyed, Mr Gensis was back on the job only a few hours after the winds subsided looking to deliver aid to survivors.
Read: The Philippine 'ghost town' that the aid planes forgot
Members of pop band One Direction and stars from TV's Downton Abbey and Strictly Come Dancing will join the host of celebrities who have already leant their support to the Typhoon Haiyan charity appeal.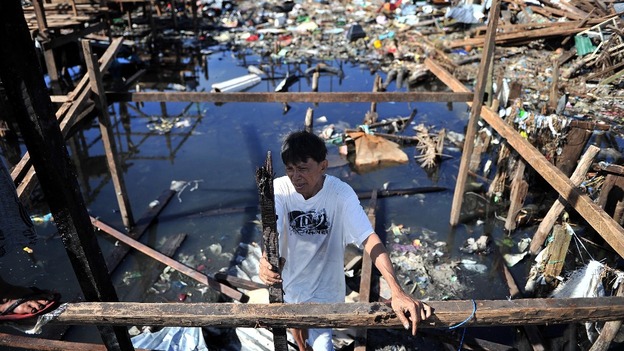 The boyband will launch a special celebrity telethon via Twitter while other stars will answer calls from people donating to the Disasters Emergency Committee.
Celebrities lending a hand at the phone-in at 4pm-7pm tomorrow will include broadcaster Andrew Marr, celebrity chef Jamie Oliver, comedian Stephen Merchant and actors Alan Rickman, Joanne Froggatt and Allen Leech.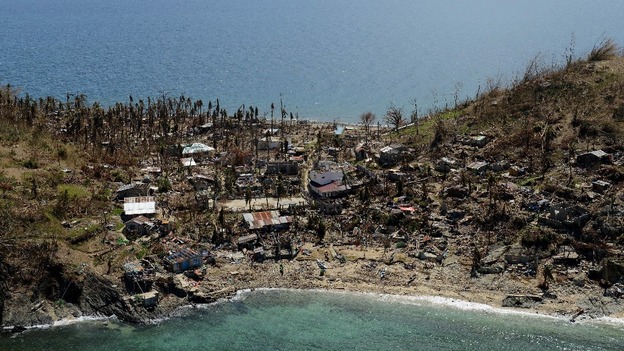 The emergency fund has so far raised £35 million for the humanitarian effort in the Philippines, while Friday's annual Children in Need fundraiser, which raised a record amount, is donating £31 million to the appeal.
International Development Secretary Justine Greening said British warship HMS Daring, which docked in the typhoon-hit Philippines today, is a "real asset" for being able to reach some of the more remote communities who are struggling in the wake of the disaster.
Meridian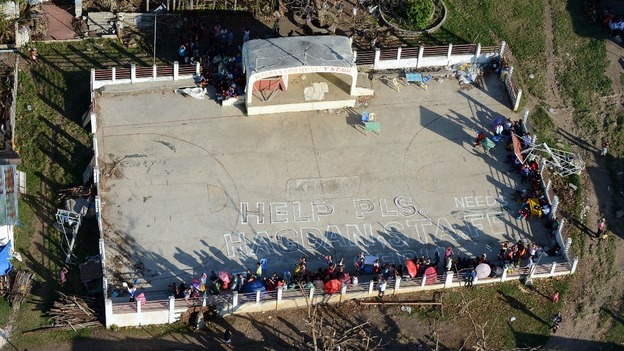 Portsmouth warship HMS Daring has today loaded her stores at Cebu port with lifesaving humanitarian aid and is on her way to Philippine islands that have been without help since Typhoon Haiyan struck. The flight crew flew their Lynx helicopter on six recces of remote areas for signs of destruction.
From the images that came back, the command team have now identified several areas that are desperately in need of aid. Aerial imagery taken from the Lynx show flattened housing, scattered possessions, large vessels blown onto shorelines and the word 'help' spelt out in palm leaves on the beach.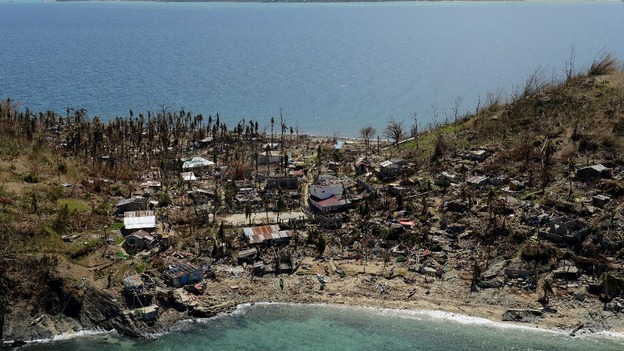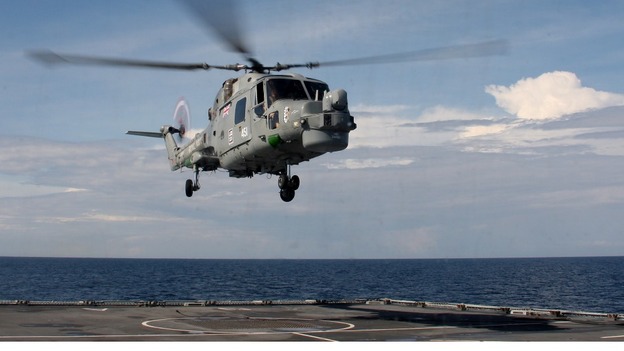 Load more updates
Back to top