England loses first Ashes Test
Australia has claimed victory in the first Test of the Ashes series after winning by a significant 381 runs.
England cricketer Kevin Pietersen has described his team's defeat in the first Ashes Test as "horrible" on Twitter:
Hey - if we all accept the good days in life, we all have to accept the bad ones! Horrible Test for us that.. 4 to play! ?
Watch: Alastair Cook says England must now prepare for 'battle'
England's cricket captain Alastair Cook has said his team-mates will now "harden ourselves for the battle" after a big defeat in the first Test.
Advertisement
Australia has won the first Ashes Test by a significant 381 runs.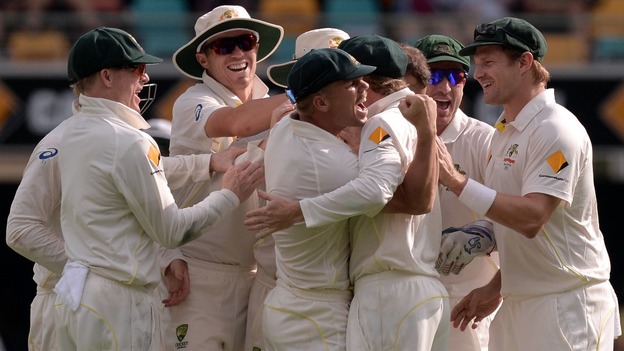 Australia is just one wicket away from victory in the first Ashes Test after England slumped from 142 for 4 to 151 for 8.
England, battling to save the opening Ashes test, were 142 for four chasing an unlikely 561 to beat Australia when a short but dramatic hailstorm precipitated an early tea break on the fourth day at the Gabba.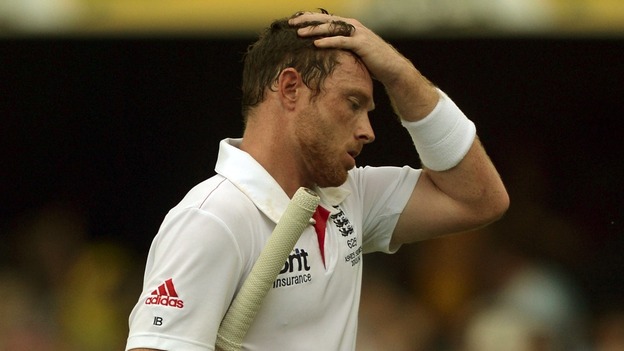 England skipper Alastair Cook was unbeaten on 65 with Joe Root alongside him on six when the players were taken off the field after Kevin Pietersen (26) and Ian Bell (32) had been dismissed earlier in the day.
England still trailed the hosts by 418 runs with just six wickets in hand and four sessions remaining in the match.
The Australian press has been revelling in England's slump in the first Ashes Test in Brisbane:
Read: Aussie newspaper bans name of 'Pommie cheat' Stuart Broad
Advertisement
David Warner and Michael Clarke both smashed centuries to help stretch Australia's lead over England to a monumental 458 runs with a second innings score of 299 for five at tea on day three of the first Ashes test on Saturday.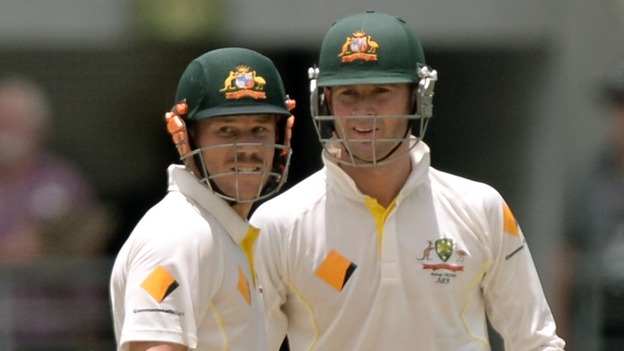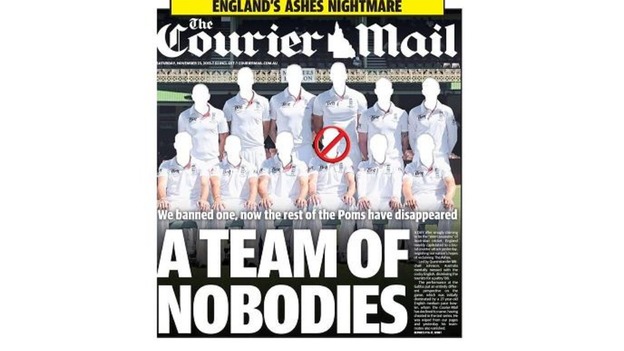 Australian media have reacted with glee to England's disastrous performance in the first innings in the first Ashes Test.
The Courier Mail, which has been involved in a row with England players Stuard Broad and Kevin Pietersen has celebrated "England's Ashes nightmare."
Yesterday it labelled Broad, who took five wickets, the "phantom menace."
Read more: Aussie newspaper bans name of 'Pommie cheat' Stuart Broad
England's cricketers have endured their fastest batting collapse in 23 years in the first match of the Ashes series in Australia.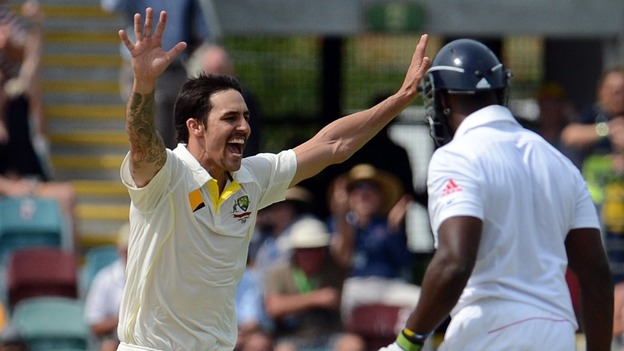 The tourists slumped from 82-2 to 136 all out in the first innings, in the process losing six wickets for nine runs: their fastest wicket loss since England's match in Melbourne in 1990, when they lost six wickets for three runs.
England's cricketers slumped to 136 all out on the second day of the first Ashes test.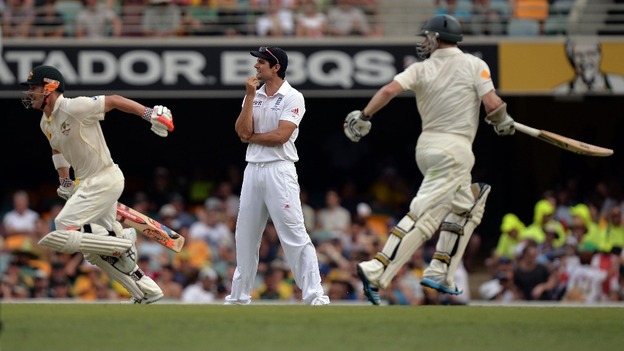 Australia finished the day on 65 runs without loss in their second innings, having been bowled out for a first innings total of 295.They now lead by 224 runs.
Load more updates
Back to top