Army 'killed unarmed NI people'
Former members of an undercover British army unit have claimed to BBC's Panorama that they killed unarmed civilians in Northern Ireland during the Troubles. Yesterday the country's attorney general called for an end to prosecutions before 1998.
The leader of Northern Ireland's Traditional Unionist Voice (TUV) party has slammed the proposal to end prosecutions relating to the Troubles as tantamount to "advocating immunity for terrorists".
What a kick in the teeth for innocent victims to have the Attorney General, no less, championing the long standing IRA demand that their 'on the runs' and anyone responsible for anything before 1998, should be free from the pursuit of the law. It is amnesty.

Moreover, by this crass proposal the Attorney General validates the terrorist claim that their crimes were different and not really criminal. Mr Larkin is not advocating amnesty for everyone, only for 'trouble-related' crimes; thereby endorsing the terrorist propaganda.
Murder is murder, is murder. It has no sell-by date. It didn't have for the Nazis, who have still been pursued. Northern Ireland's criminals must equally never be relieved of the threat of the long arm of the law catching up with them.
– Jim Allister, TUV leader
John Larkin has insisted that his suggestion of an end to prosecutions does not constitute a formal amnesty and it would aid relatives who wanted to find out the truth:
Sometimes the fact of an amnesty can be that that which was a crime ceases to be a crime. That wouldn't be the position here, it would simply be that no criminal proceedings would be possible with respect to those offences.
– john larkin, northern ireland attorney general

He implied that in the absence of legal proceedings, relatives of the dead would have a better chance of discovering what had happened to their loved ones.

"We can't really be surprised if people don't tell us as long as the theoretical threat of prosecution remains," he said.
Advertisement
Northern Ireland's Attorney General said that the chances of a conviction so many years after the events in question are now extremely low, and that it is time to "take stock".
John Larkin told the BBC:
More than 15 years have passed since the Belfast Agreement, there have been very few prosecutions, and every competent criminal lawyer will tell you the prospects of conviction diminish, perhaps exponentially, with each passing year, so we are in a position now where I think we have to take stock.

It strikes me that the time has come to think about putting a line, set at Good Friday 1998, with respect to prosecutions, inquests and other inquiries.
– john larkin, northern ireland attorney general
Northern Ireland's Attorney General John Larkin has called for an end to prosecutions relating killings that took place during the Troubles in his country.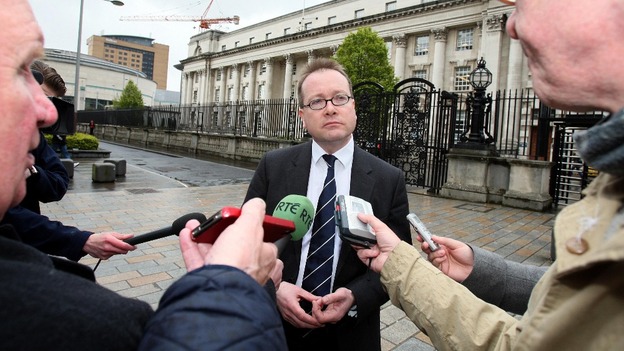 He said the measure would entail drawing a line under police investigations, inquests and inquiries into any relevant killings that took place before the signing of the Good Friday Agreement in 1998.
He said the proposal was a logical consequence of the Agreement and denied it was a formal amnesty, but conceded that many will interpret it as one.
More than 3,500 people were killed during three decades of conflict in Northern Ireland.
Load more updates
Back to top