MPs to pay tribute to Nelson Mandela in the Commons
MPs will pay tribute to Nelson Mandela in the Commons today. Question time has been suspended and instead Speaker John Bercow will make an opening address, followed by words from David Cameron and other party leaders.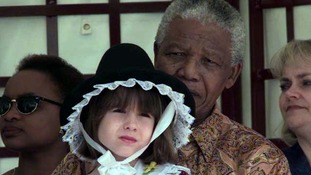 Six-year-old Emma Williams was invited to sit on Nelson Mandela's lap when he visited Wales in June 1998. Now 22, she speaks to ITV News.
Read the full story
London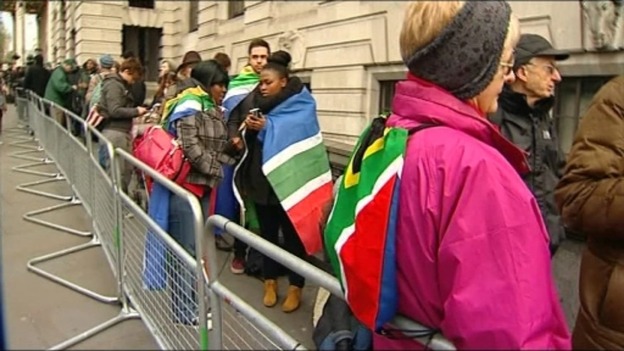 The queue for the book of condolence at South Africa House is growing steadily, snaking around the building and down Duncannon Street.
Advertisement
Former Conservative Party chairman Lord Tebbit said Nelson Mandela was the leader of a movement that resorted to terrorism and the Tories were right to shun sanctions against South Africa at the height of the anti-apartheid struggle.
Lord Tebbit told BBC Radio 4's World At One: "You have to act within the constraints of the time and I get very irritated by people who judge the past by the present. It is not very sensible."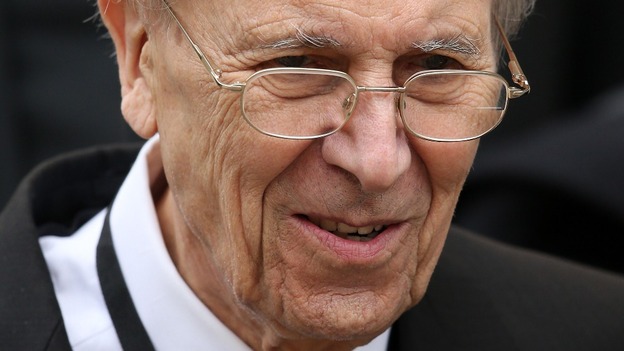 "After all, if you do that you might finish up declaring that Cromwell was a terrorist and that wouldn't be a very sensible view to take, would it?"
Reminded that many Conservatives had called Mandela a terrorist in the 1980s, he replied: "He was the leader of a political movement which had begun to resort to terrorism."
Gordon Brown fondly recalls the moment he had a "father to father" conversation with Nelson Mandela.
The former Prime Minister told ITV News that Mandela had phoned to congratulate him the day after his son's birth:
Brown said: "We'd both lost children and we had what was not a statesman to statesman conversation but a father to father conversation.
"That was Mandela all the time - the personal care he took in his relationships, his great sense of humour .... he was just a very complete and warm human being".
The Queen has spoken about the moment she heard Nelson Mandela had died.
Speaking during a visit to Westminster Hall at the Houses of Parliament, the Queen said: "It was extraordinary as William and Catherine were at the film last night - the film about his life".
"I heard it at 10 o'clock ... [people at the film premiere] were clapping like mad and somebody came on and said 'we've just heard he's died'", she continued.
"It's amazing isn't it? During the first night of the film".
Shadow foreign secretary Douglas Alexander says Nelson Mandela's rejection of racism is one of his greatest legacies.
Advertisement
It is understood Prime Minister David Cameron is set to fly out to South Africa early next week to take part in a formal memorial service for Nelson Mandela.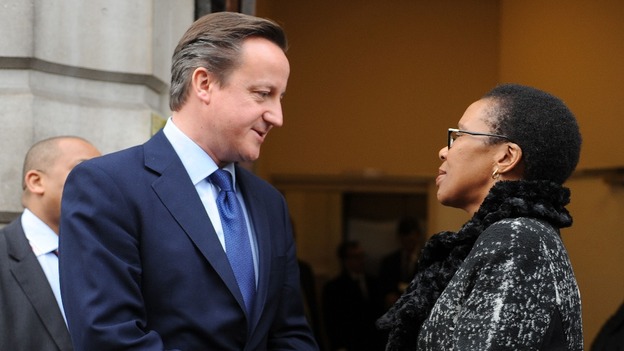 Details of how tributes will be paid to the former South African president in the House of Commons on Monday are expected later today.
Watch: Sir Trevor McDonald reflects on meeting Nelson Mandela
People have been leaving flowers and tributes outside South Africa House in central London in memory of Nelson Mandela.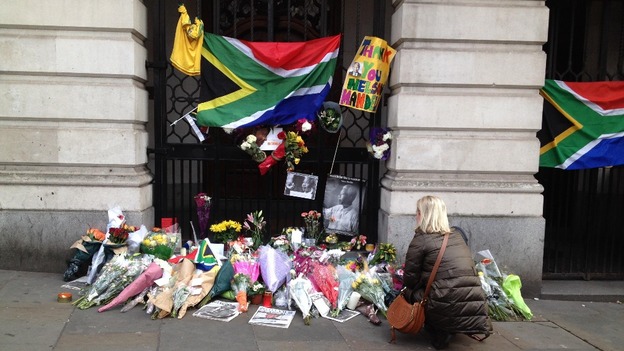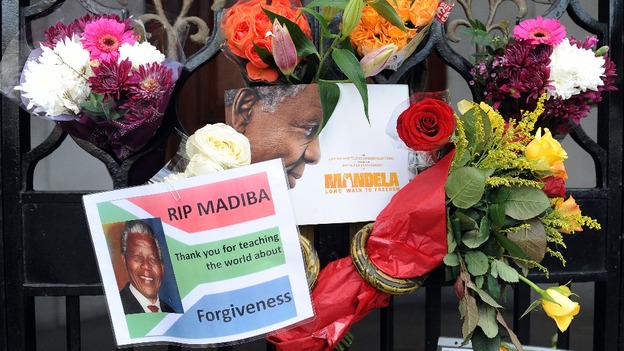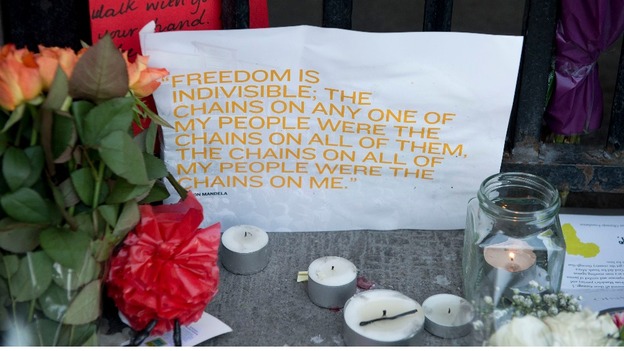 David Cameron wrote Nelson Mandela "will inspire generations to come" as he signed a book of condolence at South Africa House in London.
The Prime Minister wrote: "Your cause of fighting for freedom and against discrimination, your struggle for justice, your triumph against adversity - these things will inspire generations to come.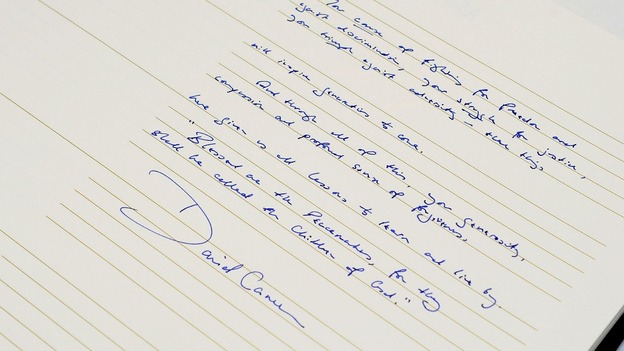 "And through all of this, your generosity, compassion and profound sense of forgiveness have given us all lessons to learn and live by."
He ended his message with the quote, "Blessed are the peacemakers for they shall be called the children of God".
Prime Minister David Cameron said his abiding memory of Nelson Mandela was "his complete forgiveness, his total lack of malice" towards those who had imprisoned him.
Mr Cameron said the former South African president had "a wonderful sense of humour and a wonderful generous sense":
Load more updates
Back to top