'A number' of helicopters have fuel gauge issue
"A number" of air ambulance and police helicopters from the same fleet as the one that crashed into a Glasgow pub have a problem with their fuel indicators, the firm that owns them has admitted. But a spokesman will not say how many.
A spokesperson for the Department of Health said that patients should not be affected by the grounding of air ambulances:
We understand this isa precautionary measure and that contingency plans with other air ambulancesand ambulance services are in place to ensure patients are not affected.
– department of health spokesperson
The partial suspension of the UK's air ambulance fleet is due to a discovery of a technical fault discovered on one, the Association of Air Ambulances said.
The grounding is as a result of a technical fault on one air ambulance aircraft with other Eurocopter EC135 in the UK and worldwide remaining operational at this time.

The suspension of operations is not as a result of the incident in Glasgow involving this type of aircraft on the 29th November, for which investigations continue.
Bond Air Services are continuing to investigate the technical fault that has resulted in the temporary suspension of services from the afternoon of the 11th December 2013.

The investigations include functional testing across each of the EC135 aircraft affected to gather more information and will ensure air ambulance operations are regularly updated.
– Association of Air Ambulances
Advertisement
We have confirmed that 16 air ambulance helicopters, operated by Bond Air Services, are covered by the suspension.
Read: Helicopter operator ground part of fleet over 'defect'
The 16 air ambulances operate in the following areas:
Dorset and Somerset
East Anglia
Hampshire and Isle of Wight
The Midlands
The North West (three helicopters suspended)
Scotland (two helicopters)
Thames Valley and the Chilterns
Wales (three helicopters)
Cornwall has an EC135 helicopter, but it is being serviced and a replacement is in operation. Devon has an EC135 but it is not operated by Bond Air Services, so it is still flying.
The helicopters that have been grounded are all of the EC135 model, which are widely used by emergency services.
The model was used by the following air ambulance services:
Cornwall
Devon
Dorset & Somerset
East Anglian

Hampshire & Isle Of Wight
Midlands Air Ambulance
Read: Helicopter operator grounds part of fleet over 'defect'
Bond Air Services says it has temporarily grounded 38 EC135-model helicopters globally after discovering a "defect", Reuters reports.
West Country (W)
The Dorset and Somerset Air Ambulance has been grounded while emergency checks are carried out. The helicopter, which is leased by Bond Aviation in Gloucestershire, is the same model as the craft which crashed into a Glasgow pub earlier this month. All EC-135's have been grounded.
Advertisement
The company that has grounded part of its helicopter fleet is believed to have operated the police helicopter that crashed in Glasgow last month.
According to media reports, Bond Air Services operated the EC135 helicopter on behalf of Police Scotland and employed the pilot who died in the incident.
The company confirmed to ITV News that it has grounded its UK fleet of EC135 aircraft after a "defect" was detected in one of them.
A statement on its website said the firm is "committed by law to ensuring that the proper compensation is paid to all those who have suffered loss" in the incident.
A company that operates helicopters used by emergency services in the UK has grounded part of its fleet as a precaution after one aircraft experienced an "indication defect".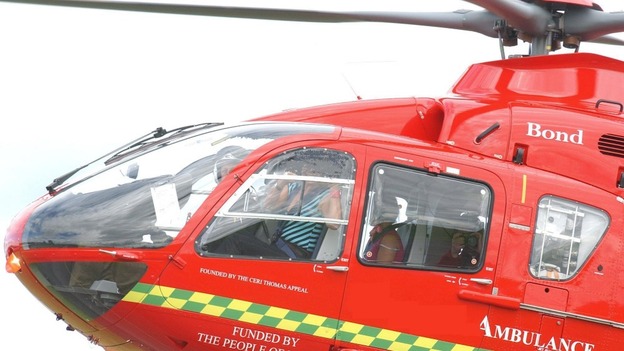 Bond Air Services operates 22 Eurocopter EC135 helicopters in the UK, all of which are covered by this temporary suspension.
The company confirmed to ITV News that it is "conducting functional tests" on each of its EC135 aircraft after they were grounded yesterday.
Load more updates
Back to top