One dead after plane 'explodes into flames' in Colorado
At least one person has died after a private plane crashed on an icy runway at Aspen airport in the US state of Colorado on Sunday. One survivors remains in a critical condition and another has minor injuries, local officials said.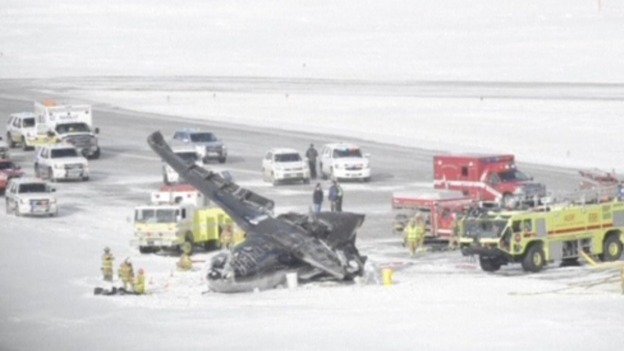 A private plane flipped was "fully engulfed in flames" before flipping onto its roof on a runway at an airport in Aspen, according to local officials.
Photos from the scene show the badly-damaged fuselage and what appears to be a thick coat of snow and ice on the runway.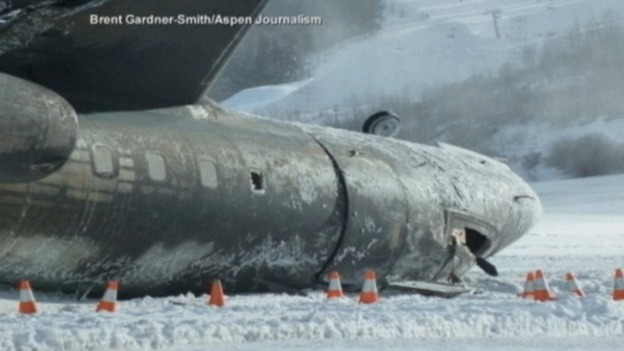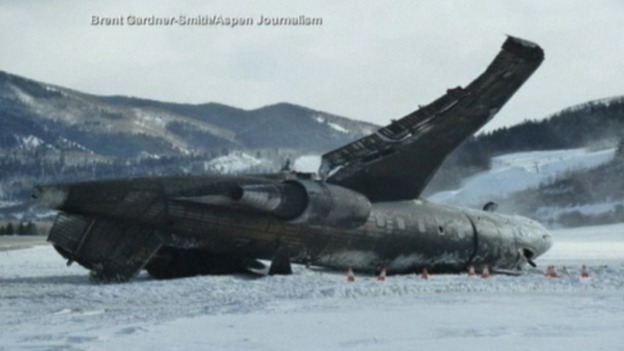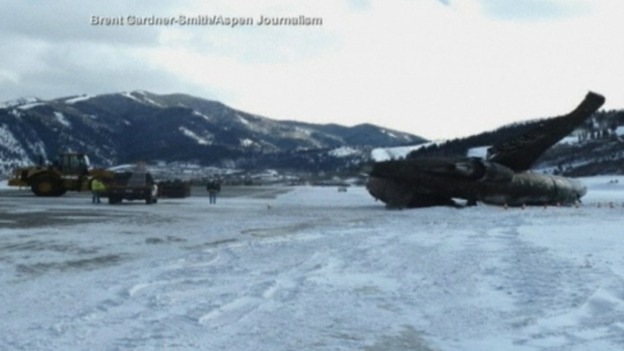 Advertisement
The person killed in a plane crash in Aspen, Colorado has been named as Sergio Emilio Carranza Brabata, 54.
A statement from Pitkin County Sheriff's Department said Mr Brabata was the co-pilot.
The pilot and a passenger - who was a also a trained pilot - have not been named.
Aspen/Pitkin County Airport remains closed.
One of the survivors of a plane crash in Aspen, Colorado is critical while the other is in a fair condition, NBC News reports citing the Pitkin County Sheriff's Office.
Both were taken to Aspen Valley Hospital, it reports.
The US National Transportation Safety Board has said it is investigating today's crash at Aspen airport in the state of Colorado:
NTSB investigating today's crash of a Canadair CL-600 in Aspen, CO.
One person has died and at least two people have survived a private plane crash at Aspen Airport, NBC News has reported, citing local sheriffs.
JUST IN: 1 dead, at least 2 survivors in small plane crash at Aspen Airport, Sheriff's Office tells @craigmelvin
Advertisement
Aspen Airport in Colorado has confirmed it has closed while emergency teams respond to a private aircraft that has crash landed.
A private aircraft has crashed at the Aspen Airport. Emergency vehicles are on scene. The airport is closed until further notice.
The small plane that crashed at Aspen airport is believed to be a Bombardier Challenger 600 and was flying to the Colorado city from Tucson, Arizona, an ABC News affiliate has reported, citing air officials.
ASPEN UPDATE: FAA spokesperson says airplane that crashed appears to be a Bombardier Challenger 600, coming from Tucson to Aspen
A plane "exploded into flames" in a crash landing at Aspen airport, according to US actor and comedian Kevin Nealon, who witnessed the incident in Colorado.
Horrible plane crash here at Aspen airport. Exploded into flames as it was landing. I think it was a private jet.
Fire trucks and other emergency vehicles still at scene. No word on survivors or who was on jet but I can't imagine there are survivors.
A small plane has crashed at Aspen airport in the US state of Colorado, according to eyewitness and local media reports.
Various eyewitnesses, including the singer Leann Rimes, tweeted their shock from the scene of the reported crash while posting images of a plane on the snow-filled runway.
So sad! Horrible plane crash we just saw happen at the Aspen airport.
Back to top