PM favours 'cash for homes' near shale drilling sites
David Cameron said he favours cash payments to householders in compensation for the inconvenience caused by shale gas drilling near their properties.
Exploration drilling was disrupted by anti-fracking demonstrations at Balcombe, West Sussex in August last year.
Among those arrested during the disruption was Green Party MP Caroline Lucas.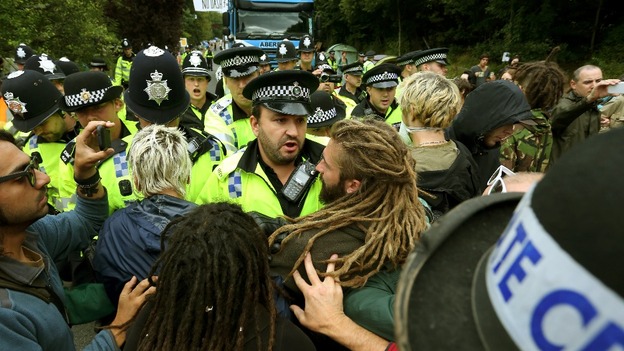 Protesters remained at the site until the energy firm Cuadrilla finished its test drilling in October.
Read more: Cuadrilla chief: 'We will complete our work'
Communities living near fracking sites will receive cash benefits from drilling, the Government has said. The announcement comes as it was confirmed that councils in England who approve fracking projects will be able to keep 100% of the related business rates.
In a statement, the industry confirmed it will further consult on how money can best be shared with the local community, with options including direct cash payments to people living near the site, plus the setting up of local funds directly managed by local communities.
Read more: Fracking explained
Advertisement
David Cameron has tweeted that plans to allow councils to keep 100 percent of business rates from fracking are part of the Government's "long term economic plan" and will create tens of thousands of jobs.
Allowing councils to keep 100% of business rates from fracking is part of our #LongTermEconomicPlan, creating tens of thousands of jobs.
Energy firm Total has announced it has acquired a 40 per cent interest in two shale gas exploration - also known as fracking - licences in the Gainsborough Trough area of Lincolnshire. The investment is understood to be worth £30 million.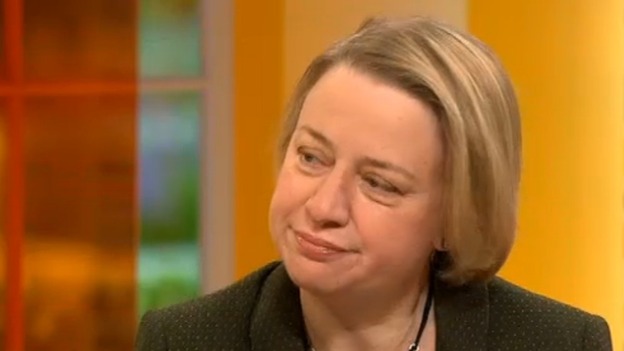 If every home in the UK "that needed it" was properly insulated, bills would be cut and jobs would be created, the leader of the Green party told Daybreak.
Natalie Bennett dismissed Government proposals to boost fracking and instead championed better insulation of homes as a means of cutting energy bills and creating jobs.
"If we insulated every home in Britain that needed it, we would create up to 200,000 jobs. What we would also do is cut our carbon emissions and slash bills, take nine out of 10 people out of fuel poverty.
"Six million people in Britain are now in fuel poverty. We have got to tackle that. We are not going to tackle that with gas, which is the expensive, high-cost and volatile future."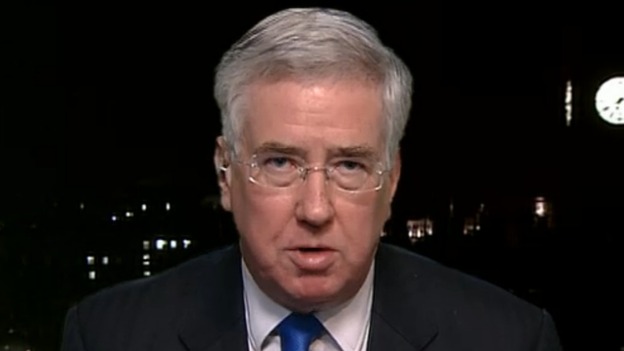 Total's plans to explore Britain for shale gas is "extremely important" as it shows "one of the world's Big Five oil companies" sees a lot of opportunity in the UK, according to a business minister.
Read more: Greenpeace slam Total plans for fracking in the UK
Michael Fallon told Daybreak any go-ahead for fracking in Britain would be "regulated properly" and "would only be allowed if absolutely safe".
He continued: "The announcement by Total this morning is extremely important. It shows that one of the world's Big Five oil companies now sees the opportunity to explore for shale gas here.
"We know now there is a lot more shale gas down there than previously thought and there is a huge opportunity to go down there and get it."
Advertisement
The Local Government Association said the Prime Minister's proposals to allow councils to keep all of the cash brought in by business rates from fracking schemes was "a step in the right direction".
A spokesman for the councils' group said:
Councils have been clear that the people and communities whose areas host fracking sites must feel the benefit.

Today's announcement from the Prime Minister is a step in the right direction, which will mean that business rates paid by shale gas firms will help councils to maintain and improve local services for residents.

While it is encouraging that government is listening, local areas will be keen to hear more details on how the community benefits package will be strengthened to fairly renumerate those who will be most affected.
– A Local Government Association spokesman
The Government has come under fire from environmentalists for trying to "bribe" councils, by allowing them to keep all the tax revenue generated by 'fracking' in their area.
Lawrence Carter of Greenpeace said:
This is a naked attempt by the government to bribe hard pressed councils into accepting fracking in their area.

Cameron is effectively telling councils to ignore the risks and threat of large-scale industrialisation in exchange for cold hard cash.

But the proposal reveals just how worried the government is about planning applications being turned down.

Having had their claims that fracking will bring down energy bills and create jobs thoroughly discredited, the government is now resorting to straight up bribery to sell their deeply unpopular fracking policy.
– Lawrence Carter of Greenpeace
Fracking could "salvage" the UK economy from "crippling stagnation" and create thousands of jobs, business minister Michael Fallon said. Writing in the Sun on Sunday, he said:
In the Seventies, North Sea oil helped salvage our economy from crippling stagnation.

We have a similar chance to create tens of thousands of jobs and energy security.

A mile and more beneath us lies deposits of gas-bearing shale rock with the potential to guarantee energy supplies in an increasingly uncertain and competitive world.

If our boldness is matched by others in Europe, it could also drive down the cost of power for hard-working families and businesses.
– Business minister Michael Fallon
Councils which green-light fracking projects will be allowed to keep millions more in tax revenue, the Prime Minister has said, as he launched an "all out" drive to encourage the controversial mining technique.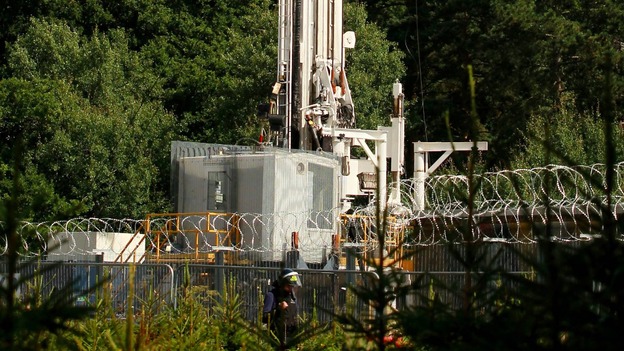 David Cameron said local authorities in England would be allowed to keep 100% of the tax revenue generated by shale gas schemes, opposed to the usual 50%.
The Government is keen to encourage the pressure mining technique in the UK and believes it could generate billions of pounds for the economy, support 74,000 jobs, and lower energy costs.
Mr Cameron said: "A key part of our long-term economic plan to secure Britain's future is to back businesses with better infrastructure.
"That's why we're going all out for shale. It will mean more jobs and opportunities for people, and economic security for our country."
Read more: Greenpeace slam Total plans for fracking in the UK
Load more updates
Back to top