Labour plans to refer banks to competition authorities
Labour plans to refer high street banks to the competition authorities immediately if elected in 2015, the party leader is expected to say in a speech on banking reform.
RBS is reportedly seeking to invoke an EU rule that will allow it to double its cap for bonuses to senior staff if approved by shareholders.
Bonuses the 'Big Five' banks paid to staff in 2012:
Barclays - paid 428 staff more than £1 million (Source: Reuters)
HSBC - paid 204 of its staff more than £1 million (Source: The Guardian)
RBS - paid out £607 million in staff bonuses (Source: Reuters)
Lloyds Banking Group - paid £365 million (Source: Lloyds)
Santander - paid 19 of its bankers more than £1 million (Source: The Times)
Labour said they have tabled a Commons motion calling on the government to reject calls reported from RBS to approve bumper bonuses for senior staff.
Read: Labour calls for Osborne to block RBS bumper bonuses
Responding to a report by the Financial Times that RBS, along with various other banks, was planning to overcome new EU legislation to cap bonuses at the level equivalent to one year's pay, Labour's Chris Leslie said:
At a time when families face a cost-of-living crisis and bank lending to business is falling, it cannot be right for George Osborne to approve a doubling of the bank bonus cap.

It shouldn't have taken the EU to act to rein in excessive bonuses, but there has been no action from the Chancellor here in Britain.

As the majority shareholder, the government should reject any request from RBS to increase the cap. We will put this to a vote in the House of Commons as part of our opposition day debate on the Government's wider failures on banking.
Last year the EU officials agreed to cap bankers' bonuses at a year's salary.
Advertisement
Labour are calling for George Osborne to prevent the Royal Back of Scotland giving bumper bonuses worth more than salary levels to senior staff members.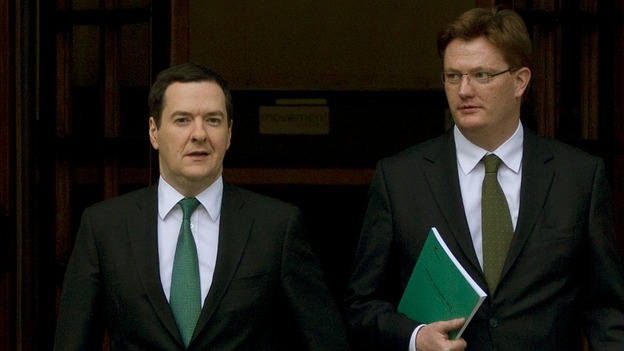 Royal Bank of Scotland, 81% owned by the taxpayer, is expected to invoke a clause in the new EU rules on bankers bonuses whereby any bonus worth twice the level of annual salary can only be awarded with shareholder approval, The Financial Times reports.
Read: EU Minister: Banking reforms will protect taxpayers
As Chancellor, Mr Osborne is effectively the heavily lossmaking bank's main shareholder.
Load more updates
Back to top