Travel disruption after storms lash Britain
There were severe delays and disruption to the train network and roads were blocked by falling trees after a huge storm swept across Britain.
British Airways says bad weather is currently affecting their flight schedule.
The following flights due to leave today have been cancelled:
BA67 departing LHR
BA173 departing LHR
BA177 departing LHR
BA113 departing LHR
BA187 departing LHR
BA1431 departing BHD
Shadow transport secretary Mary Creagh has been granted an urgent question in the Commons on transport disruption caused by flooding.
A transport minister will respond in the chamber at about 10.30am.
Advertisement
Granada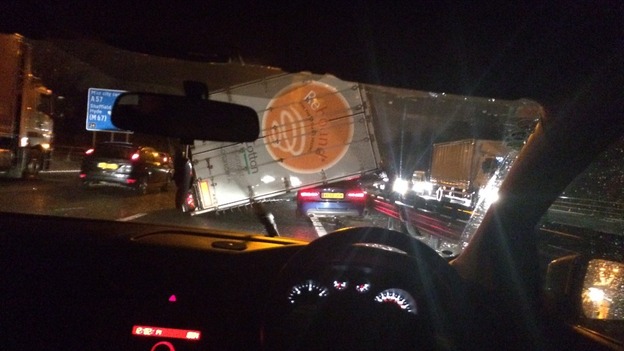 In last night's stormy weather, a lorry was blown on top of a car on the M60, at junction 24.
The car's owner, Andrew Elliott, has sent in these dramatic pictures.
Andrew told us he managed to climb out of the window and escaped with minor injuries.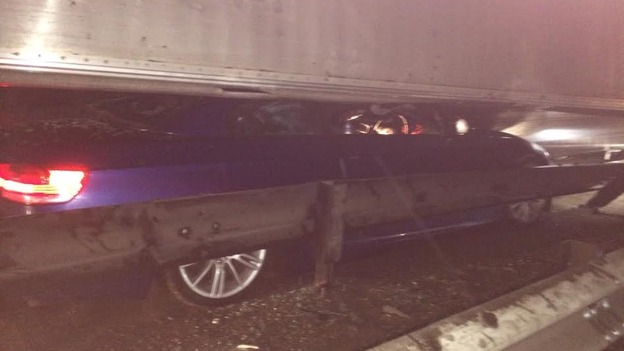 Train services across the UK are being disrupted due to the on-going storms and flooding, with train companies issuing advice via Twitter:
Buses replace trains between Aberystwyth and Machynlleth because of overhead wire problems between Aberystwyth and Dovey Junction #UKStorm
Good Morning, the line between Liverpool-Crewe is blocked until 10am, passengers travelling to London need to travel via Warrington...
Read more: Thunderbirds are go: Locomotive rescues gale hit train
First Great Western trains has tweeted they will be running a "limited service" in many areas due to ongoing flooding:
We are running a limited service in many areas due to flooding. Please check http://t.co/BFQdROEfOT for info on alterations and alternatives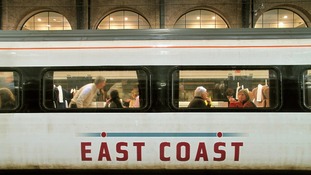 It was 'Thunderbirds to the rescue' overnight as hundreds of passengers were stranded on an Edinburgh-bound train battered by winds.
Read the full story
Advertisement
Passengers on an East Coast train near Durham say have been stuck on board without heating or lighting for more than five hours after the train's pantograph was blown off by high winds:
Stranded on the #eastcoast train just short of durham - no heating or lighting!
They're rationing biscuits and water - but free wifi. Good to know that #eastcoast have their priorities in order!
Despite having been stuck on this train for 5 hours now, we're still in good spirits :) #eastcoast
Central
M6 south of Keele closed (J15) - fallen trees. Services open. Petrol station closed due to wind damage. Working to open one lane soon #keele
Thousands of rail passengers were left stranded on trains after wind and rain wrought havoc with services.
Stuck! Stuck on a wobbling train in the middle of a storm! Freezing! starving! wet foot! Send help!
Been stuck on an @virgintrains service to London N of Lichfield. All train staff have been brilliant even when the train had no power!!!
On a train near Doncaster heading for London , tree has come down right in front of it , nobody hurt , stuck for a bit, got some chocolate
The evening rush-hour suffered disruption almost throughout the country, with a section of the West Coast main line in Lancashire closing between 7pm and 9pm.
Clifton Suspension Bridge, which links Bristol and north Somerset, was closed today after it was battered by high winds.
(Video removed for rights reasons)
The bridge's office manager Tony Hinchliffe told the Bristol Post it will remain closed until further notice, with gusts reaching 60mph.
Video: ITV News camera catches tree falling into River Severn
Load more updates
Back to top