Osborne: Budget for 'makers, doers and savers'
The Chancellor George Osborne has unveiled measures to benefit pensioners and savers in his penultimate Budget before the election. But he has warned Britain is still set to face years of austerity, despite improved economic forecasts.
The number of people paying the higher rate of tax has soared by two million since the coalition government took power, according to the Institute for Fiscal Studies (IFS).
Govt has squeezed the (upper) middle: IFS says number of people paying 40p rate income tax now 5.3m up from 3.3m in 2010
A Labour Government will support George Osborne's cap on welfare spending, reigning in the total budget for the department to £119bn, the shadow chancellor told Daybreak.
However, Ed Balls warned Labour "would do things differently" within that cap, like scrap the bedroom tax and provide a guaranteed job for young people.
Advertisement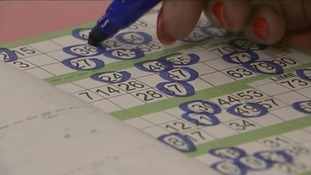 The Government announced the halving of bingo tax to 10% in the Budget today in a move that could help struggling clubs across the country.
Read the full story
George Osborne has unveiled what he described as a Budget for "makers, doers and savers".
This time last year the Chancellor thought he was heading for a triple dip recession - but his growth forecast for this year - 2.7% - is higher than previous predictions.
ITV News Economics Editor Richard Edgar reports on why Mr Osborne still has to stick to his plan to cut spending:
Read: Richard Edgar's blog on why radical pensions reform is a risk for the Government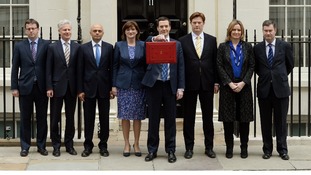 Watch again after we put your questions to the experts live and asked how the Budget affects you
Read the full story
Communities Secretary Eric Pickles has hit back at Ed Balls after the shadow chancellor suggested he had fallen asleep during today's Budget speech.
Mr Balls had told a briefing of lobby journalists:
"Eric Pickles fell asleep for a quite extended period of time and Ed [Miliband] and I were worried because, you never know, there might have been some big cut in local government spending coming which he didn't know about so we just politely suggested to Vince Cable that he should wake him up."
In a Twitter reply to the Daily Mail's Tim Shipman, Mr Pickles witheringly dismissed Mr Balls' claims.
Ed Balls has revealed the Labour front bench spent much of the Budget speech urging Vince Cable to wake up Eric Pickles.
@shippersunbound my dear chum Shippers wide awake although sleep would have been a blessed release from Lab lacklustre response
Advertisement
A Labour MP has claimed the Queen had expressed concern about levels of inequality and poverty in the UK.
Yasmin Qureshi, who represents Boston South East, was speaking in Parliament after this afternoon's Budget.
"Even Her Majesty, who is not exactly known for getting involved in political issues of the day, has expressed concern about the level of poverty and the situation of the poor people," she said.
Founder of MoneySavingExpert.com Martin Lewis noted on Twitter:
Sadly at today's dismal best buy easy access cash ISA rate the increase from £5,940 to £15,000 is a basic tax gain of just £30 #budget2014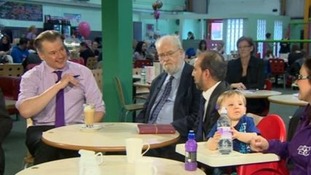 ITV News Consumer Affairs Editor Chris Choi has been speaking to people in Sheffield about the impact of George Osborne's Budget.
Read the full story
The Office for Budget Responsibility (OBR) has warned of the potential harm the Ukraine crisis could do to the UK economy if the situation continues to escalate.
The OBR said: "Developments in Ukraine are not expected to have a large impact on the UK in our central forecast.
"However, if the situation escalates or continues for a prolonged period, there is a risk of higher commodity prices affecting inflation and output growth.
"There could also be a broader risk through trade linkages and financial exposure to Ukraine, Russia and other affected countries."
Load more updates
Back to top