Nigel Farage 'wins' televised EU debate with Nick Clegg
Nick Clegg and Nigel Farage have gone head-to-head in the first party leaders' televised showdown over Britain's future in the European Union. In an instant YouGov poll of 1,003 votes, some 57% concluded Farage performed best.
Nigel Farage has described this evening's LBC debate on Europe as "a great opportunity to discuss things that Eurosceptics care about".
A YouGov poll of 1,003 voters showed some 57% thought Nigel Farage had performed best in the debate.
The video below contains flash photography:
Nick Clegg declined to comment on how the evening had gone and simply said he would "Let other people judge."
Following the clash, bookmakers Ladbrokes cut the odds on Ukip securing the most votes in the Euro-election from 6/4 to 11/10, making them joint favourites with Labour.
Read more: EU debate shows clear contrast between Clegg and Farage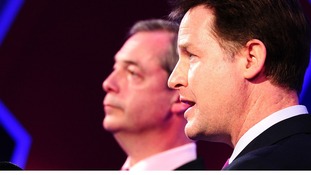 Farage did not have a great night, whilst Clegg's performance was as strong as the 2010 debates, but Farage could be the winner anyway.
Read the full story
Advertisement
A YouGov poll of 1,003 voters shows some 57% thought that Nigel Farage had performed best in this evening's LBC debate and 36% Nick Clegg.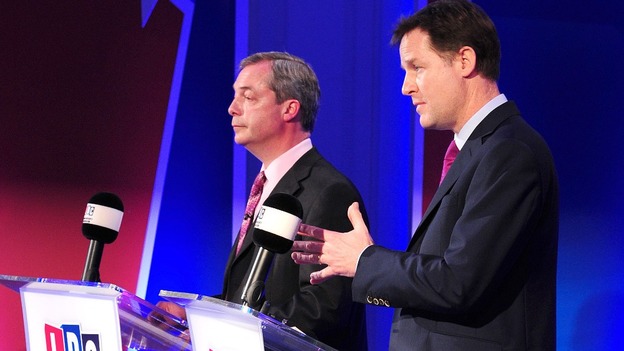 Closing his debate with Liberal Democrat leader Nick Clegg on the role of the UK within the EU, Nigel Farage said:
We have an open door to people from all over the EU, and that is the issue that has woken people up, that by being a member of the EU, we have lost the ability to govern our country and protect our borders.
Liberal Democrat leader Nick Clegg has finished his debate with Nigel Farage on the UK's role within the EU with a spirited call for people to vote in the EU elections, and his plea for the UK to stay within the union. He said:
"I want is to be Great Britain, not little England"
Chief Secretary to the Treasury, Danny Alexander has tweeted:
Farage says cars from rest of EU are better quality than those made in UK - he's wrong, we are the best place in Europe for that industry
Nick is right that over 3 million British jobs are linked to trade with Europe - we shouldn't put a single one of those jobs at risk
Watch live: Nick Clegg and Nigel Farage go head to head on Europe
Advertisement
ITV News' Political Editor Tom Bradby has tweeted:
My take on the debate so far; this format doesn't really suit Farage, who is shedding his cheery blokeish bonhommie.
He is coming across as a tad aggressive and didactic. Clegg is much the more experienced politician and it is showing.
Clegg is now quoting those stats from the OBR on how immigration is good for the public finances.
Nigel Farage appears flustered as Nick Clegg refutes statistics from an UKIP leaflet.
That is a good line from Nick Clegg: using UKIP leaflet he says there aren't even 29m Bulgarians and Romanians living in their OWN country
Farage losing his cool. Which you don't see too often #LBCdebate
Watch live: Nick Clegg and Nigel Farage go head to head on Europe
Farage goes for personal with Clegg: "since your beloved Euro has gone into a tailspin" Clegg ignores Farage-doesn't look at him #LBCdebate
This will please Nigel: builder in audience says "our borders are wide open to Eastern Europeans". Clegg responds that 1.5m Brits live in EU
Clegg: let's remember 9 out of 10 jobs created in the UK go to British nationals #LBCdebate
ITV News Political Editor Tom Bradby has tweeted:
Nick Clegg is reminding us already why he did so well in the last TV debates; he is very relaxed and confident.
Though he is a bit shaky on when we should or shouldn't be having a referendum.
Load more updates
Back to top