Nigel Farage 'wins' televised EU debate with Nick Clegg
Nick Clegg and Nigel Farage have gone head-to-head in the first party leaders' televised showdown over Britain's future in the European Union. In an instant YouGov poll of 1,003 votes, some 57% concluded Farage performed best.
ITV News Deputy Political Editor Chris Ship has tweeted:
So - unsurprisingly Nick sells the EU on this basis of jobs: It's about your job. Or the job of someone you know #LBCdebate
Nigel Farage puts it the other way: if we had a referendum about JOINING the European Union today - we wouldn't vote yes #LBCdebate
The various press teams of the Liberal Democrats have been tweeting support for their argument to stay inside the EU, whilst leader Nick Clegg goes head to head with Nigel Farage on the issue.
Watch live: Nick Clegg and Nigel Farage go head to head on Europe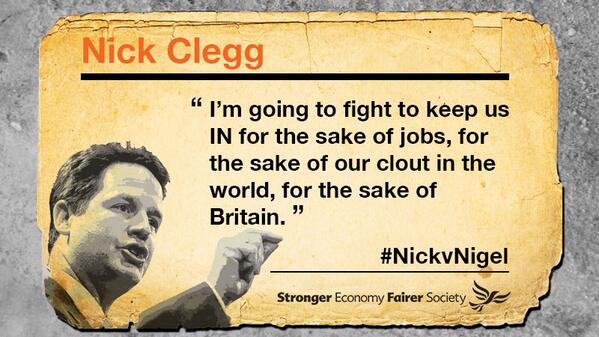 Advertisement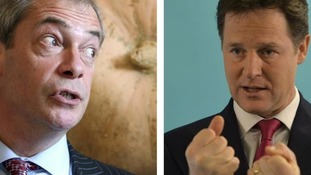 Watch the LBC leaders debate between Liberal Democrat leader Nick Clegg and UKIP leader Nigel Farage live here.
Read the full story
Liberal Democrat leader has tweeted a picture of the stage at LBC studios where he will debate UKIP leader Nigel Farage on the UK's place within the European Union.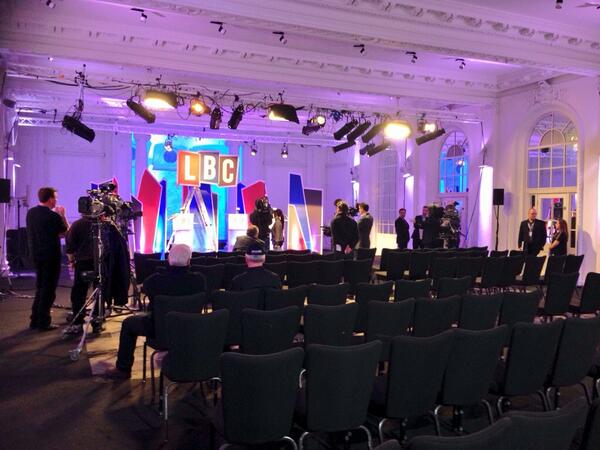 UKIP leader Nigel Farage and Liberal democrat leader Nick Clegg have arrived at the LBC studios ahead of their debate.
Mr Farage said he had been preparing for his debate with the deputy-prime minister by going to the pub.
Farage arrives at the debate saying he's been at a 'dress rehearsal in the Westminster arms.'
Clegg arrives just saying 'I'm looking forward to it.'
The Lib Dems have tried to play down expectations ahead of tonight's debate with Nigel Farage, and said Nick Clegg "has a pretty busy day job" so preparation "has been fairly limited".
A Lib Dem source told reporters:
He's the Deputy Prime Minister, he has a pretty busy day job - preparation time has been fairly limited.

We are preparing as we would for any major event in the diary, making sure we are across all the facts and figures on Europe as it's not something he's been involved in at a granular level every single day.

We are doing it as and when we can.
– Lib Dem source
Advertisement
Ukip leader Nigel Farage warned the Deputy Prime Minister that he does realise "what is about to hit him".
In an article for the Independent, Mr Farage said:
But then his party is facing the prospect of electoral wipe-out at these elections unless they do something drastic.

For them, it's about survival. There is no reason why any establishment party would otherwise want to highlight the huge number of competences which Brussels now has over our lives - especially on a live broadcast and televised debate.
– Nigel Farage
The Deputy Prime Minister will join Nigel Farage in a televised showdown over Britain's future in the European Union later today.
Read: Nick Clegg aims fire at Ukip in conference address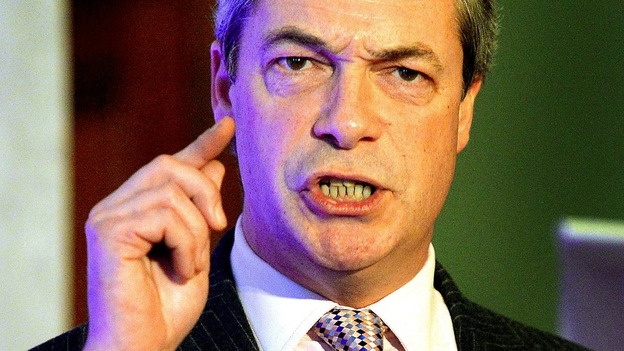 Nick Clegg will take on the Ukip leader in fight over the public in the first of two debates between "the party of in and the party of out" being staged in the run-up to the European Parliament elections in May.
Echoing the 2010 general election leaders' debates, the arrangements agreed for the head-to-head have been tightly controlled.
The audience has been selected to reflect the UK population as well as a spread of views on the EU debate and questions have been screened in advance.
Load more updates
Back to top