Ofsted: Sure Start 'has failed to close the gap in education'
The chief school inspector has told ITV News the Government's Sure Start programme has failed to close the gap in educational achievement between rich and poor students. He also claimed nurseries are failing to get children ready for school.
The chief executive of Ofsted, Sir Michael Wilshaw said the government's Sure Start programme had failed to effectively close the gap in educational achievement between rich and poor students.
More: Poor children getting 'an unsure start'
In an interview with Political Correspondent Libby Wiener, he said although Sure Start had helped some of the most troubled families, it had not had enough of an impact, and more could be done within the educational sector itself.
Read: Ofsted calls for more 'structured' early years education to prepare children for school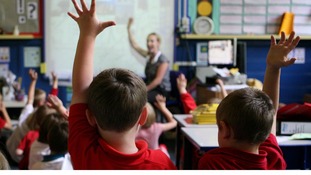 In its first report into early years education, Ofsted wants families to be supported to ensure their children start school ready to learn.
Read the full story
Advertisement
Schools regulator Ofsted wants poor children to be prioritised for places at good primary schools, in order to try and address the educational achievement gap between rich and poor.
Read: Ofsted says early years education 'letting poorer children down'
In its first inspection of the pre-primary education, inspectors found stark inequalities in how children had been prepared for school, and called for nurseries to improve the structure of their education.
Read: Ofsted calls for more 'structured' start to education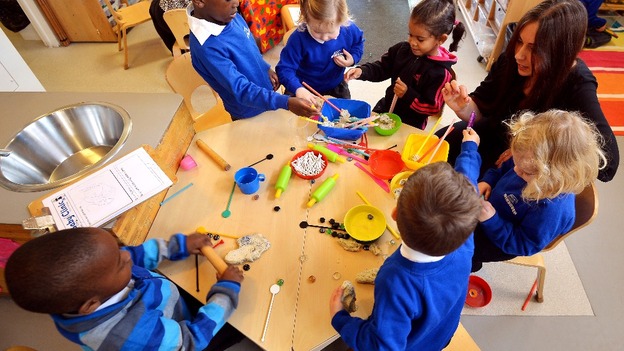 To get the priority place, children would need to take up a government-funded place at age two. It also called for the new pupil premium to be extended to two-year-olds.
More: Laws says pupil premium 'fully delivers' manifesto pledge
The government currently funds free nursery places for poor two-year-olds, as well as 15 hours of free care for all three and four-year-olds. Sir Michael Wilshaw said:
"Admissions policies should change to give the poorest children priority in securing places in reception at the best schools.
"But to get this priority, it would be on condition that they take up their funded early education place there at the school from the earliest age possible and attend regularly."
The head of Ofsted Sir Michael Wilshaw has said he is "perplexed" by the complexity of the early years education system, adding that the bureaucracy involved in changing or expanding provisions was "mind-blowingly unnecessary".
Read: Ofsted suggests nurseries failing to get children ready for school
Do you think nursery pupils should have more "structured" lessons and take basic tests?
Tweet us @itvnews or post comments on the ITV News Facebook page
Schools regulator Ofsted has called for pupils as young as two to take part in more "structured" learning and pass basic tests.
Readers on Twitter were overwhelmingly against the move:
@itvnews Anyone who knows the slightest thing about children will know that they learn best through play. Ridiculous testing so young.
@itvnews ridiculous! Let children be children.
What do you think? Join the debate by tweeting @itvnews or post your comments on our Facebook page
Advertisement
Ofsted needs to address the inconsistent quality of its inspections, the general secretary of the Association of Teachers and Lecturers (ATL) has said, following a report that suggested more nursery education should be carried out in schools. Mary Bousted said:
[We] know from members and research that an overly formal and narrow academic curriculum at too young an age damages children's learning.

Although the chief inspector's remarks imply he doesn't understand, Ofsted inspectors need to understand that young children learn best through planned and structured play, talking, sustained shared thinking, by exploring real world experiences and in inspiring learning environments.
Shadow education secretary Tristram Hunt has told ITV News more "structured" play and learning in nursery schools "doesn't seem like a bad idea".
"I think we have to address this issue of disadvantaged children who aren't school ready by the time they turn up in reception year," Mr Hunt said.
Read: Ofsted suggests nurseries failing to get children ready for school
Schools regulator Ofsted have called for pupils as young as two to have more "structured" lessons and pass basic tests in the three Rs.
Readers posting their comments on the ITV News Facebook page were overwhelmingly against testing nursery pupils:
NO! NO! NO! The earlier we have structured children's education the poorer the outcomes have been.

Scandinavia have it right. Their kids don't start formal education until they are seven years old and their education levels are way above ours.
– Damion Royce
My four-year-old grandson has now been given homework (in nursery). I've never known anything so stupid in all my life.
– Jackie Perry
Kids learn through play as it's fun - this includes drawing/painting, which helps hand/eye co ordination ... a wider variety of play is important.

[It's] just a pity that not a lot of schools have a nursery for toddlers or play schools either.
– Victoria Lee Belfield
Only a third of children from low income backgrounds have reached a good level of development at the age of five last year, according to a new report by Ofsted.
The school inspectors called for a radical shake up of nursery education in their first Early Years Annual Report published today. According to the findings:
Choosing the most suitable early years provider is often difficult for parents because the sector is "complex, opaque and of variable quality".
The information available is unclear, patchy and inaccessible particularly for disadvantaged families.
Providers in this sector need to be better held to account for their performance, particularly when they are in receipt of public money.
A lack of data and standardised assessment means that neither parents, providers nor the government are clear enough about whether children are ready for school.
Data protection rules are currently limiting the information Ofsted can provide to parents about registered child-minders in their area.
Load more updates
Back to top