Alex Salmond: Let Scotland decide its own future
Scottish First Minister Alex Salmond told a party conference this afternoon "It's about putting Scotland's future in Scotland's hands.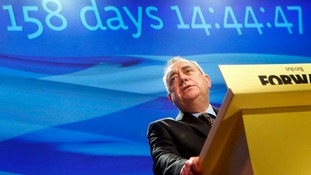 Scotland's First Minister Alex Salmond addressed the SNP conference in Aberdeen as the Yes campaign gains momentum.
Read the full story
Alex Salmond "failed to provide voters with the real facts and costs of separation" following his speech this afternoon, said the Scottish Conservatives.
The party's chief whip John Lamont also attacked Mr Salmond's bid to woo more female voters with the promise of more women in his party, saying, "Alex Salmond knows he has a problem appealing to half of the electorate, but women can spot a dodgy chat up line when they hear it."
Experts said Alex Salmond must deliver the speech of his life today, but he fell far short of appealing to people beyond die-hard Nationalists.

This was what we have become used to from the First Minister - full of assertions and repeating the same, tired divisive rhetoric of how everything is Westminster's fault.

It was gripe and grievance politics without giving the people of Scotland the real facts or costs about independence.
– Scottish Conservatives party chief whip John Lamont
Advertisement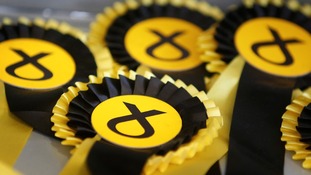 In his latest blog our Political Editor, Peter MacMahon, looks back at the SNP's history and their biggest challenge to date.
Read the full story
Responding to the First Minister's speech, former Liberal Democrat leader Sir Menzies Campbell said:
All we have heard today is more of the same from a party who seem reluctant to answer the big questions over what independence would truly mean for Scotland.

The one thing the polls show is that the majority of Scots want to stay as part of the UK family with a stronger Scottish Parliament.

Most Scots want to see us build on the successes of devolution and secure new powers for Holyrood.

That is what Liberal Democrat Home Rule plans would mean for Scotland.

A positive vote to stay in the UK will help us deliver the change that people really want to see.
Margaret Curran, Labour's shadow Scottish secretary, said: "No one will be taken in by Alex Salmond's speech."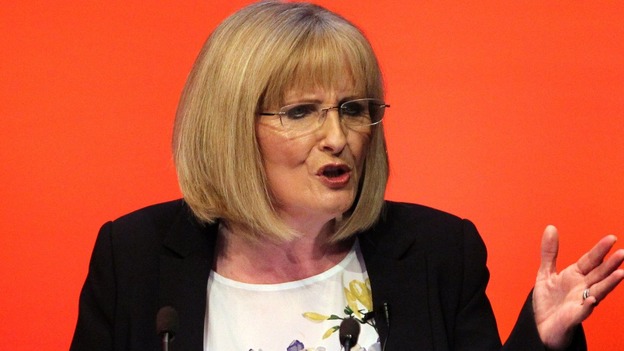 "Nothing is more negative than his message that Scots should break up the country we have built over three centuries and turn our back on our neighbours," she went on.
In response to Mr Salmond's announcement of an increase in female representation in his cabinet, she said: "Women will see through his cynical attempts to win them over. Women's rights have improved during my lifetime because of, and not in spite of, Scotland being part of the UK."
Watch: Salmond: Win the argument, you win the referendum
"Labour led the way on delivering rights for women," she added. "Now even Salmond's own officials admit that he has no policy on childcare and his figures don't add up."
"The message to the people of Scotland is clear. Vote no and you have a chance of getting reality back rather than this drivel from Alex Salmond."
Scottish First Minister Alex Salmond told ITV News "the finishing line is not going to be reached by statistics, it's going to reached by winning the argument" over Scottish independence
ITV News correspondent Martin Geissler reports.
Advertisement
There are many different colours and threads woven into the Scottish tartan and all must be celebrated we need to mobilise all of the talents and all of the potential of all of our people and we have to reflect that in how we will proceed after September 18th and the approach we will take to bring Scottish together as we attempt to move forward.

...In March 2016, Scotland will become an independent country and join the international family of nations.
– First Minister Alex Salmond
Scottish First Minister Alex Salmond poked fun at Lord Robertson's comments that a Yes vote for independence would be welcomed by the "forces of darkness" at his address today, joking that the "Daleks ain't too happy".
He called the No campaign, "totally laughable and completely ludicrous."
Thee 'No' campaign is "miserable, negative, depressing and the most thoroughly boring campaign in political history," he added.
Freed from Westminster control we'll have the chance to return to core values, many of which, we in this party, many of which we share.

But there is something the Scottish National Party will never agree to, will never be a part of, something we'll campaign against with every fibre of our being: The leadership of the Labour party - a hand in glove with the Tories and the shameful attempt to run Scotland and it's people down and this is the difference.

The Westminster establishment telling Scots what we can't do, running Scotland down.

The SNP stressing what we can do, building Scotland up.
– First Minister Alex Salmond
Scottish First Minister Alex Salmond has challengded Prime Minister David Cameron to a debate on Scottish independence "now" at his party's conference.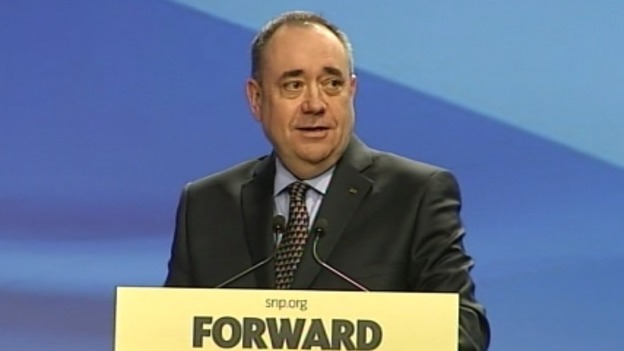 He said: "Prime Minister, we can drum up a crowd for you in Scotland, all you have to say yes to is a debate."
Load more updates
Back to top