Starving girl footage reveals horrors of Syrian conflict
As they watch a second daughter starve Wala'a's parents say they are cannot feed their family as the Damascus suburb where they live in under siege.
A father has spoken about the desperate search for food to help feed his children. One of his daughters, Marwa, died two months ago due to malnutrition as her father tried to find the food that might have saved her:
Doctors told us that we must feed Marwa sweets and sugar but I can't afford it, it is too expensive and hard to find so I brought them saccharine. Safa and Marwa is twin, Marwa died two months ago because of malnutrition, she was two years and half, I couldn't buy milk for my children, I have no work.

She was fine but I cannot afford to get her milk, I could only make them barely flour with water, this only thing we could feed them with, she started to get weaker till she died.
– Abu Qasem

Now he is watching as his youngest daughter slowly wastes away due to malnutrition. Born healthy Wala'a was taken to doctors when she started to struggle to breathe and now has to be fed through a tube to get the little amount of formula the family can get into her tiny body.
Wala was well at the beginning, now she is not. I lose my children one after another.

Their mother was breast feeding them but now she cannot, we only eat one meal a day and the only thing we eat is barely and olives.
The story of three-month-old Wala'a, who has been left malnourished after her family struggled to find food in a besieged area of Damascus in not an isolated case according to UNICEF.
Read more: Starving girl footage reveals horrors of Syrian conflict
Maria Calivis, UNICEF Regional Director for the Middle East and North Africa told ITV News:
"It's a tragedy and any one child reduced to this condition, its both a tradegy and a failure of our system.
"Any case like that of little Wala'a is no doubt a tradedy, a tragedy for the family and a tragedy that can repeat itself over and over again, if the crisis does not end."
Speaking of the siege in Homs, she added: "The first tragedy that all families speak about is about the loss, the insecurity of food, the access to food and to survive they often had to go to their neighbour, their neighbours and neighbours that had fled in order to search for food.
"And sometimes even when that was not enough, they resorted to plants, to feeding themselves in whatever way they possible."
Advertisement
Wala'a's doctors believe that if she survives she will be left with brain damage and could be paralysed due to malnutrition.
Her mother says she was healthy when she was first born three months ago:
Malnutrition and lack of milk and sugar because we cannot afford to bring milk and sugar and she became like this. She was better when she was born , she was laughing and crying

I tell all mothers to take care of their children and feed them well, this is the second child I have and they are dying infront of my eyes and I cannot do anything.
– Um Qasem

Wala'a's elder sister Marwa died just two months ago, leaving behind her twin Safa.
Marwa was good and moving and talking and slowly she started getting weaker day by day and melting in front of our eyes and she stopped eating and then she passed away.
– Um Qasem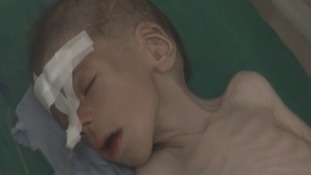 Malnourished three-month old Wal'a is the latest tragedy to hit a struggling Syrian family
Read the full story
Back to top