Man Utd deny Moyes' sacking handled unprofessionally
Manchester United have denied the departure of David Moyes was handled in an unprofessional manner. Richard Bevan of the League Managers Association said it was wrong for newspapers to have reported the news before it was officially announced.
A settlement between David Moyes and Manchester United has been agreed after he was sacked by the club, the League Managers Association said.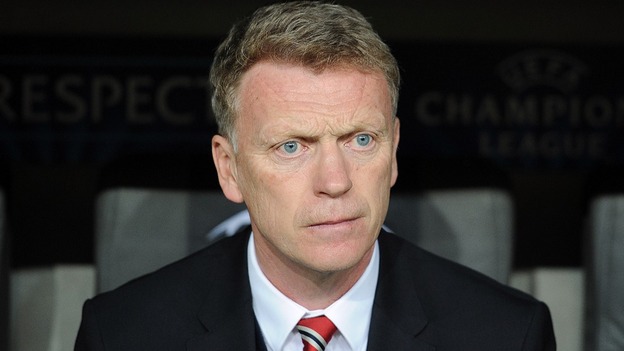 Read: Ryan Giggs thanks David Moyes after 'whirlwind week'
A spokesman said: "The League Managers Association and Manchester United are pleased to confirm that terms of settlement have been agreed between the club and David Moyes in respect of the termination of his employment.
"A settlement agreement is in the process of being finalised. No further comment will be made in relation to this issue."
Watch: Ryan Giggs give first press conference as Man Utd boss
Manchester United says it does not accept the departure of David Moyes was handled in an unprofessional manner.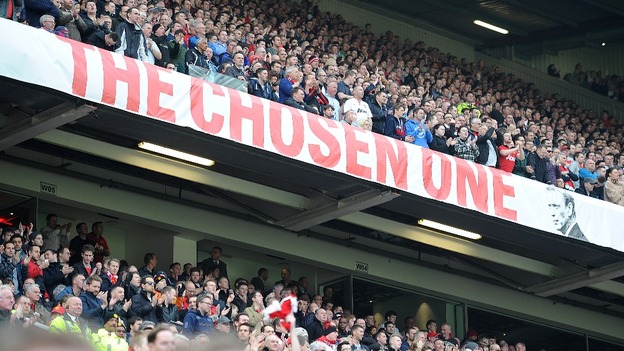 In a statement, the club said: "We do not accept that it was handled in an unprofessional manner. The decision was not taken until late Monday night and was communicated face-to-face first thing on Tuesday morning.
"When reports started emerging on internet news sites on Monday afternoon, no decision had been taken at that time."
The statement follows chief executive of the League Managers' Association, Richard Bevan's comments in which he said many media outlets reported Moyes' departure before the manager had spoken to the club.
Advertisement
David Moyes has released a statement following his sacking as manager of Manchester United, in which he thanked predecessor Sir Alex Ferguson "for believing in my ability and giving me the chance to manage" the club:
To have been appointed as manager of Manchester United was and remains something of which I will always be incredibly proud.

Taking charge after such a long period of continuous stability and success at the club was inevitably going to be a significant challenge, but it was one which I relished and never had a second thought about taking on.

The scale of the manager's job at United is immense, but I have never stepped away from hard work and the same applies to my coaching staff.

I thank them for their dedication and loyalty throughout the last season.
We were fully focused and committed to the process of the fundamental rebuilding that is required for the senior squad.

This had to be achieved whilst delivering positive results in the Barclays Premier League and the Champions League.

However, during this period of transition, performances and results have not been what Manchester United and its fans are used to or expect, and I both understand and share their frustration.

In my short time at the club I have learnt what special places Old Trafford and Carrington are.
I would like to thank the United staff for making me feel so welcome and part of the United family from my first day.

And of course thank you to those fans who have supported me throughout the season. I wish you and the club all the best for the future.

I remain proud to have led the team to the quarter finals of this year's Champions League and I remain grateful to Sir Alex Ferguson for believing in my ability and giving me the chance to manage Manchester United.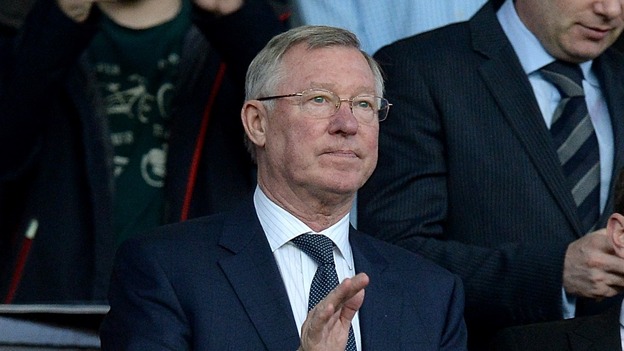 Sir Alex Ferguson backed the decision to sack David Moyes and will have a key role in the choosing of his replacement, according to reports.
According to the Times, Sir Alex Ferguson supported the move to axe the former Everton boss, despite personally choosing him as his successor a year earlier.
The newspaper also reports that the club's legendary manager will again be involved in the selection of the new manager - with Real Madrid manager and former Chelsea boss Carlo Ancelotti thought to be among the names on the top of United's wishlist.
Ryan Giggs, who now leads the side on an interim basis, will not be considered for the role full time due to a lack of management experience, it is believed.
Former Manchester United player Roy Keane has said he thinks David Moyes should have been given more time.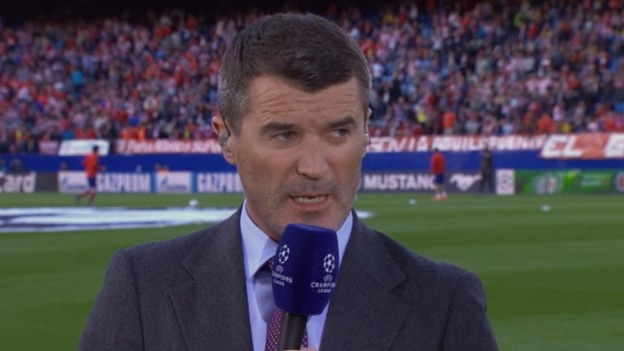 Speaking to ITV Sport, he said: "He certainly had a hard start when he took the job. I think the chief executive didn't get the deals done that he wanted. There was a lot of negativity. He had a slow start and no momentum.
"I think it is a shame, I think he should have been given more time. I think some of the players at Man United should be ashamed of themselves, I think they have really let him down."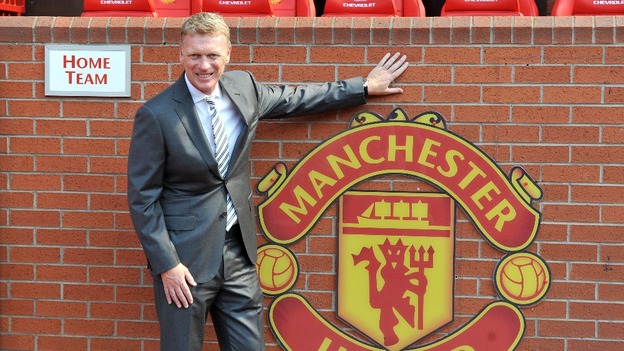 Manchester United PLC share prices have increased by more than 5% following today's opening of the New York Stock Exchange. The share price currently stands at $18.64 following the departure of David Moyes.
Advertisement
Joe Crilly, of William Hill, says the market is leaning towards Louis Van Gaal as the favourite to replace David Moyes as manager at Manchester United.
More: Those in the running to replace Moyes as Manchester United manager
Asked if he had any advice for the person who takes over from David Moyes at Manchester United, David Cameron said he would save the advice as a fan of Aston Villa who had had a "ropey season".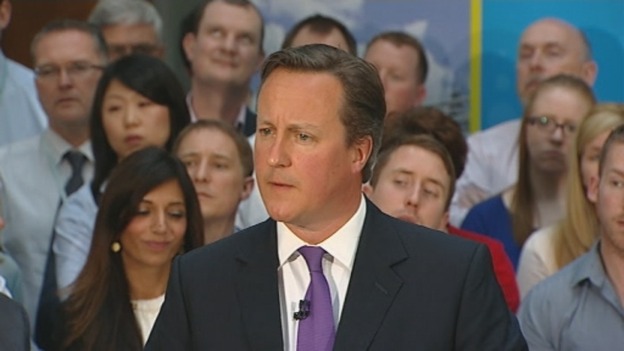 The Prime Minister said: "As an Aston Villa fan, we've had a bit of a ropey season, so I think I'll save the advice on football management - a subject about which I know precious little."
A banner that read 'The Chosen One' which hung from the Stretford End at Old Trafford has apparently gone up for sale on eBay, attracting bids worth thousands of pounds.
The apparent seller is named as shaunolar who has a 100% positive feedback rating, but it is yet to be confirmed as the genuine Moyes banner.
More: 'Chosen One' banner could go to Football Museum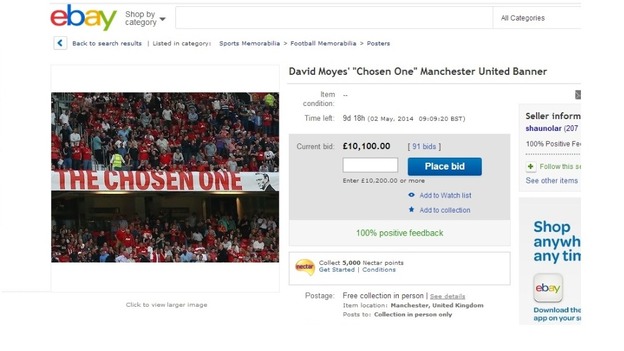 After David Moyes' departure, Stretford End Flags asked fans on Twitter: "Where now for the Chosen One banner Farewell gift to Moyes? Ebay? Or donate to the @FootballMuseum".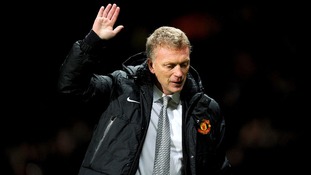 Sacked Manchester United manager David Moyes will 'always be known as Fergie's failure' after an embarrassing stint, but what went wrong?
Read the full story
Load more updates
Back to top